April 15 is World Art Day, a day dedicated to promote the development, diffusion and enjoyment of art. A visit to Westwood is a connection to the rich, artistic history of Knoxville.
Debuting at the apex of the Gilded Age, Westwood was built in 1890 for John Lutz and his wife, Adelia Armstrong Lutz, a talented artist and leader in the Knoxville arts community. John and Adelia commissioned Knoxville's first and best-known architectural firm, Baumann Brothers, to design their home. This resulted in an impressive Queen Anne style house constructed of brick with Richardsonian Romanesque elements in stone. A rare aspect of the design was Adelia's painting studio, by far the grandest room in the house with ample space for paintings, a fireplace, a cathedral ceiling, and an impressive skylight. A Knoxville Tribune reporter of the time described Adelia's studio in the following way: "There is no other such room in or about Knoxville…in which one who is blessed with a love for the beautiful, in nature or in art, can get so much genuine enjoyment, so much unalloyed pleasure."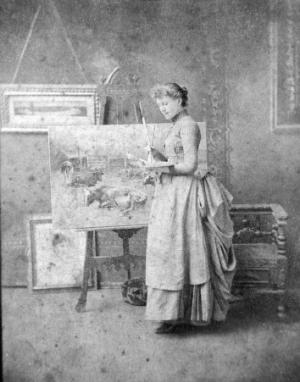 Adelia Armstrong was born in 1859 and showed significant talent at an early age. At a local fair in 1873, the 14-year-old artist won the first-place prize for pencil drawing. Adelia studied at Miss Pegram's School in Baltimore and later at the Augusta Female Seminary in Virginia. She then went on to study at both the Pennsylvania Academy of Fine Arts in Philadelphia and the Corcoran in Washington, D.C.
By the time she was 25 years old, Adelia was considered to be an emerging star with a special talent for copying masterworks. She exhibited at the 1884 World Cotton Centennial in New Orleans and over the next few years her work received praise from several major newspapers. A Washington arts journal noted that she "has been overwhelmed with compliments by the best judges of painting in the city…we confidently predict for Miss Armstrong a national reputation." In 1886, Adelia returned to Knoxville to teach art at a downtown studio where she and a friend offered lessons in painting, drawing, and embroidery to women from many of the city's most influential families. She met her future husband, John Lutz, while teaching. When the couple married and began planning their new home, Adelia's artistic talent became fundamental to the process.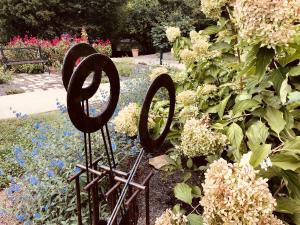 Adelia collaborated with artist, and close friend, C. Mortimer Thompson (1858-1939) on fresco paintings that covered many interior walls and ceilings of the house. The fireplace mantel designs were in collaboration with C.B. Atkin whose local company became the largest producer of hardwood mantels in the world. Beautiful stained glass windows were installed throughout the house and no detail, from the hand carved woodwork to the loveliest hardware design, was overlooked. The gardens were noted for their many flowers, especially hollyhocks which were a favorite painting subject. Adelia had created a place of profound beauty within which to pursue her passion and host her fellow artists.  
In 1897, Adelia played a central role in the formation of the progressive new Knoxville Art Club, later renamed the Nicholson Art League (NAL). The NAL was the city's first visual-arts organization and was unusual among artistic or intellectual associations of the era for including both men and women. Its members included: architect George Barber (1854-1915), nationally known for his mail-order Victorian house designs; Joseph Knaffl (1861-1938), a successful art photographer famous for his "Knaffl Madonna"; Lloyd Branson (1854-1925), best known for his portraits of Southern politicians and depictions of early East Tennessee history; and Catherine Wiley (1879-1958), the impressionist who would become the most famous of them all.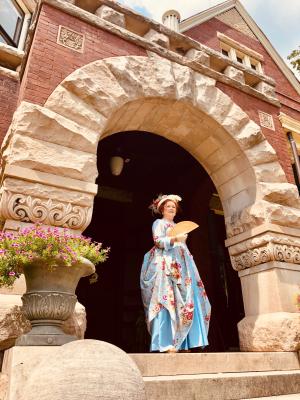 Adelia's work was exhibited at the 1893 Chicago World's Columbian Exposition, the 1897 Tennessee Centennial Exposition in Nashville, the Appalachian Expositions of 1910 and 1911, and the National Conservation Exposition of 1913. An 1896 gallery exhibit in Louisville, Kentucky earned her praise as a painter of flowers. Adelia Lutz became president of the Nicholson Art League in 1903 and attended the St. Louis World's Fair of 1904 as an official representative of the NAL. She would often return home to write and speak about the art exhibits.
Westwood, in partnership with the Calvin M. McClung Historical Collection, features the largest collection of her paintings on public display along with family memorabilia and other interesting examples of her painting skills. These include: a hand-painted book cover; hand-colored family photos; the studio fireplace tiles on which she painted portraits of some of her favorite poets and authors; and the dining room wainscoting which exhibits a delicate bouquet of flowers.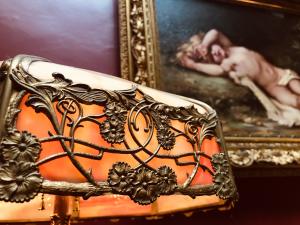 In addition to Adelia's artwork, several other local artists are featured, including Cynthia Markert, Eugenia Dulin, Edward Hurst, and a beautiful grandfather clock that was hand-carved by fellow NAL member Ellen Bolli Van Gilder. There is also a large assemblage of antique slag lamps on display from the John and Nancy Coates collection, each one a stunning work of art in itself.
Visitors to Westwood have the unique experience of seeing an artist's work in the studio in which it was created. A glance through the windows reveals evidence of the flowers and trees that provided her with inspiration. Westwood is a significant part of the Knoxville arts and culture community and preserves an important piece of its architectural heritage. Westwood was added to the National Register of Historic Places in 1984. The Aslan Foundation donated the property to Knox Heritage in 2013 after purchasing it from a fourth generation family member. Knox Heritage raised over $1 million to restore and renovate the historic home.
Adelia's Westwood was central to a life built on a love for all things beautiful. Her spirit calls us to pay closer attention to the world around us: "If we only look for it, we are surrounded by the beautiful always. Cherish it, love it. Take it into your hearts and it will be your very life". Today, Westwood makes a strong statement about the importance of preserving places that have the power to transport us to another moment in time.
Hero image courtesy of Mike O'Neill Photography