Knoxville has earned some acclaim for its country musicians. Several who started their careers on Knoxville radio, from Roy Acuff to Chet Atkins to Don Gibson to the Everly Brothers to Dolly Parton, became major stars.
However, African American musicians in Knoxville have had a notable influence on popular music, even nationally, often in offbeat or surprising ways.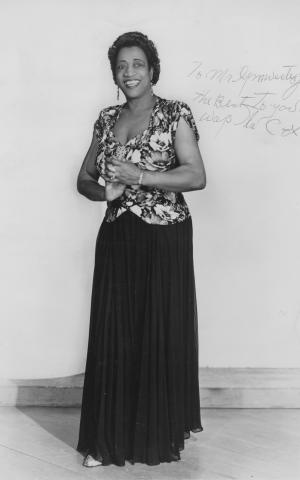 Perhaps the first nationally popular Black musician associated with Knoxville was Ida Cox (1896?-1967)—though the Georgia-born "Uncrowned Queen of the Blues'" main association with our city would come late in her career. In her youth, she was constantly on the move, spending much time in New York, different from most other blues singers in that she wrote many of her own songs, including some with suggestive lyrics, like "Sixty Minute Man," and "Wild Women Don't Have the Blues."  (listen here) She was a major recording artist in the Jazz Age, and remained in the public eye, performing at Knoxville's Gem Theatre occasionally, as she did several times in the 1930s.
She reached a new high in 1939, when she performed at Carnegie Hall at a major jazz event, organized by John Hammond, recorded for a box set, and still legendary, called "From Spirituals to Swing." But around 1945, she suffered a stroke—by some accounts, it happened during a performance—and ended her touring days. She moved in with her daughter who was working in Knoxville as a teacher, and spent the last 20 years of her life in a small house on Louise Avenue in Knoxville, singing only in the choir of the old Patton Street Church of God. Most people here didn't recognize her, and in New York, word got around that she had died. In 1961, she went to New York to make one last recording, with the famous Coleman Hawkins Quintet backing her. It would turn out to be her last recording, and her only full record album. She died in old Baptist Hospital, on the south side of the river, in 1967. She's buried at Knoxville's New Gray Cemetery, under a small and modest stone inscribed "Mother."
Among the early performers who made a name for themselves while living and performing in Knoxville were Carl Martin (1906-1979) and Howard Armstrong (1909-2003), close associates and roommates who were playing for nickels on old Vine Street back in the 1920s. (East Vine was more or less replaced, after Urban Renewal, by East Summit Hill Avenue.) Performing occasionally on the radio and at announced shows in local roadhouses by 1929 as the Tennessee Chocolate Drops, the unusually versatile string band played jazz, blues, folk, pop, and even country songs, depending on the audience. They made some records for a Brunswick-Vocalion field project at Knoxville's St. James Hotel, which was located on Wall Avenue, near Market Square. (listen here)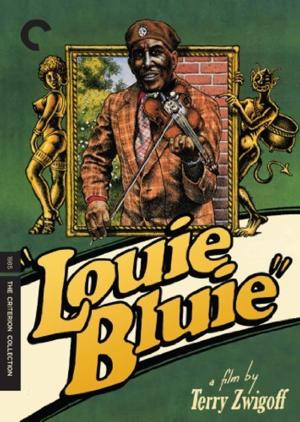 During the Depression, Martin and Armstrong, along with their friend Ted Bogan, migrated to Chicago, where they made a living as musicians. Martin, in particular, developed a solo career of his own, and because known as an in-demand sideman on several records by Tampa Red, Bumble Bee Slim, and Freddie Spruell. As older men, they reunited as Martin, Bogan, and Armstrong, and barnstormed the country, introducing dozens of college campuses to their offbeat take on old-school jazz/blues. And they made new records, like That Old Gang of Mine, an album of the old favorites they would have played on the downtown streets in the 1920s, released in 1978.
The irrepressible mandolinist/fiddler Howard Armstrong, who learned to sing the blues in Italian, Hawaiian, and Yiddish, survived his bandmates by several years, and became the subject of two nationally broadcast PBS documentaries, one by Oscar-nominated filmmaker Terry Zwigoff called Louie Bluie (1985; the offbeat film, which became a cultish favorite, was named for Armstrong's early nickname), and another by another acclaimed documentarian, Leah Mahan, called Sweet Old Song (2002). The Louie Bluie Music and Arts Festival held each fall north of Knoxville at Cove Lake, near LaFollette, where Armstrong spent much of his childhood, celebrates his remarkable example in surprising ways. (listen here)
Today, the recordings they made at the St. James Hotel in 1929 and 1930 are known as the Knoxville Sessions, a box set recovered and produced by Germany's Bear Family Records in 2016, so interesting to music scholars that it earned a Grammy nomination.  (listen here)
Due to the dissolution of the company and the Great Depression, which arrived during the recording project, those records were apparently never widely available during the lifetimes of most of the recording artists, but they began to gain new attention in the 1980s and '90s, especially after Zwigoff's "Louie Bluie."
In some cases, the influence of Black music on country music is obvious. Zwigoff's documentary includes a musician named Willie Sievers, formerly of the (white) Tennessee Ramblers; she's sometimes regarded as the first female lead guitarist in country music.  She recalled that she learned blues chords from Howard Armstrong himself, as they were both playing in the streets at the corner of Jackson and Central around 1930.
More songs from those St. James Hotel sessions leaked out in years to come, including "Arcade Building Moan" and "Satan Is Busy in Knoxville," by Leola Manning (1902-1995). (listen here) The eye-catching title of the latter record refers to some murders in March, 1930, that troubled the singer. The cafeteria worker was well respected among her musician friends in East Knoxville, but was never became famous until after her death. However, in the 1990s, her rare voice and extraordinary habit of writing songs about tragedies in the newspaper caught the attention of some European scholars, leading to their inclusion on some compilation CDs, and ultimately to add to the importance of The Knoxville Sessions.
Because that big box set is expensive, not to mention a whole lot to listen to, Bear Family Records has released a digested single-CD, essentially a "greatest hits" version of the sessions, with 27 recordings by Manning, the Tennessee Chocolate Drops, and several other local performers who mostly weren't famous then, but maybe should be now. That brand-new release is named—what else?—Satan Is Busy in Knoxville.
---
Several of those musicians knew each other, busking along East Vine, several of them known to us mainly by vague stories and colorful names, like "the Morristown Tiger" and "The Blue Cord," also known as Gace Haynes, said to be Knoxville's finest blues pianist. A duo called the Two Poor Boys, formerly of Chattanooga, were never major stars, but recorded at least 20 blues songs in New York, one of which, "Cream and Sugar Blues," may reference Knoxville's Jackson Avenue, one of the axes of the Black community. Half of that duo, the eccentric, slipper-shod Joe Evans, was especially well known in the barber shops of East Vine. (listen here)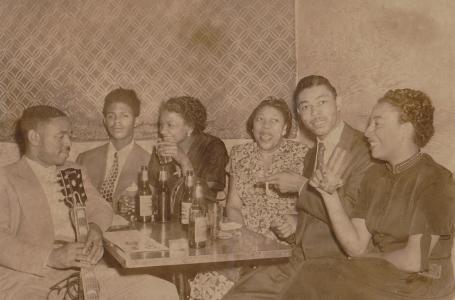 A little younger was Brownie McGhee, born in Knoxville in 1915, where he spent his earliest years, and became skilled on the guitar. He and his younger brother Granville (known as Stick, or Sticks) spent much of their youth almost 100 miles away in Kingsport, but both brothers circled back into Knoxville at different times. Stick moved back to Knoxville in the late '30s, married here, and was working at the old Manhattan Café (now Boyd's Jig & Reel) until he was drafted in 1942.  
Brownie hooked up with a harmonica player from North Carolina named Sonny Terry, and for most of their lives, they performed together.
Some of their early gigs were playing as sidemen with folk legend Woody Guthrie; they can be seen in some of the earliest known films of Guthrie performing in the early '40s. Brownie made some "jump blues" records, sometimes with his younger brother, Granville "Stick" McGhee who wrote the song "Drinkin' Wine Spo-dee-o-dee." More about that in a minute. (listen here)
Irish singer-songwriter Van Morrison paid tribute to Brownie by name in the lyrics of his autobiographical song, "Cleaning Windows." On his 1982 album Beautiful Visions, Morrison sings about his earliest influences: "I heard Leadbelly and Blind Lemon on the street where I was born … Sonny Terry, Brownie McGhee, and Muddy Waters…." Familiar Southern names might seem surprising considering that Morrison discovered them, through records, in his home of Belfast, in Northern Ireland.
In fact, Brownie McGhee and his longtime partner, blind harmonica master Sonny Terry, toured Europe more than most of their blues peers did, introducing thousands of Europeans to the genre.
Brownie's little brother, Stick, had a harder fate. Although he had some early success with a hit on the brand-new Atlantic label—his most famous song, "Drinkin' Wine," his second recording of that paean to high living, a more aggressive, up-tempo recording from 1949, is considered by some to be one of the first-ever rock 'n' roll songs. It was recorded by Wynonie Harris, Jerry Lee Lewis, Lionel Hampton, Johnny Burnett, and several others. He kept trying, with some records that got some airplay, but this ostensible co-founder of rock never had a comparable success. He died in New York of lung cancer in 1961, at age 43.
Big brother Brownie enjoyed an unlikely late-life celebrity, continuing to tour internationally with Sonny, and, after an early experience in Andy Griffith's A Face in the Crowd, developed a Hollywood habit, appearing in movies like Steve Martin's The Jerk and Mickey Rourke's Angel Heart, in which he has a memorable speaking role as a doomed hoodoo man.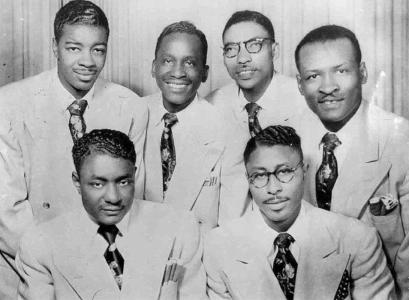 One off-the-grid surprise that crested locally after the first blush of the blues is the Swan Silvertones. Led by tenor Claude Jeter (1914-2009), whose tenor voice often soared into a convincing falsetto, the Silvertones were a gospel vocal-harmony group with a distinctive style. Formed in West Virginia, they moved here at the behest of Knoxville-based Swan's Bakery, and remained for most of the 1940s when they broadcast regularly on both WBIR and WNOX radio, and began their recording career. Their music was religious in nature, but their records got around to several pop and rock songwriters in the 1950s and '60s. They had influence within their own genre through soul singer Al Green, but their sound was so affecting it crossed genres, even into rock'n'roll. Some of the leading songwriters of the '60s and '70s, including Paul Simon and John Fogarty cited the Silvertones as specific inspirations for their hits "Bridge Over Troubled Water" and "Proud Mary," respectively. (listen here)
Although Swan's Bakery went out of business many years ago—not long after the Silvertones stopped performing, in fact—the old Swan building is still standing on Magnolia Avenue, less than a mile northeast of downtown.
East Knoxville, and old Austin High School, cultivated a doo-wop scene among young Black men, and from that scene came several R&B talents, most famously Clifford Curry (1936-2016). A songwriting recording artist by the time he was 20, when he released the romantic "Mr. Moon," which caught on in some urban markets, Curry later fronted Knoxville's first integrated rock band, the Bearden-based Fabulous Five, and later joining the Soul genre, enjoyed a national hit called "She Shot a Hole in My Soul." (listen here)
Later, UT's Jazz Studies program, which evolved in the 1970s, has cultivated whole new generations of African American musicians. First among them was major jazz-piano recording artist Donald Brown, originally from Memphis and a member of Art Blakey's legendary ensemble the Jazz Messengers. (listen here) A sometime concert headliner in Paris, occasionally featured on national public-radio shows, Brown was a familiar figure in Knoxville nightclubs for decades. His son Keith Brown, also a familiar figure on piano here for many years, is now based in New York, where he has recorded several solo albums. Among those still worth watching here today are New Orleans-born saxophone master Gregory Tardy; Philadelphia-born pianist Eric Reed; and Knoxville native Taber Gable, a well-known keyboardist in New York who returned to his home town. These musicians, some of them internationally known, perform on concert stages but also often in Knoxville restaurants and bars and sometimes out in the open air, especially at Market Square's Jazz Tuesdays series. On a good night, it doesn't take too much imagination to hear it all as a legacy of something that was evolving in the streets here more than a century ago.