Nestled in the East Tennessee Valley along the Tennessee River, Knoxville is surrounded by opportunities to play on the water. Downtown is located just below the confluence of the Holston River and French Broad River, forming one of the nine reservoirs within an hour of the city. You can venture a little further and find world-class whitewater kayaking and canoeing in the Smoky Mountains, but you don't have to leave Knoxville to enjoy a host of activities within paddling distance of the food, drinks, and entertainment of the city. Plus, it's easy to do. Here are the five best ways you can enjoy some time on the water on a trip to Knoxville.
1. Downtown Paddling and Open Water Swimming
Since downtown Knoxville sits right on the river, lots of people put their canoes, stand-up paddleboards, and kayaks right in at Gov. Ned McWherter/Riverside Landing Park. It offers a convenient boat ramp to access the Tennessee River, where you can drift downtown or access the rural riverbanks upstream. If you don't have your own craft, rent a SUP from Knoxville Adventure Collective, based at the headquarters of Outdoor Knoxville (which also doubles as a bar in the summer).
Once out on the water, you can turn upriver to explore the Knoxville Urban Wilderness. Through years of work and the generosity of private landowners, Knoxville has one of America's largest urban wildernesses. You can enjoy all the scenery from the water while looking for birds and other wildlife. Turn downriver, and you'll pass under historic bridges, towering bluffs, the impressive University of Tennessee boathouse, and some of the oldest and most beautiful historic homes in Tennessee. If you work up an appetite or are feeling thirsty, just pull over to enjoy Calhoun's On The River, a favorite BBQ, and brewery restaurant right on the water with a boat ramp.
For those who like to swim for fitness, you can tag along with the Knoxville Open Water Swimmers. They meet every Thursday from May until September to swim a mile in the open water and welcome qualified swimmers to join them. The swimmers are escorted by spouses and friends in kayaks, and everyone gets together for a cold one afterward.
2. Mead's Quarry at Ijams Nature Center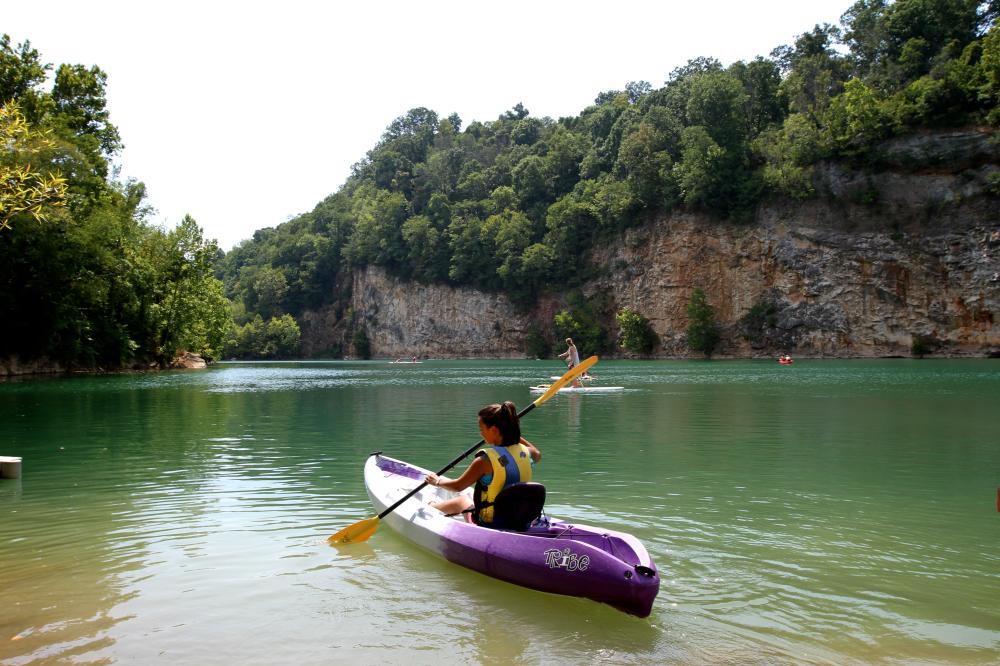 One of the most popular activities at Ijams Nature Center is paddling on Mead's Quarry Lake. In partnership with River Sports Outfitters, visitors can rent canoes, kayaks, and paddleboards to get a better look at the amazing views of this historic marble quarry. Ijams also offers monthly kayaking programs led by an Ijams naturalist from May to September. These programs are not recommended for first-time kayakers. All equipment is provided. Visit the Events Calendar for program details.
3. Kayak Fishing
While most outdoorsy people can enjoy a day just cruising and paddling, others want to wet a line for some of the lunkers that live in the ample habitat of Knoxville's rivers and reservoirs. Kayak angling is extremely popular in Knoxville due to the access and quality of fish, so you'll have no trouble spotting a local or finding someone to chat with at the launch. If you prefer a fly rod, you won't have to go far to find trout in the upper sections of the Holston River, which is a short drive if staying in Knoxville. Just stop at 3 Rivers Angler just west of downtown for supplies and advice on where to put in and start fishing.
For fly rodders and conventional anglers alike, a good bet is to target the smallmouth bass that lives in the Holston and French Broad and can be accessed from Holston River Park or Ijams Nature Center. Even in the downtown area and the coves downriver, impressive populations of largemouth, panfish, and sizable catfish give one plenty of opportunities for a big catch.
4. Boating
While Knoxvillians enjoy paddling, they also really love their pleasure boats. With three boat manufacturers building some great vessels in town, there's quite the culture of folks cruising the Fort Loudoun Reservoir and enjoying Calhoun's or Sweet P's BBQ at the mouth of the Little River after docking their craft. Of course, we can't talk about Knoxville without talking about Big Orange football. Neyland Stadium overlooks the Tennessee River, so scores of boats congregate in an armada of alma mater spirit next to the stadium to eat, drink, and cheer as the Volunteer Navy.
5. Wakeboarding And Water Skiing
While some may enjoy relaxing on a boat, others want to tear it up with their wakeboard or water skis. You'll find plenty of nearby lakes to find your own stretch of water for wakeboarding, waterskiing, wake surfing, and tubing, and reservoirs like Melton Hill are within easy distance of driving in the West part of Knox County. Knoxville isn't short on marinas and public access boat ramps, so the options are endless for those with a boat in tow.
No matter how you enjoy the water in Knoxville, it's just a short trip to enjoy the rest that the city has to offer—from bars and restaurants to lodging and outdoor shops. Your time on the water may be the reason to visit, but it's far from the only reason to stay in town.
Written by Charlie Morgan for Matcha in partnership with Visit Knoxville.