For the first time since its creation in 2020, G.O.A.T House of Creative is releasing a scenes collection inspired by its hometown, Knoxville, Tennessee. From Neyland Stadium to the Henley Street Bridge, this collection captures the images that make Knoxville such an iconic city.
Containing 12 unique prints, G.O.A.T believes this brand new collection highlights both the brilliance and the peacefulness of everyday life in Knoxville. Whether it's capturing a scenic shot of the Tennessee River or the bustling nightlife at Cruze Farms Ice Cream, each piece features the bold colors and textures that have led G.O.A.T to capture art fans across the country. To ensure these scenes enhance any space, the studio outfits each one with numerous options, including:
Giclee prints, canvases and art cards

A wide range of sizing options for canvas and art prints

In-house framing with black or white frames

Multi-print sets for a complete home gallery
With this new collection, G.O.A.T believes it once again highlights its attention to detail on all levels. It prints all art on high-quality canvas or matte paper stock to stand out in any space. Additionally, a made-to-order production process ensures each piece is completely custom, further strengthening the studio's reputation for customer-focused service. 
G.O.A.T has also branched out into the world of commissions. Interested customers can follow the simple request process to have a photo of their favorite location turned into an exquisite painting, perfect for a gift or personal gallery.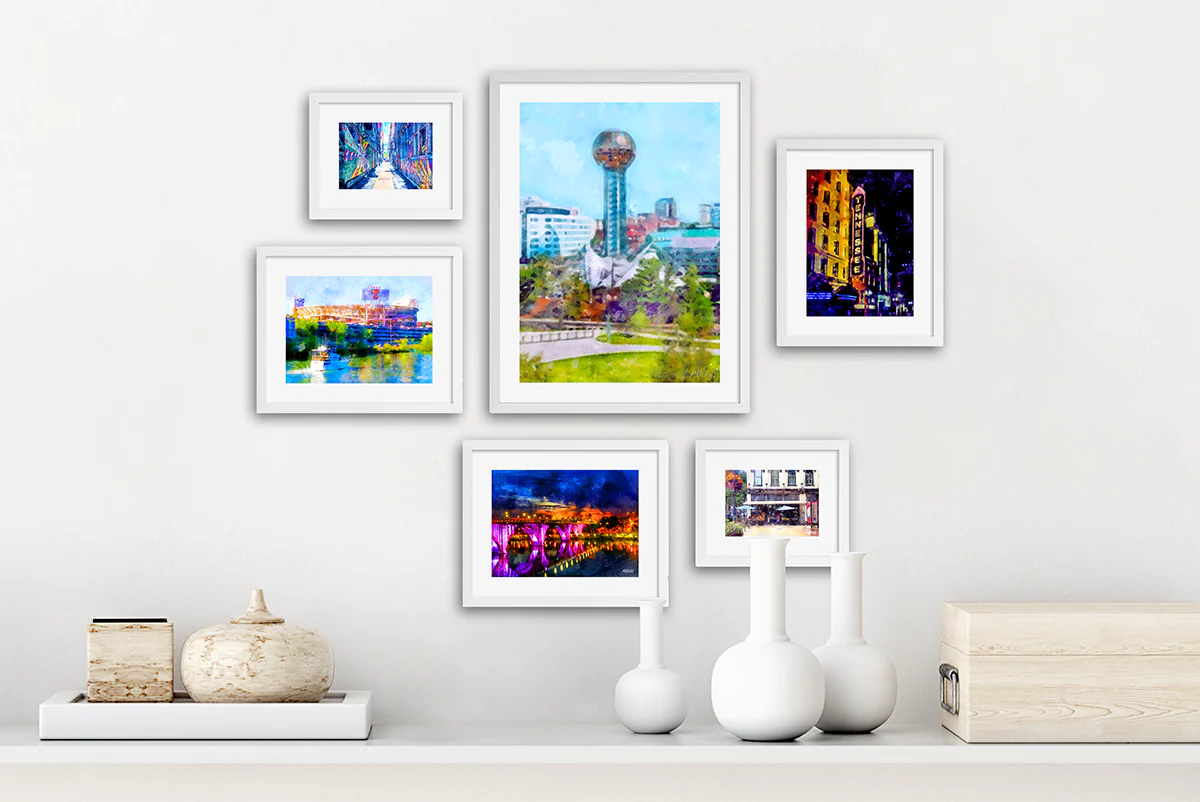 "All beautiful prints of my hometown!" writes one happy customer. "These were very nicely framed with a finished backing, hardware already installed and little felt pads for protecting the wall. Customer service was fantastic! I was even allowed to switch the larger picture to a different one. I highly recommend!"
The Knoxville scenes collection has been a long time coming. For the past two years, G.O.A.T has earned itself a reputation for creating high-quality art prints that showcase iconic details of cities across the country. But while the studio has released collections inspired by destinations as far as Los Angeles, California, these Knoxville scenes mark the first time G.O.A.T has taken a more local approach. With this collection, G.O.A.T believes it perfectly captures the essence of a city whose historic roots have evolved into a hub for modernity and creative expression. 
The studio's signature style shines through more than ever in the new Knoxville collection. The studio notes the slightly blurred texture of each print gives every image a dreamlike quality, evoking feelings of nostalgia and capturing the creative energy of the bustling city. Plus, a vibrant, near-technicolor palette in each piece leaves a lasting impression on any viewer, whether it's displayed in a waiting room or home gallery. 
"We have rarely seen quality collections of affordable art that represent other cities and popular destinations such as our National Parks. So we thought, let's create them ourselves!" writes G.O.A.T's founder, Kristy Lennox. 
Lennox's vision is apparent in the Knoxville scenes collection. These snapshots of city life capture the city's diverse culture and historical significance, making them the perfect homecoming for an art studio that has traveled to the far reaches of the United States. G.O.A.T notes that with each piece being both affordable and customizable, this collection is ideal for any art lover looking to add a touch of an iconic city to their gallery. 
Combining a one-of-a-kind art style with stills from a legendary city, the studio believes this artwork is the perfect vessel to showcase its local pride after two years of capturing scenes across the country. Art enthusiasts can view and purchase pieces from the new Knoxville collection at the G.O.A.T House of Creative website or via G.O.A.T's physical gallery located within the Shops of Southern Market at 5400 Homberg Drive in Knoxville.