KNOXVILLE, TN – HGTV hosts are confirmed for the 2016 House & Garden Show. Matt Blashaw, licensed contractor and host of HGTV's Vacation House for Free, and Tiffany Brooks, season eight winner of HGTV Star and host of HGTV's Smart Home 2016, are coming to Knoxville to share their expertise on house renovation, real estate and interior design at the 38th annual House & Garden Show.
Blashaw is everything homeowners want in a versatile handyman and then some. A native of Orange County, Calif., Matt spent his teen years working at his father's lumberyard before graduating from Chapman University. He then moved on to a variety of jobs in the construction and entertainment industries. A stint with the technical services group at Disney taught him about show effects and electrical installation. Today, when he's not sharing his expertise with HGTV viewers, Matt works as a real estate agent and builds homes in Orange County.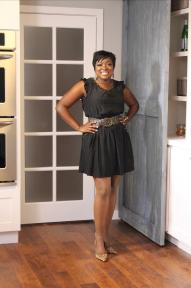 Brooks, recently named as one of the nation's Top 20 African American Interior Designers, is a wife and working mom who loves spending time growing her residential interior design business. She first demonstrated her design talent when she was offered the opportunity to stage model homes while working in property management. After one of her model-home designs won an award, she decided to follow her passion for interior design full-time. Tiffany's design style is "classic with a twist," and she enjoys mixing traditional pieces with a little rock 'n' roll.
The Dogwood Arts House & Garden Show runs February 12 – 14 at the Knoxville Convention Center in downtown Knoxville, Tenn.  More information regarding the full entertainment schedule will be coming soon.  Visit www.dogwoodhouseandgarden.com as details unfold.
About the House & Garden Show
The Dogwood Arts House & Garden Show celebrates its 38th year as the largest annual fundraiser for Dogwood Arts.  For more information on the House & Garden Show, including how to be a part of the action, visit www.dogwoodarts.com.
About Dogwood Arts
Dogwood Arts, presented by ORNL Federal Credit Union, is a 501(c)3 not-for-profit organization whose mission is to promote and celebrate our region's arts, culture, and natural beauty.  For more information, visit www.dogwoodarts.com or call (865) 637.4561.