Knoxville Welcomes
the 64th Annual Men's & Women's
Swimming & Diving National Championships
March 4 - 7, 2020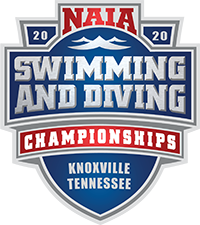 The NAIA Men's and Women's Swimming and Diving Championships will find a new home in Tennessee as the Visit Knoxville Sports Commission will be the new host for the 2020 and 2021 events at the Allan Jones Aquatics Center.
In the 63 years of men's and 39 years of women's swimming and diving championship, the championships have never been hosted in Tennessee. These championships will be the 8th and 9th championships that have been held in the Volunteer State. Previous championships include baseball (1979-1980), DI women's basketball (1991-2011), football (1986, 1989, 1996-2007), women's golf (2011-2012), men's and women's indoor track & field (2001-2010, 2016-2017) and women's volleyball (1994).
"The NAIA is excited to partner with Visit Knoxville Sports Commission," said Jim Carr, NAIA President and CEO. "The Allan Jones Aquatics Center will raise the competition experience throughout the championships."
Visit Knoxville Sports Commission is thrilled to host this prestigious and awesome event. We know athletes, coaches, and spectators alike will all enjoy the competition, the venue and the city. Good luck to every team and competitor and welcome to Knoxville!
Questions? Contact our Sports Commission team
GETTING AROUND DOWNTOWN KNOXVILLE