Knoxville Online Visitors Guides
Visit Knoxville and the Knoxville Chamber are pleased to present the 2016 Knoxville Visitors and Relocation Guide.
The 2016 guide focuses on the 225th Anniversary of Knoxville. It includes feature stories on the History of Knoxville and Knoxville's Diverse Diversions. Additional stories focused on Knoxville's Outdoor, Music, Culinary and Brewery scenes can be found in the Visitors section of the guide. The Relocation section includes additional information on healthcare, education and Knoxville's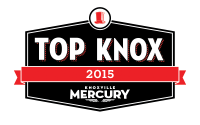 phenomenal quality of life. Readers will also find maps and city-wide listings for attractions, restaurants, hotels, shops, entertainment and museums.
The guide also includes Top Knox Winners. Look for the top hats in the guide listings or CLICK HERE to see a full list of winners!
Update! The Top Knox 2016 Winners have been announced! To see THAT list CLICK HERE!
---