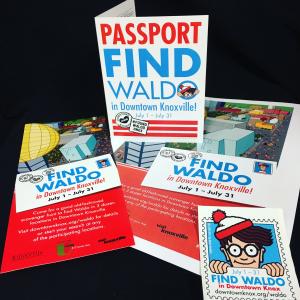 Time to pick up a passport and see if you can find the bespectacled character so many love named Waldo. Last year Knoxville hosted one of the nations Where's Waldo Scavenger hunts with a lot of success so this year we are doing it again!
More than 30 local businesses have passports and a Waldo! You pick up a passport and then start hunting. There are actually about 250 cities in the country that have this same summer fun. Knoxville's is located Downtown and in the Old City...actually there is even a FREE trolley that Waldo rides on throughout the day. 
All of the locations have stamps that you can collect in no hurry, but it is a bunch of fun. After 20 stamps you can enter to win a deluxe set of Waldo books and prizes. You'll have to register at Union Avenue Books! 
So what are you waiting for? Get your official Waldo Spotter passport and get hunting!