Searching for the perfect gift for family and friends? Surprise your loved ones with a thoughtful gift set of useful, cozy at-home items! Everyone wants to snuggle in for the holidays - morning and night. When life gets festive and weather gets chilly, we should be sure to take time for ourselves by indulging in these peaceful moments. What better way is there to remind those closest to you that you treasure their happiness than by gracing them with gifts of thoughtful self-care!
If your recipient is an early bird ready to wake up with the sun, then our holiday toffee and coffee duo is calling their name. Bask in the morning's beauty with a warm mug of local K Brew coffee paired alongside decadent Towns Toffee. Seasonal treat favorites like candy cane and mini marshmallows adorn their handcrafted White Chocolate Peppermint and Rocky Top varieties. These sweet treats are a classic complement to K Brew's Marble City blend that highlights tasting notes of chocolate covered orange, honeydew, and pecan. Our speckled Tri-Star campfire mugs are the picture-perfect extras to tie this gift set together. These porcelain mugs come in traditional white and red colors to match the season.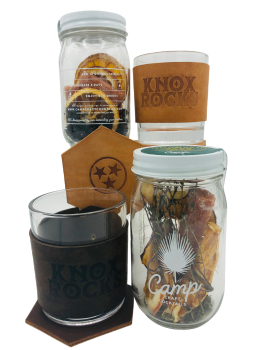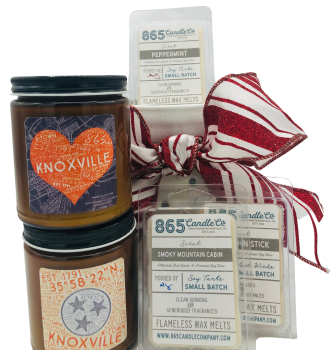 If your recipient is a night owl ready to wind down only once the world has gone to bed, then our holiday cocktail and rocks glass combination is right up their alley! Our Camp Craft Cocktail jars make delectable drinks in two crowd-pleasing flavors: enjoy herbal and refreshing Mountain Pass flavored by thyme, apple, orange, and bitters, or sip on a timeless Old Fashioned flavored by orange, apricot, cherry, and bitters. These festive beverage varieties are to be infused with the alcoholic or non-alcoholic liquid of your choice and can create up to 16 drinks per jar! Pair these cocktail jars with locally handmade rocks glasses and coasters by Honeymouth Leather for the final touch. Not only do these Knoxville maker items elegantly complete our cocktail gift set, they also showcase quality craftsmanship that will last a lifetime.
Top off any holiday gift set by sharing some snuggly, hometown pride with our plush blankets, fluffy pillows, and comforting 865 Candle Company scents. Our chenille blankets are embroidered with Knoxville, Tn in an elegant script, and our comfy canvas throw pillows come in Tri-Star or Heart of the Valley styles to add a touch of local charm to any décor! 865 Candle Company is sealing the gift giving deal by offering their holiday and classic scents in both candle and wax melt options. Enjoy relaxing scents like Smoky Mountain Cabin, Home for the Holidays, Peppermint, and Cinnamon Stick! The wax melts offer a smokeless, flameless aroma and candles come in a decorative 9oz glass jar.
Between celebratory beverages, yummy delicacies, and cozy home-warming decorations, the Visit Knoxville Gift Shop can check off your entire gift list. Stop in at the Visitors Center downtown or shop online and take special care of everyone you love and cherish!