It's the '20s again, whether we're ready for it or not, but the old '20s haven't given up on us altogether. Some museums are closed, but parts of Knoxville are kind of an outdoor museum of 1920s architecture, suitable for driving or even walking tours.
In the 1920s, Knoxville's population swelled by more than a third, and the city marked a total population of more than 100,000 for the first time. The university was getting bigger, big factories like Fulton, Brookside, and Standard were hiring, and the city was filling out the new suburban areas like Sequoyah Hills and Holston Hills that had been annexed in 1917. Architecture of the 1920s might be a confusing concept to consider. Buildings of the '20s don't necessarily look much alike. In every kind of art, there were lots of different currents during that fast-changing era.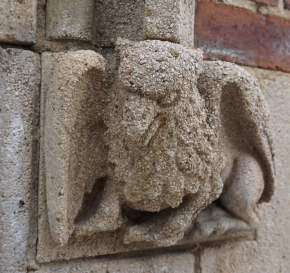 College culture came to the fore in the sis-boom-bah '20s, and during that decade, college architecture meant one thing: "collegiate gothic," or something similar. Colleges wanted to look like Oxford and the other famous colleges of Europe. The decade began with the completion of the university's most iconic building, UT's Ayres Hall (1403 Circle Drive, atop UT's Hill). Planned in 1919, with a design by Chicago architect Grant C. Miller (Miller, Fullenwider and Dowling). It's a beautiful building that gets more fascinating the closer you get to it. People argue about its style, sort of a Renaissance Revival ideal with Gothic touches. It's one of Knoxville's very few buildings with actual gargoyles (see if you can find them). It's long been claimed that the Vols' checkerboard motif, as reflected in the end zone at nearby Neyland Stadium began with the checkerboard pattern on Ayres' tower. By the way, Neyland's gridiron, still known as Shields-Watkins Field, was first used the year that Ayres was completed.
The Andrew Johnson Building (912 S. Gay St.), originally built as the Tennessee Terrace Hotel, on a plan from local firm Baumann and Baumann, was designed in the mid-'20s and completed in 1929. A pretty standard-looking urban hotel of its era, it was so big because it was anticipating tourists coming to behold the brand-new Great Smoky Mountains National Park. Upon its completion, the 17-story hotel was the tallest building in East Tennessee, a title it would hold for almost half a century.
It was the Jazz Age, and as it was completed, a jazz band—Maynard Baird's Southern Serenaders—played on the roof, with speakers so loud the music could be heard on Market Square. It was an era of "movie palaces," and the two most elaborate movie theaters built in Knoxville's history were both built in the '20s. The first was the Riviera, completed in 1920 and designed to hold more than 1,000 patrons, it was a popular movie house for more than half a century. It was torn down in the 1980s, years after a fire had ruined much of its distinctive interior, but in 2007, a brand-new cineplex was built in the same Gay Street site, honoring the old landmark: the Regal Riviera (510 S. Gay St.). Prominent in the lobby there are big photographs portraying the old theater as it looked in the 1920s.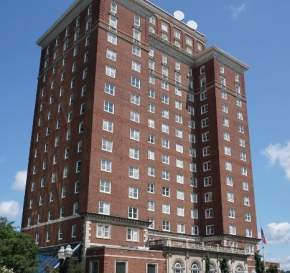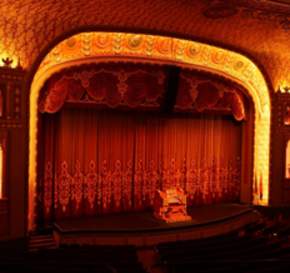 We still have the much bigger, much more elaborate of the two. The Tennessee Theatre (604 S. Gay St.), designed by the Chicago firm of Graven & Mayger, was completed by the Fuller Company, also of Chicago (Al Capone's favorite town had a lot to do with the look of Knoxville). It could seat almost 2,000, in a surreal atmosphere of exotic and sumptuous luxury. Its short-lived style—Moorish Revival—did not exist for movie theaters before about 1925, or after 1930, so it may be the most distinctly 1920s building in Knoxville.
However, it may be ironic that the Tennessee is almost 180 degrees contrary to the decade's most influential new architectural trend: the International Style, which came to the fore at Germany's Bauhaus. The idea in the '20s was that the modern world would be about simplicity, form following function with no more ornamentation or pretense, in packages of glass and steel. It was the beginning of the era of architectural Modernism. In the 1920s, Knoxville had no perfect examples of that brand-new style—very few American cities did until after World War II—but walk around the corner down Union, and you'll find a building influenced by it.
The Daylight Building (517 Union Ave.), home of J.C. Holdway, Union Ave Books, and other businesses, plus several residences above, touts one of the ideals of modernism in its name—natural light is elemental to the modernist ideal—and in its design, with plate-glass windows unusually large for its day, and skylights in the roof, and some translucent ornamentation on the eaves that you might never find on a building designed in any other decade. In the 1920s, it attracted modern people, like Robin Thompson, who was probably Knoxville's first professional aerial photographer, a large, modern cafe, and a store that often exhibited modern art. It looks more "modern" to us today than the Tennessee Theatre does, but in fact it's more than two years older. It opened in the summer of 1926. In that bookstore they still sell significant books published that year, from Agatha Christie's classic whodunnit The Murder of Roger Ackroyd to Ernest Hemingway's The Sun Also Rises, the groundbreaking modernist novel that popularized the notion of the "Lost Generation."
There were other "daylight buildings," of the era, including maybe a dozen car dealerships that for whatever reason tended to be on the north side of downtown. The simple, modernist style with big windows was perfect for showing off new cars. One place to see an example is the Mill & Mine building (227 West Depot), which despite its name was originally a Mack Truck dealership. Why the Tennessee Theatre was not modernist is easier to explain. Modernism rejoices in light, and a movie theater wants no daylight at all, thank you.
But some Knoxville architects, including well-trained and relatively young ones, like Charles Barber, rejected modernism altogether. Born in 1887, he was almost exactly the same age as some of the world's most famous modernists, like Mies van der Rohe and Le Corbusier, who loved glass, steel, and massive amounts of concrete. But he didn't like modernism one bit, and found that his Knoxville clients didn't, either. He loved storybook styles of the Medieval era, and in the 1920s he was using that approach on dozens of Knoxville buildings. Many of the houses along Kingston Pike and in Sequoyah Hills are Barber styles, as are some of UT's buildings, like Hoskins Library (1401 Cumberland Ave.) and Alumni Memorial Hall (1408 Middle Dr., on the south side of UT's Hill). Hoskins, planned before the 1929 crash but completed in the early '30s, has a sweeping stone staircase suitable for swordfights, and, on top, a castellated parapet ready to be manned by archers.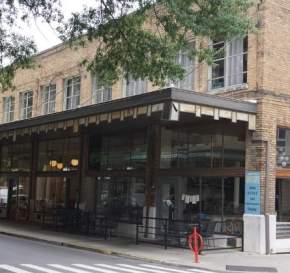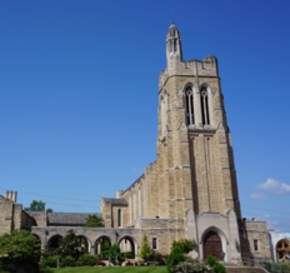 Downtown, the best examples of his dramatic works of stone and brick are the 14-story General Building (625 Market Street), built in 1925, and the 1929 YMCA (605 W. Clinch)--and, above all, the Church Street Methodist Church. That church, which, despite the name, is at 900 Henley Street, was designed in the late '20s with participation of a very famous visiting architect, John Russell Pope, who later designed the Jefferson Memorial in Washington—but Charles Barber was the local architect, and it's the greatest realization of his Gothic-revival ideals. After some delays, including the on-site murder of the chief contractor in early 1930, it was completed in early 1931.
Barber was almost as well known for the friends he worked with. Artist Hugh Tyler—author James Agee's uncle, disguised as "Uncle Andrew" in A Death in the Family—created artistically painted interiors on Hoskins and Church Street Methodist. Samuel Yellin, the Ukraine-born iron artist based in Philadelphia, worked with Barber on exterior ornamentation on both the General Building and, more elaborately, on Alumni Memorial Hall.
Barber admired and respected a younger Knoxville native, John Fanz Staub, who in 1924 got some national attention for an extremely retro English-style cottage that he called Hopecote. It's at 1840 Melrose Avenue, and fortunately escaped the bulldozer's blade that erased much of its old neighborhood as UT expanded after World War II. Barber recruited Staub to join his firm as a partner, but then Staub got some high-profile work in fast-growing Houston, and spent most of the rest of his career in Texas.
Barber also designed Holston Hills Country Club (5200 Holston Hills Road) in the 1920s. Not to be outdone, Cherokee Country Club (5138 Lyons View Dr.) designed an even more retro clubhouse, but rather than Barber, in 1925 they enlisted a member of their own club, A.B. Baumann, Jr., the younger designer of the Baumann and Baumann firm, to create a turreted French Provencal daydream overlooking the river.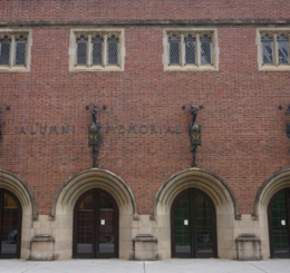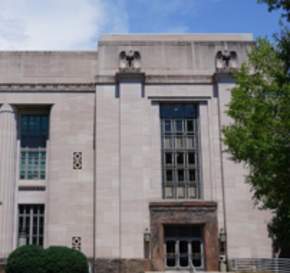 Another new style in the '20s that was probably more familiar and agreeable to Americans at the time was art deco: artistic decoration employed in jewelry, automotive design, and especially architecture. In opposition to modernism, art deco presented ornamentation, but very differently from the elaborate gingerbread styles of the Victorian era, but more playful than the styles that followed it, like art nouveau. It was ornamentation, but it was streamlined, graceful, modern.
You see touches of it here and there, subtly in the Daylight building, for example. The old Post Office building on Main Street (501 W. Main), designed in the early '30s and built of Tennessee Marble, presents an appropriately conservative articulation of art deco, especially in the moderne lines and distinctive eagles, carved by Italian sculptor Albert Milani.
Perhaps Knoxville's best art-deco building, though, reflecting that style even on the outside, is a building not completed until 1937, the S&W Cafeteria at 516 South Gay Street (now the Douglas J. Aveda Salon). Cafeterias were new and modern in the 1920s and '30s, even considered futuristic, presenting us with an efficient, streamlined new way to feed ourselves. They went along perfectly with art deco. The old Charlie's Pie Shop building at 2203 North Central has art-deco curves, but it dates from 1945, the end of that era, as does the former Naples restaurant building at 5500 Kingston Pike in the heart of Bearden. They reflect a style that started in the '20s, but not that era itself.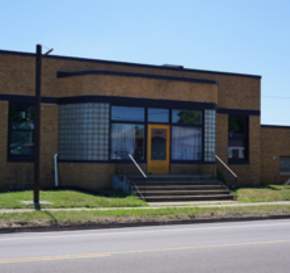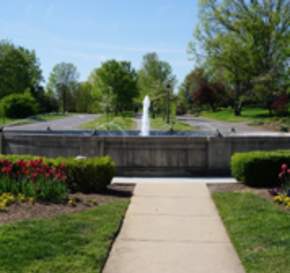 An equally distinctive and much-earlier evocation of art deco is entirely authentic to the '20s, and it isn't a building at all, but a cluster of outdoor structures that make people wonder. Along Cherokee Boulevard/Sequoyah Hills Park and Talahi Park are large concrete monuments, including a big pool with multiple bronze frogs spouting water into it, an oblong enclosed area, decoratively fenced, with unusual gates and a couple of little shelters, and a tall obelisk with four panther heads. It all dates from an unusual 1926 development known as Talahi, a planned community that we would call a "town center" development today. It didn't work; its high prices led to disappointing sales even before the Depression, which finished it off.
There's a lot of art deco here, but not like you'll find anywhere else. The long-legged spider and Thunderbird imagery come from Cherokee mythology, a deliberate theme of the development. But some of it's Egyptian, which might seem surprising until you remember it was the '20s. Four years before these monuments were conceived, British archaeologist Howard Carter discovered the tomb of King Tutankhamun, and photographs of the relics, appeared in newspapers and magazines all over the world, and fascinated artists. It was probably the most aesthetically exciting event of the decade. King Tut is especially present in the "panther fountain." The obelisk is Egyptian to begin with, but the panther heads in particular resemble specific artifacts, like the gilded leopard head, found in King Tut's tomb in 1922. What's more '20s than that?