This monthly blog from The Maker City features a look at some of the Knoxville area's outstanding makers – artists, crafters and custom builders. This special Holiday Edition introduces the Holiday Monday Marketplace and the 2020 Gift Guide.
"Buy local." 
Chances are you've heard that phrase. It's no secret that Farmers' Markets offer the freshest, heartiest produce and that family-run businesses of all types -- from HVAC to hairdressing -- are likely to be conscientious, consistent and competitive when trying to earn your dollar. But dog toys? Whisk brooms? Cupcakes? Hats? The answer is a big YES to these locally made things and many more.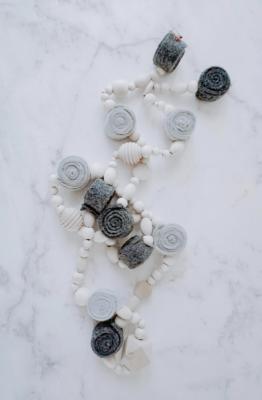 Felt & Bead Garland by French Twist
Why buy locally made holiday gifts?
In this Holiday Season marking the end of a very challenging year, buying your Holiday gifts locally is the best thing you can do on every level. Here's why:
- Your gifts, like their recipients, are unique.
No one else is going to have a gorgeous, hand-stitched, vegan leather document case (Hot Mess Leather Goods) or a necklace made of repurposed antique buttons (Piece of Sunshine Designs) like the one you selected from local Makers. What better way to show your loved ones how special they are to you?
- Your gift has good karma.
Laurie Kay, a member of the Mayor's Maker Council, says, "Every maker adds their heart into what they're making. You're actually purchasing something made with love -- not just something mass-produced." Kay's a perfect example; her business is actually named Monsters Made with Love, and she offers workshops and sewing kits for anyone who is interested in creating their own charming, cuddly, bespoke beast.
- You're supporting local makers and their families.
To paraphrase an old saying, when you purchase from a large corporation, the CEO gets to buy another yacht. When you purchase from an individually run business, a child gets to go to college.
- By extension, you're supporting a whole web of locals who work with the maker.
"We are using our local manufacturers, our local suppliers -- everything is local," says Kay. "The money stays in the community. During these times of unrest, keeping money within a local economy is becoming more and more important!"
- Sustainability.
Knoxville's Makers are dedicated to environmentally responsible practices. And a handmade laser-engraved bamboo cutting board (CarveBright) or nature-inspired decorative vase (Bug Pottery) tends to get cherished and handed down, never tossed in a landfill.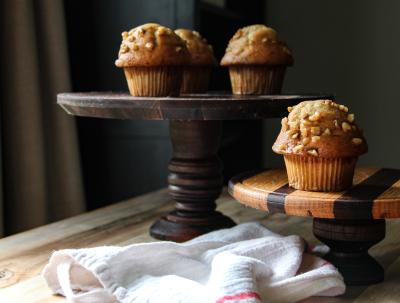 Cake Stand by Wheat's Woodwork
All those makers! Isn't it overwhelming? Fear not: we've done the hard work for you and curated a selection of locally made gifts for everyone on your list!  You have TWO options for easy (and socially distanced) shopping:
The Maker City Holiday Gift Guide
A curated selection of locally made gifts + goodies from Knoxville makers. This digital gift guide classifies local items based on usage and its possible recipient. Peruse this guide for inspiration then head to The Maker City Directory to make purchases.
Holiday Monday Marketplace
This LIVE auction takes place every Monday on The Maker City's instagram page. From 8 a.m. to 8 p.m. every week, now through the end of December. Bid on your favorite pieces and start a bidding war knowing that 100% of the purchase price goes to the Maker! The goal is to bring awareness to new makers, increase maker sales and help you feel good about every purchase! Check out Instagram @themakercity #MondayMarketplace.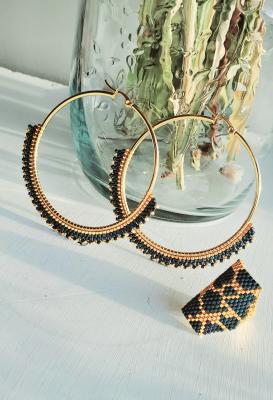 Set of handmade hoops and ring by Anamar
If you have an irresistible itch to browse, Knoxville has many options for a masked outing - many within walking distance of each other - which feature tons of local artists all under one roof. They include:
RALA - One of Knoxville's most beloved stores, every single piece at RALA comes from a local maker, including works by illustrator Paris Woodhull, RALA's own manager/buyer, and those charming, iconic Native Maps of Knoxville and other cities by David and Rebecca Mattingly Harman.
Jacks of Knoxville - Makers who run their own businesses have to be "Jacks of All Trades" -- covering everything from accounts to marketing to product design and manufacture to order fulfillment! They're honored in the name of this store, which carries local art, cards, stickers, apparel, edibles, home goods and more. Enjoy a cup of Highline Coffee while you browse!
Whimsy and a Dream - A brand-new shop, featuring over 21 local artists in a variety of mediums.
Honeymouth - You'll find locally made handcrafted leather goods, embroidered apparel, vintage clothing, and the most positive vibe in town -- "artist-made wares with a mission to empower humans by spreading kindness & encouraging self-love."
Southern Market - Stroll among more than 40 individually owned shops inside this spacious one-stop-shopping destination. You'll find art, decor, dolls, furniture, lighting, jewelry -- many by local makers.
Mighty Mud - This working pottery studio, also offering workshops and instruction, features a retail space for local makers.
Here's to the best of the season for you and yours from The Maker City!