Many of our blog viewers are familiar with our friends at WDVX, the in-house radio station inside our Visitors Center. They're well known to visitors and locals alike for their daily noon program "The Blue Plate Special", but you might not know about their newer monthly program "Taps and Tunes". This show happens the First Friday of every month from 6-7PM at the Visitors Center.  Performances are hosted by Evie Andrus (the writer of this blog post!) and include artists from around the region as well as nationally touring acts. Play your part in this live radio show or listen to the broadcast on 89.9 in East Tennessee or on the wdvx.com live stream.
 
Without further ado, here's Evie with 10 things to know about Taps and Tunes!
1. We have our own theme song! It features some unique geography tips to help you learn more about Knoxville too: "Come on down to Knoxville, Knoxville Tennessee, at the corner of Gay Street and Summit Hill you'll see, some good old-fashioned music and laughter in the air, at WDVX Taps and Tunes we all are family here."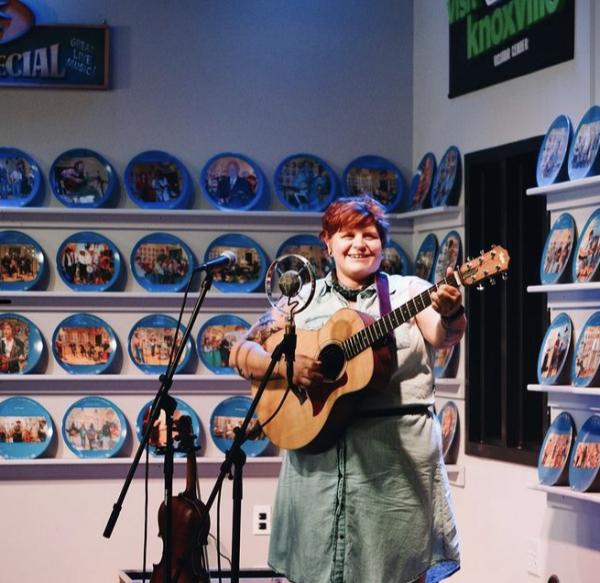 Evie Playing Guitar
2. I play a mean fiddle and grew up in North Dakota, yeah sure you betcha! I found my way to East Tennessee by first attending East TN State University in Johnson City and simply fell in love with the region. I grew up playing in a family bluegrass band and minored in Bluegrass and Old Time Music at ETSU. I spend her time either teaching music, performing around the region, or training for triathlons. I'm also very involved in the East Tennessee Bluegrass Association.
3. Yes, we do indeed serve beer during the show! We strive to offer a rotating sample of local brews as well as some standard favorites, so there is something for everyone. Special thanks to Eagle Distributing for partnership on Taps and Tunes.
4. We get to feature some pretty amazing regional musical talent every month. From the not yet known to the household name, Taps and Tunes is a space for artists to spread the word about the new and fun things they have going on. Past performers include Erick Baker, Haley Labelle, The Montvales and Tinca Tinca. Knoxville has loads of live music, check out Visit Knoxville's event calendar to see what's happening during your visit!
5. Our house band, the Friday Friends, is too much fun and often features young, upcoming performers in the Knoxville area. Did you know that Knoxville has a rich history of young stars on the radio before they were "discovered"? Everyone from the Everly Brothers to East Tennessee's own Dolly Parton. Taps and Tunes is proud to carry on that tradition by offering young talent a platform to perform on. Interested in more of this musical history? Check out the Cradle of Country Music Walking Tour!
6. The show is a collaboration between Visit Knoxville and WDVX (a local nonprofit radio station housed inside Visit Knoxville's building). Another show worth checking out is The Blue Plate Special that occurs Tuesday-Saturday live at noon. The show on Friday makes its way to Barley's Taproom down in the Old City for The Big Plate. The Blue Plate differs slightly from Taps and Tunes in that it more of a straightforward show whereas Taps and Tunes is a variety radio show.
7. Our "Maker's Moment" highlights artisans from all mediums: leather making, woodworking, painters and even a children's book author. Most of the folks featured in this segment have work that is carried in the Visit Knoxville Gift Shop and purchases are a great way to take some Knoxville home with you. We are proud of the rich arts world in Knoxville, get to know more about our The Maker City here!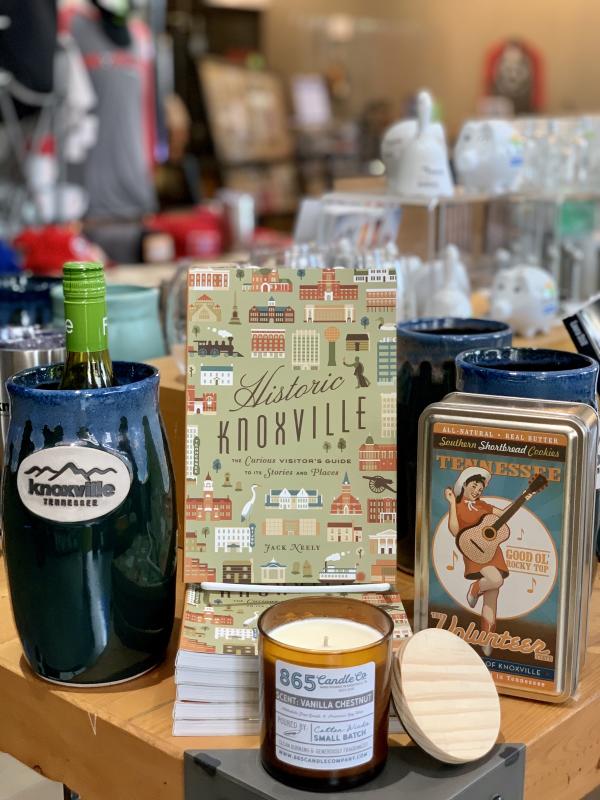 Maker's Moment Artisan
8. We are a live radio broadcast on WDVX which is also live streamed online reaching around the globe.  WDVX started in a camper nearly 25 years ago and is recognized worldwide by the Americana, Roots and Bluegrass artists that it supports. Often you will see a WDVX sticker traveling around on the case of some musician showing that they have been to play on one of our many live radio shows.
9. We offer a free and family friendly show, so bring them all, the dog, too, if ya want. Word is our host (ahem…that's me…) may get distracted though if the doggo is adorable. You'll be surprised how dog-friendly Knoxville is!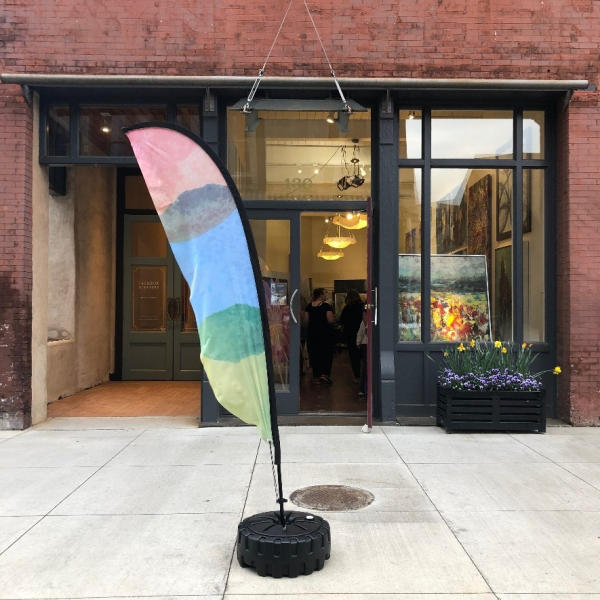 First Friday
10. We are the perfect way to start your First Friday adventures downtown (look for the flags)! Showtime kicks off at 6pm and you don't want to miss a beat. We start off with the Friday Friends which is your chance to say, "I saw them when…" and then its onto our featured musical, a brief interlude to chat with a maker, then it's straight back into the music for the rest of the hour. So stop on in and find out what Taps and Tunes on the Corner is all about! Hope to see you soon!