Individuals or families who wanted to preserve a representation of themselves in the early 1800s hired portrait artists. The subjects might decide to pose for a simple likeness, or they might tell the artist to flatter them by altering their hairstyles, clothing, backgrounds, views, or surroundings. Some portraits were even altered later to suit different wishes. Think of these portraits as the "social media posts" of the American colonial and antebellum periods. 
You can see 19 examples of these portraits in the feature exhibition Shaver: An Artist of Rare Merit, on display at the Museum of East Tennessee History through January 30, 2022.  
Samuel Moore Shaver was the youngest (or next-to-youngest) child born to David and Catherine Barringer Shaver on Reedy Creek near present-day Kingsport, Tennessee, in 1816. He began painting portraits by the late 1830s, perhaps influenced by William Harrison Scarborough, a traveling portrait painter from Middle Tennessee, who visited Sullivan County in 1833. The exhibit traces how Shaver's skills matured, from reproducing straightforward likenesses in his early years to creating portraits with complex backgrounds that became his hallmark in later years.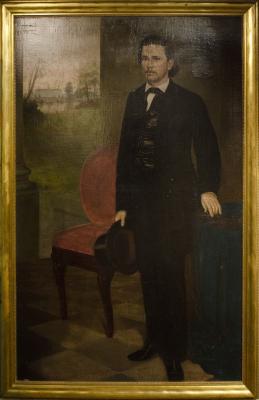 George Arthur Branner 
One of those complex backgrounds is included in a treasured memory of a young man's life. George Arthur Branner was 19 years old when he died of typhoid fever while serving in the Confederate Army. His family chose to remember Branner at his alma mater, Princeton University, when they hired Shaver to paint his portrait in 1861. Shaver likely worked from family photographs to create his depiction of Branner in a black suit with a view of Nassau Hall through a window in the background.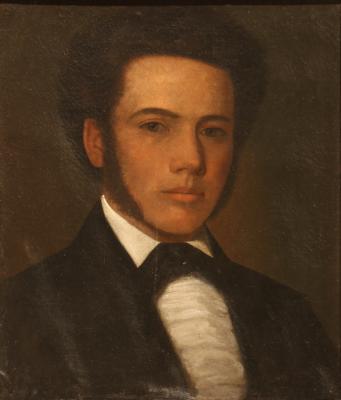 John Kyle 
Sideburn Shenanigans 
Another of Shaver's subjects also died as a young man, but his current portrait looks noticeably different from the original. When John Kyle posed for Shaver to paint a simple likeness in 1845, he was 20 years old. Like many of the men Shaver painted, Kyle was clean-shaven, but he did sport a pair of sideburns. Sometime in the twentieth century, the previous owner of the portrait changed the look of Kyle's sideburns by extending them much further along his jawline. The reason for the change is not known, but the original version is clearly seen in early documented photographs of the painting. Kyle died at the age of 23, long before the change was made.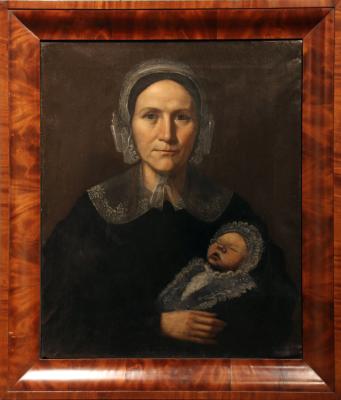 Barsheba Whitehead Cobb Kyle 
No one puts baby in a corner…but they might paint over her… 
Kyle's mother, Barsheba Whitehead Cobb Kyle, also hired Shaver to paint her portrait in 1845. She posed with her baby granddaughter on her lap, but another person painted over her granddaughter sometime later with black paint, leaving only Barsheba visible. Death was not the reason since Barsheba's granddaughter, Sarah Alice McClure, lived to be 84 years old. No surviving records reveal why baby Sarah was hidden or who painted over her. A modern restoration of the painting brought McClure back into view on her grandmother's lap.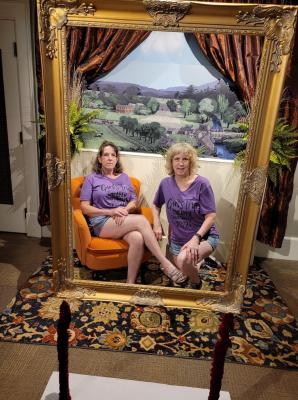 Why so serious? 
Do Shaver's portraits inspire you to create your own 1800s style memory? Strike a pose when you tour the exhibit at the East Tennessee History Center (601 South Gay Street), and be sure to post your #ShaverPortrait on social media with a #eastTNhistory tag. 
The museum is open Monday through Friday from 9:00 a.m. to 4:00 p.m., Saturday from 10:00 a.m. to 4:00 p.m., and Sunday from 1:00-5:00 p.m. with FREE admission for members throughout the week and for the public each Sunday. You can learn more about Shaver: An Artist of Rare Merit on the East Tennessee Historical Society website. 
About the East Tennessee Historical Society 
Established in 1834, the East Tennessee Historical Society is widely acknowledged as one of the most active history organizations in the state and enjoys a national reputation for excellence in programming and education. For 187 years, the society has been helping East Tennesseans hold on to our unique heritage—recording the events, collecting the artifacts, and saving the stories that comprise the history we all share. The East Tennessee History Center houses the staff and programs of the East Tennessee Historical Society, the Museum of East Tennessee History, the Calvin M. McClung Historical Collection, the Tennessee Archive of Moving Image and Sound, and the Knox County Archives.