Most of the holiday events in Knoxville are family-friendly, including the downtown Peppermint Trail of Treats.  However, maybe you'd like to see what the Trail is all about and prefer to leave junior at home with a babysitter.  If you want to know how to experience all the peppermint goodness from an adult-only perspective, read on!
Morning
If you're out and about in the morning (zzz), you'll of course need to start your day with some coffee. Whereas the kiddies would have a peppermint hot cocoa, you should be sampling peppermint lattes! 
Coffee & Chocolate has a peppermint mocha and some truffles to pair with it.  The French Market has a white peppermint mocha – try it with a Peppermint Sweet Cream Crepe with Chocolate Chips.  Awaken Coffee has a White Peppermint Wonderland Latte and some other Buddy-the-Elf approved beverages.  Café Vicolo has put two favorites together and created the Peppermint Nog Latte.  If you're more of a tea drinker, check out the options at Jackson Ave Tea Company. 
If you eat healthy during the holidays (LOL good for you for trying), the Juice Bar has a Thin Mint Smoothie without the guilt, and Eddie's Health Shoppe has peppermint bark protein bars.  For those who need something a bit more substantial, try a sausage & cheddar biscuit and an Egg Nog Latte at Matt Robbs Biscuits or maybe an Abuelita Peppermint Hot Chocolate with breakfast at Oli Bea.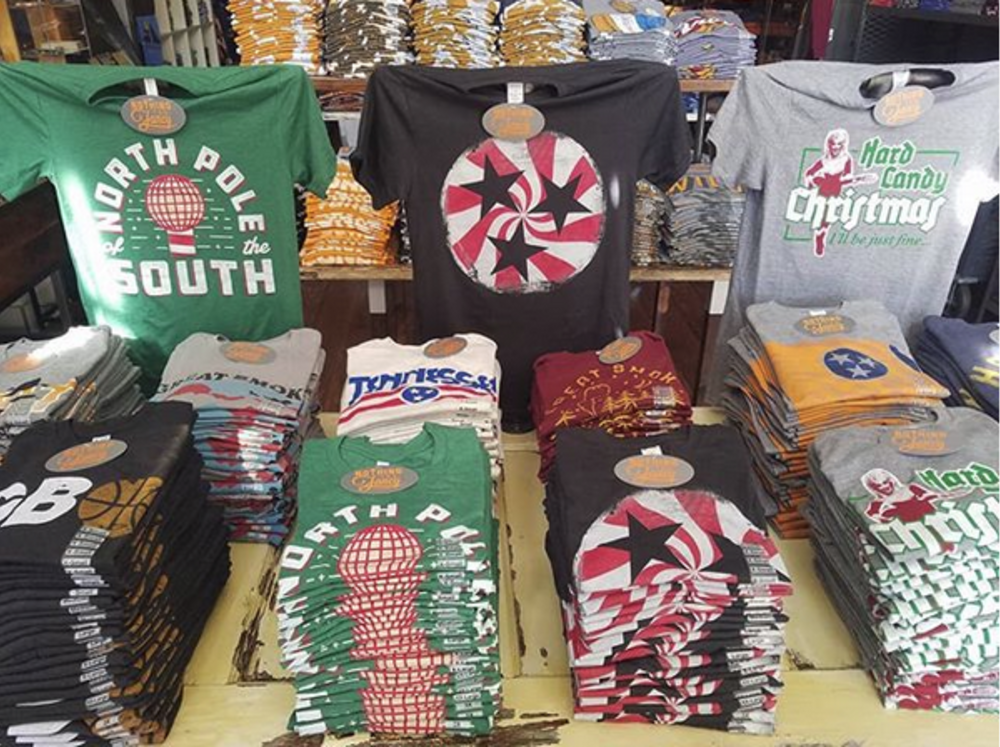 Nothing Too Fancy
Shopping
Now that we're properly caffeinated, it's time to shop for friends and family.  Giving is more fun than receiving, unless if you're shopping with a cranky toddler.  Since you're out on your own today and don't have that problem, take your time and enjoy checking off presents for those on your nice list.
Let us start by staying don't forget the KAT Trolleys – this will get you from shops in the Old City to Market Square to Gay Street with ease.  They're free btw, check out the three lines here.  Our very own Visit Knoxville Visitor Center has gifts for everyone on your list.  Nothing Too Fancy has some new locally designed and printed peppermint t-shirts for both kids and adults.  Tailgate has a peppermint-themed selfie station to capture the holiday memories.  Bliss & Tori Mason and Bluetique both have peppermint candles (get one for you, we won't tell if you won't).  The Art Market Gallery has hand-made ornaments and the Emporium Center has other holiday gifts for the art lovers in your life – a great way to support local artists.  Pick up some peppermint-themed treats for your furbaby at Citifid-O.  Mast General Store will just about cover everything else, and even wrap gifts for you!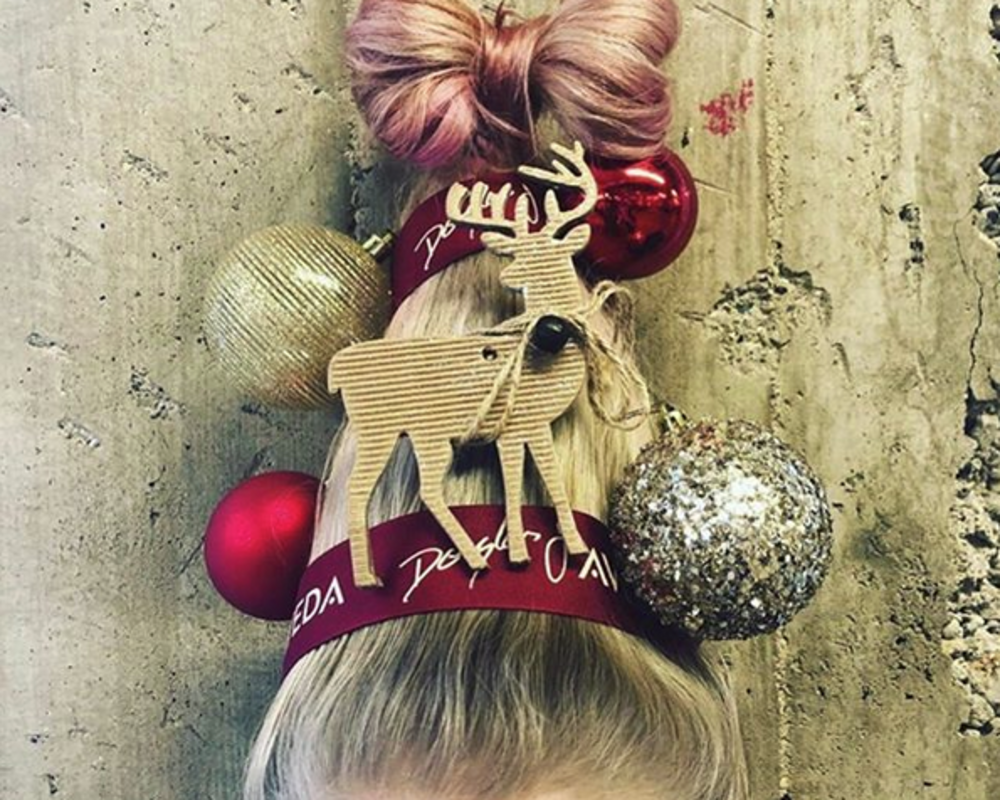 Douglas J Aveda
Treat Yoself
Take a break from the shopping and holiday hullabaloo with a Peppermint Spa Pedicure at Lox Salon.  Rock Paper Hair Studio has some peppermint treatments to put that pep back in your step.  The Douglas J Aveda Institute has complimentary stress relieving hand treatments with Rosemary Mint.  Culture Hair Studio will be offering peppermint infused scalp massages – say it with me, aaaahhhhhh.
Pick up some relaxing peppermint and oatmeal soaps from Agora or some bath bombs from Knoxville Soap Candles & Gifts to vibe out at home.  Earth to Old City has a shower burst with mint and lavender to help you find that zen. 
If you've been especially good this year, Rick Terry Jewelry Designs has rubies and diamonds for that peppermint sparkle!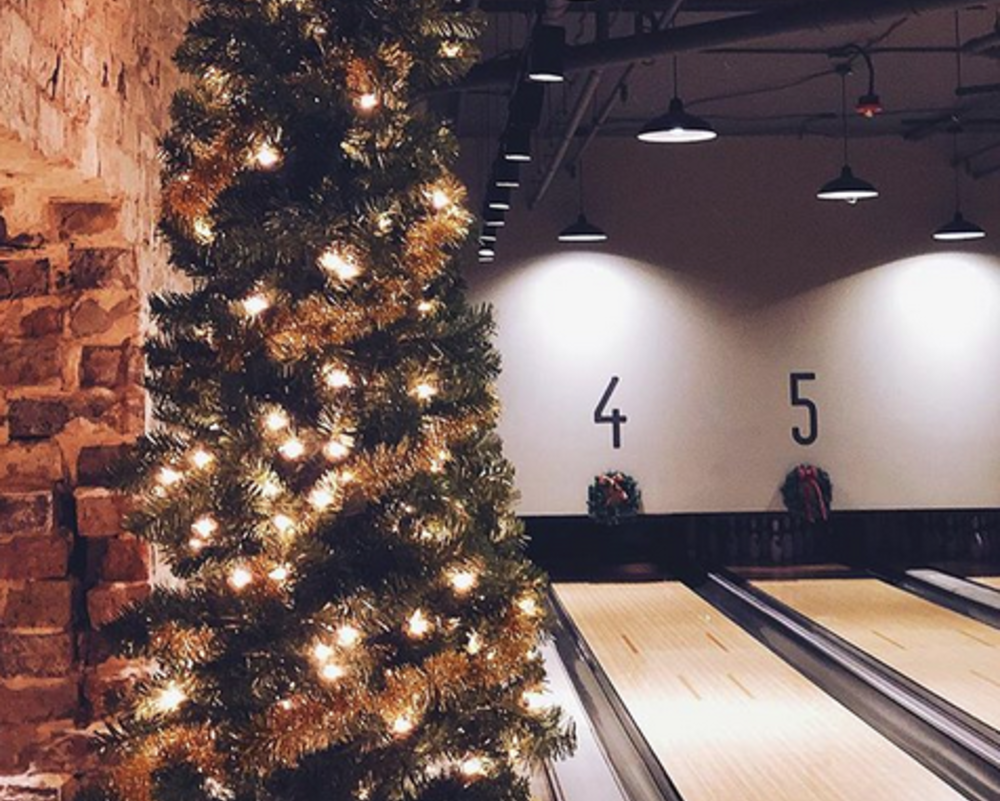 Maple Hall
Date Ideas
Don't think Knoxville's attractions are only for kiddos.  Heat things up on the basketball courts at the Women's Basketball Hall of Fame or see who is the better bowler at Maple Hall.  The Knoxville Museum of Art has free admission (as always), and their Thorne Miniature Rooms are decorated for the season.  For the history buffs, the East Tennessee History Center has historic decorations and peppermint garland.  Pretentious Glass Co. has Friday & Saturday evening blow-your-own glass sessions – perfect for date night!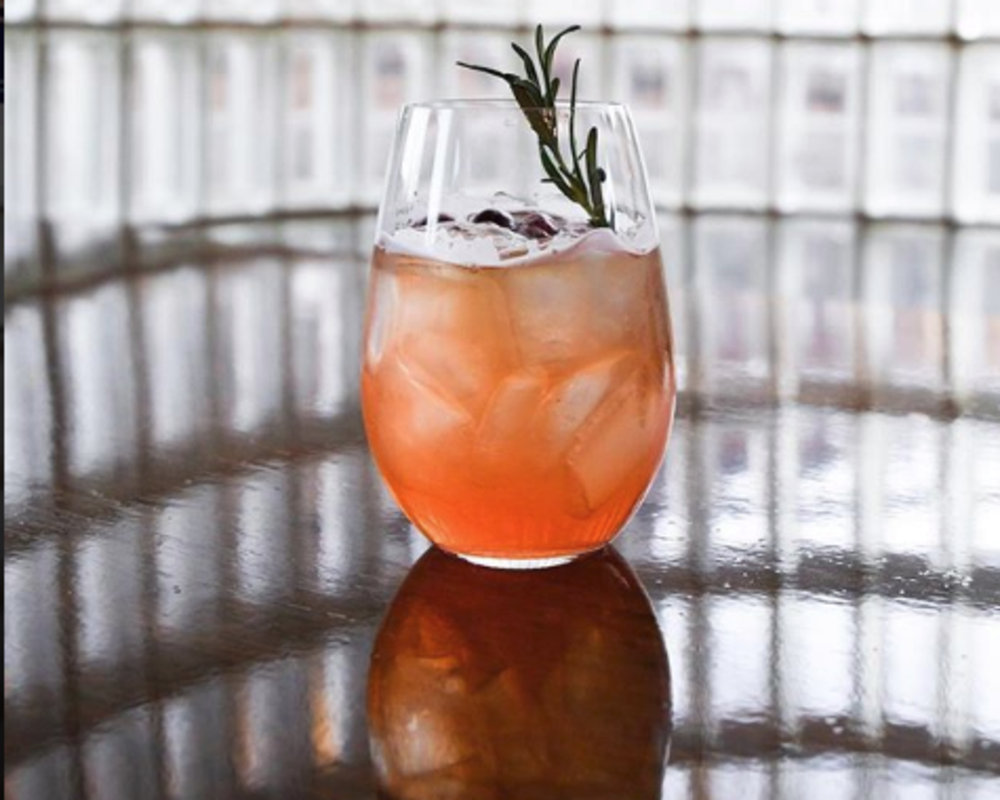 "Reindeer Games" at Merchants of Beer
A Night Out for the 21+ Crowd
Ok, you probably scrolled to this section and we can't say we blame you.  The Peppermint Trail is full of adult beverages, so grab some gal pals or your partner for a night on the town!
The Old City Wine Bar has a Candy Cane & Kahlua Peppermint White Russian – cheers!  Merchants of Beer is offering a collab between Crafty Bastard Brewery and PostModern Spirits – it's got rosemary and velvet falernum (don't feel bad if you have to google "velvet falernum").  Scruffy City Hall has a Crème de Menthe Cocktail that will be a bit sweeter while Preservation Pub has a Pomegranate Martini.  Balter Beerworks is featuring their "Winter Warmer", it has juniper berries, star anise, and orange peel.  Both PostModern Spirits and Knox Whiskey Works have some peppermint-inspired cocktails and spirits for you to take home for gifts (or yourself, again, we're good at keeping secrets).  New kid on the block, the Double S Wine Bar has peppermint mimosas to accompany Thursday night jazz.  Both Casual Pint and Pour Taproom have several Peppermint options including peppermint beer…don't knock it til ya try it!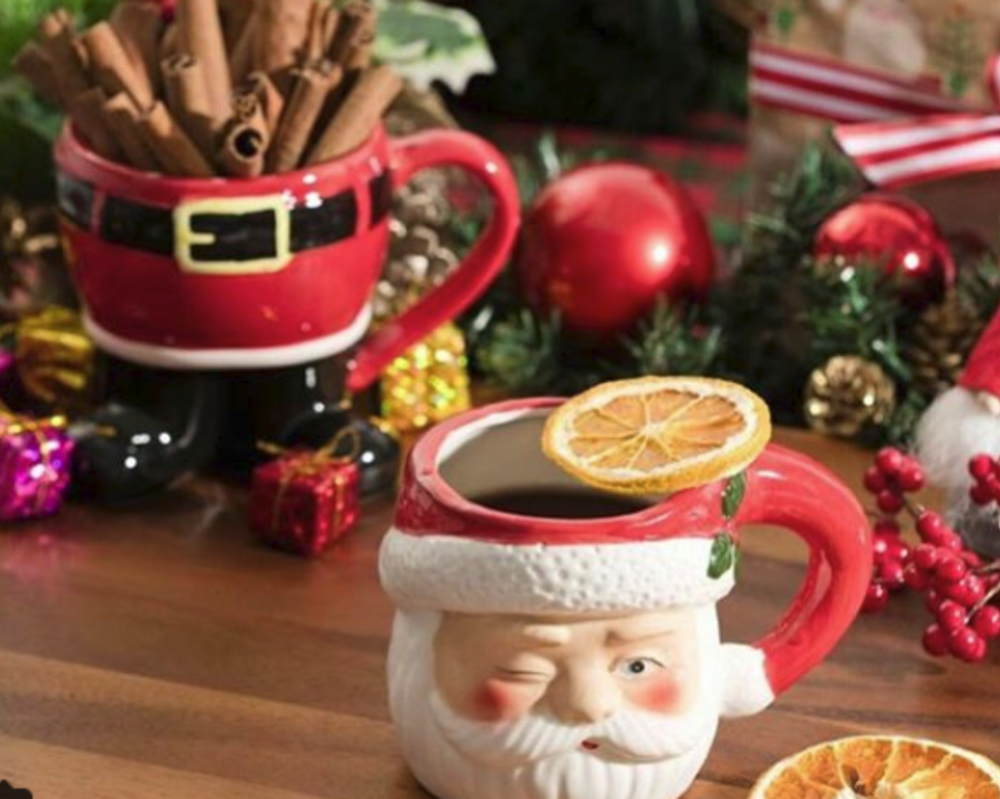 Miracle on Gay Street Pop Up Bar at Sapphire
Of course you may wish to drink and dine, and there are several options here.  Chesapeake's Seafood House has a Creamy Peppermint Martini, shaken – not stirred (well actually I don't know how they do it, so it very well could be stirred for all I know).  Black Horse Pub & Brewery has a White Chocolate Peppermint Martini, and Not Watson's has a Peppermint Patty Martini so clearly you'll need to try them all to compare.  J.C. Holdway has a Peppermint Patricia, and fun fact – if you Google "Peppermint Patricia", a certain Peanuts character will be the first listing from Wikipedia.
Ok – back from that Wikipedia hole I just fell in…Sapphire has lots of different holiday drinks to sample, you have GOT to go over and check out the pop-up bar "Miracle on Gay Street" and maybe try the Snowball Old Fashioned" or the Christmas Carol Barrel.  The Oliver Royale's Peppermint Trail drink is the Cindy Lou Who and includes both mint simple syrup and mint bitters.  The Bistro at the Bijou has a Peppermint White Russian special this year, as does Tupelo Honey Cafe.  Lonesome Dove has a Peppermint Condition, which sounds like some sort of ailment, but maybe it is actually a cure(!?)  If you like your java the spiked way, try a Spirited Peppermint Coffee at Boyd's Jig & Reel, a Peppermint Rox at Clancy's Tavern, or Tommy Trent's has a spiked hot cocoa version.  The Peter Kern Library's drink is the Daisy Red Rider, but you'll have to find the red light on your own.

Hyatt Place
Several of Knoxville's downtown hotels have bars on the Trail, so you won't need to go far.  The Drawing Room at the Tennesseean is offering Grandpa's Cough Medicine Cocktail, featuring house-made peppermint syrup swirled with bourbon and bourbon cream.  Windows on the Park at the Holiday Inn World's Fair Park has a Peppermint Mocha White Russian for those who like cocktails on the sweeter side.  The Hyatt Place Lobby Bar has a Snow Globe Mimosa to help you get your bubbly on.  Mahogany's at the Crowne Plaza has a Rumpleminze Peppermint Patty (yeah I had to Google "Rumple Minze" too).  While the Hampton Inn & Suites doesn't have an alcoholic drink, they'll send you off merrily on the Peppermint Trail with some cookies, canes, and hot chocolate.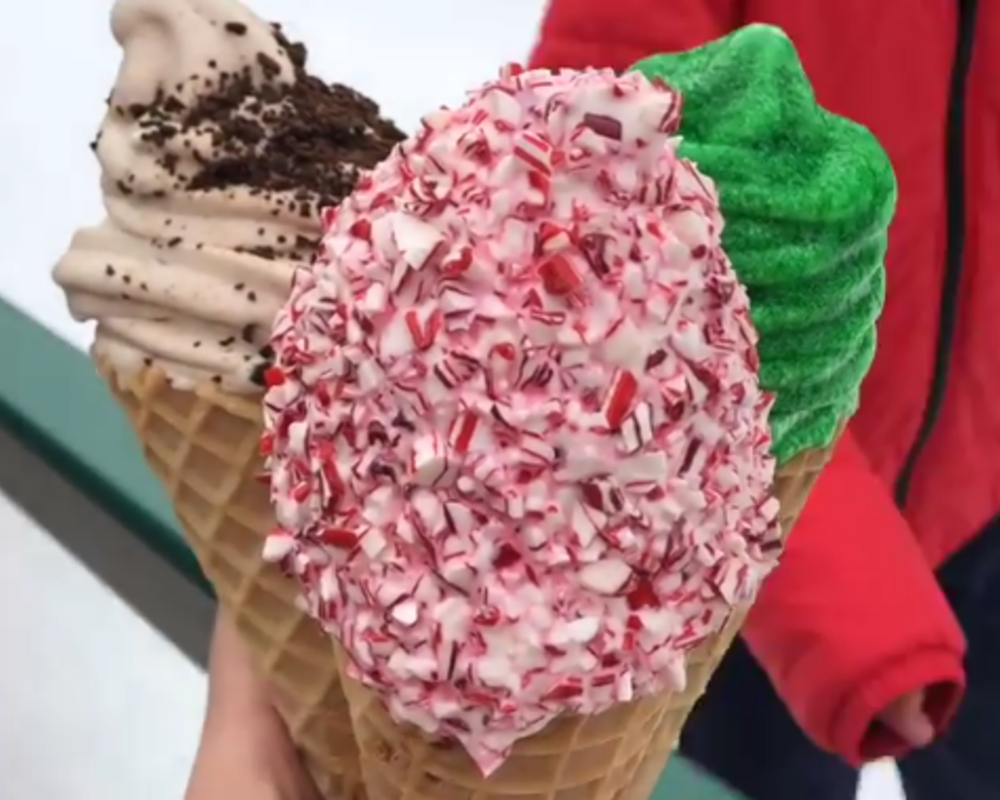 Cruze Farm
For the Sweet Tooth
Just because you're an adult doesn't make you immune to the sugary sweets of the season – in fact, it may actually be worse because there's no one to tell you "no".
Good Golly Tamale has a chocolate and peppermint dessert, but I have yet to sample for myself so maybe you'll come back and tell me what they have?  Kilwins and Knoxville Chocolate Co. both have an array of peppermint barks, pretzel sticks, and other goodies – even Frussie's Deli has some peppermint bark too!  Try a variety of holiday ice creams at Cruze Farm or Phoenix Pharmacy and Fountain.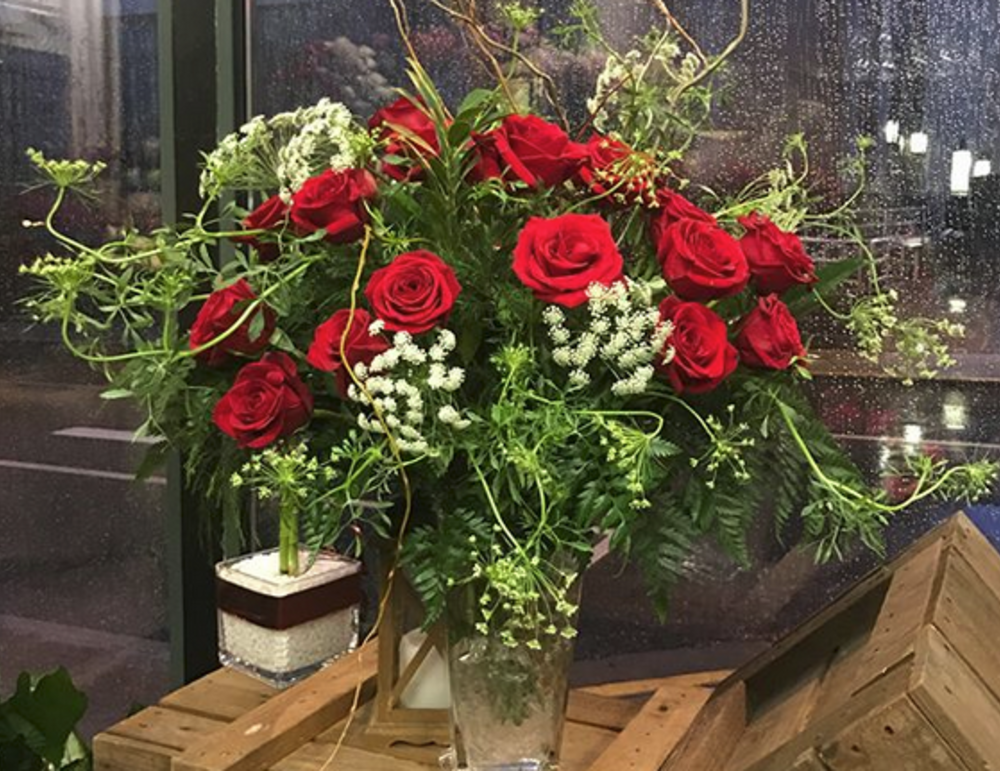 The Bloomers Company
For your Holiday Table & Guests
Don't forget to pick up some red roses and white carnations for your table at The Bloomers Company if you got talked into hosting Christmas (again).  Since you've managed to find yourself in such a predicament, you might as well have gourmet goodies to offer your guests (good news – find some at Tree & Vine).
You're going to need dessert to take home, so if you don't want to count on Aunt Edna's weird Jello mold, go for chocolate – it's the safe choice.  The Tomato Head has home-made Peppermint Crackle Cookies, totally drool-worthy.  Pete's Coffee Shop has some peppermint brownies, and let me just say if these are anything like their regular brownies eyeing you at the cash register, you're in for a real treat.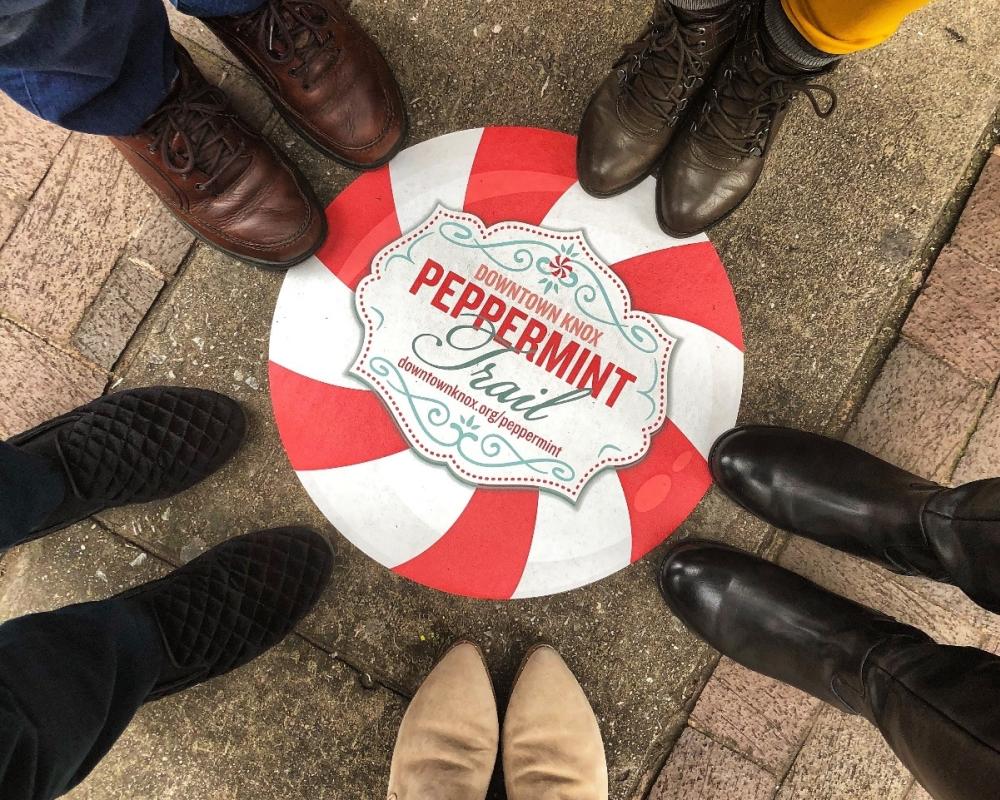 Hope this gets you excited to go experiment the Peppermint Trail of Treats for yourself!  Grab some friends, enjoy the season, and don't forget to tag your adventures on social media with #knoxpeppermint!!