Historic Knoxville Christmas Tree courtesy of Knoxville History Project
We go downtown to look for Christmas, maybe partly because we were raised on movies like Miracle on 34th Street and songs like "Christmastime in the City." On a cold, gray day, it doesn't require snow to make our narrow old downtown streets seem Dickensian. Downtown has such a concentration of festive activity, shows, parties, bars, sales, dinners, that it would seem festive whether you were in the mood for it or not. Longtime Knoxvillians have viewed the holiday season downtown with wonder, and some of them speculate that Knoxville must be unusual for a city its size, to sustain such a cheerful urban pageant. 
But there's also a historical resonance there. Downtown's Christmas tradition goes deep.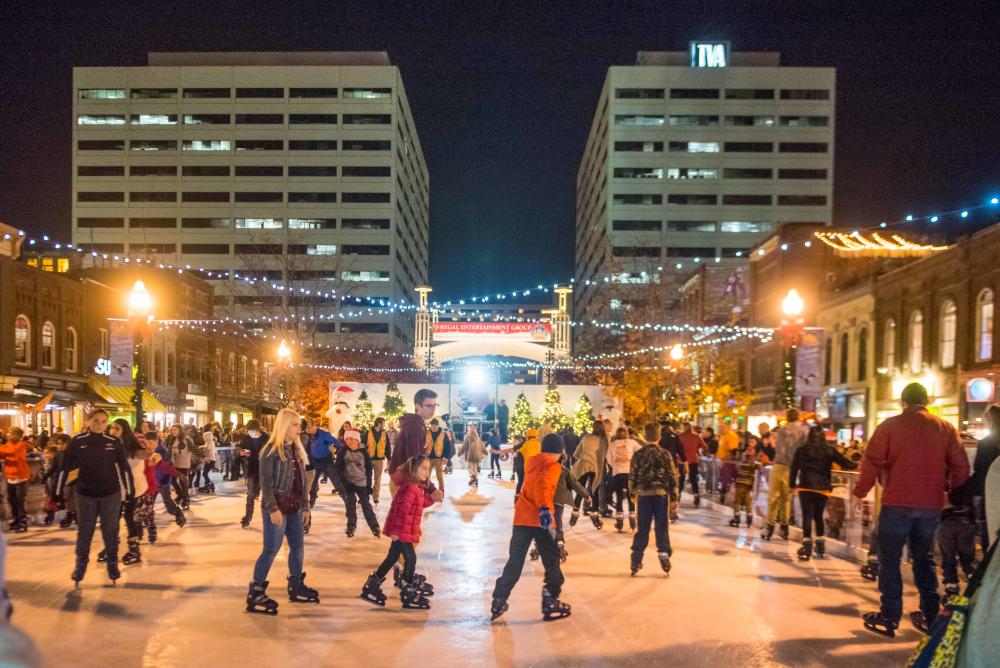 Modern Day Holidays on Ice in Market Square
Market Square, the focus of Christmas festivities 150 years ago, is the center of a Knoxville Christmas today. The ice-skating rink dates back to the Christmas-shopping season in 1986, when a refrigerated outdoor skating rink was a real novelty. Even that has some history. 
But take it back much father, back to 1886, say. If you bought a Christmas wreath in Knoxville that year, or a Christmas tree, garlands, mistletoe, it's a safe bet you got it on the same Market Square, where farmers were grateful to have something to sell after the food-growing season was over. You can still find most of that at the Square's Saturday Christmas Market today.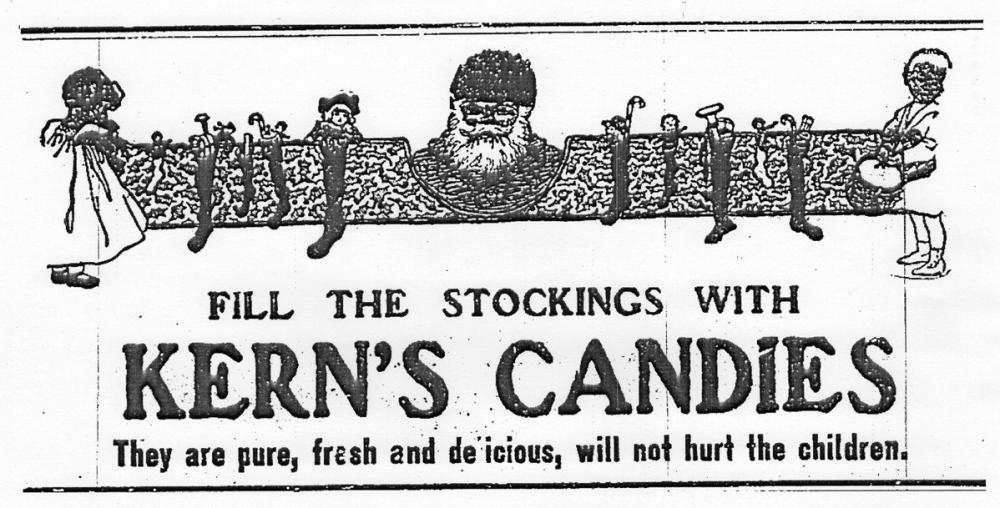 Kern's Candies Christmas ad courtesy of Knoxville History Project
One of the first businesses to celebrate Christmas in a big public way was Kern's Bakery. Peter Kern, who arrived in America as a refugee from dangerous times at home, had grown up in Germany, home of Christmas trees and "Silent Night." He and his wife, Henrietta, raised 11 children in a house right off Market Square, and to some extent at least, showed us how to celebrate a holiday. Kern's sold not just bread, but Christmas candy, cakes, and even toys—and fireworks, which were part of a 19th-century Knoxville Christmas Eve, whether you liked it or not.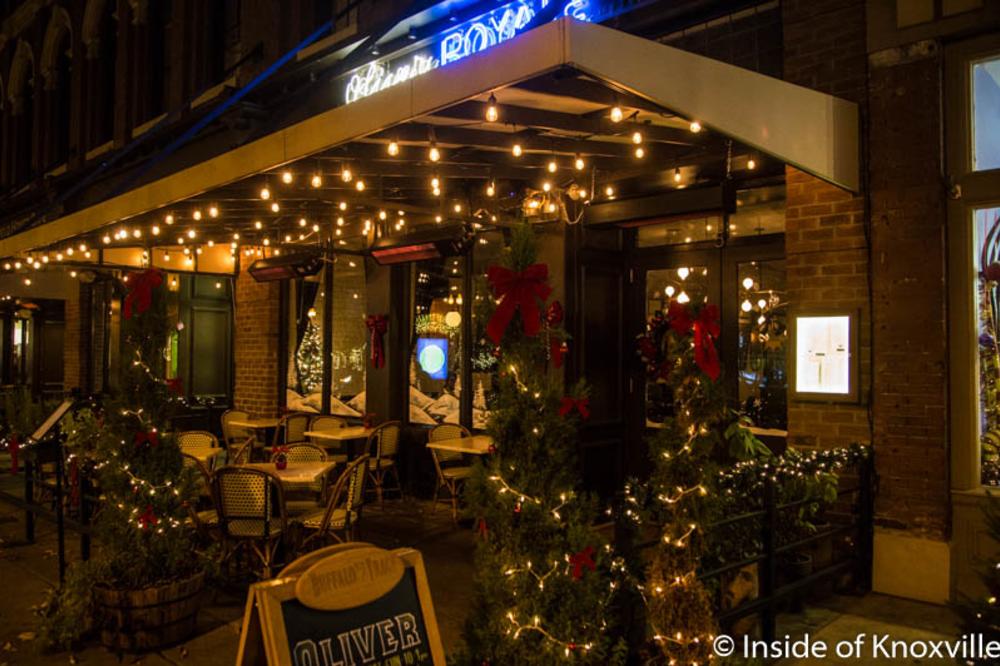 Modern Day Oliver Royale (historic site of Kern's Bakery) credit to Inside of Knoxville
The earliest known image of Santa Claus ever displayed in Knoxville was in a Kern's ad in 1869. Kern and his wife also offered advice about how to decorate a Christmas tree. Kern's was headquartered at 1 Market Square—the current site of the Oliver Hotel, Tupelo Honey and the Oliver Royale—from 1876 to 1930. Even if you can't buy Christmas candy and toys there anymore, his big brick building is still a festive spot, festooned this month with wreaths and ribbons and little Christmas trees. 
And just like today, Gay Street and its retail stores were central to Christmas shopping, 100 to 150 years ago. One of the best places to feel that is at Mast General Store, which a century ago was another, perhaps not very different department store called Newcomer's. They sold lots of toys and clothes, just like Mast does, and had a live Santa Claus available for consultation.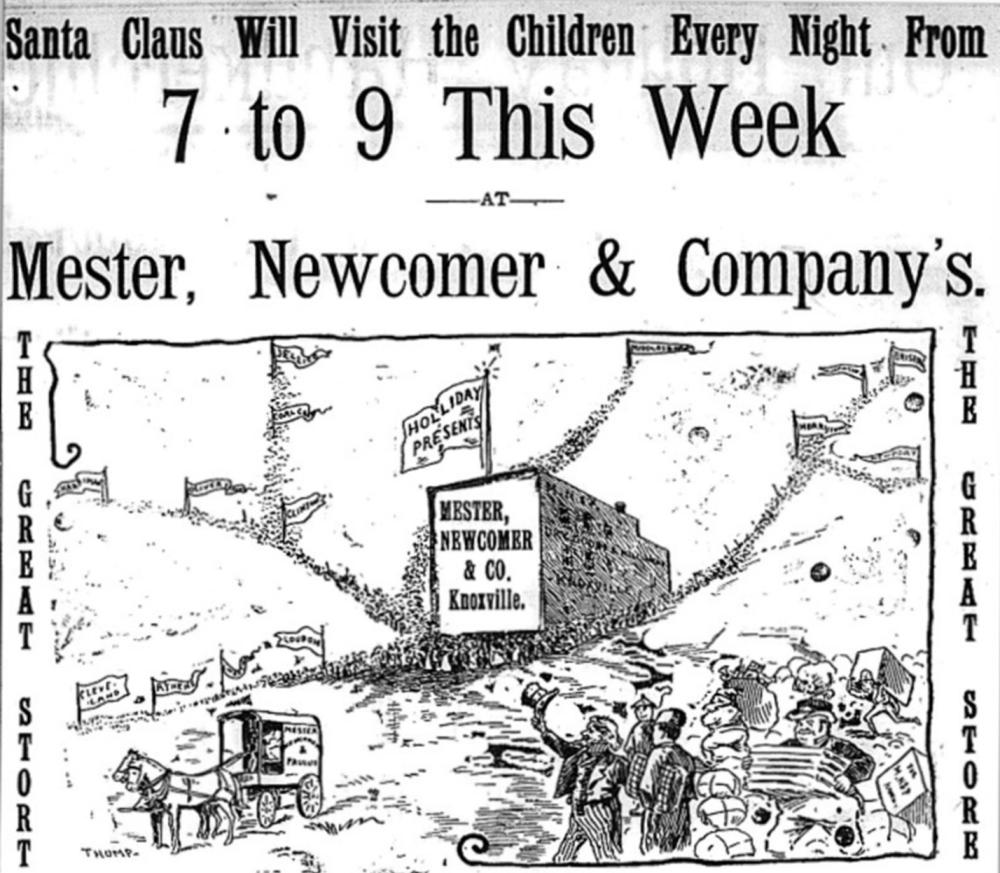 Mester, Newcomer & Company Christmas ad courtesy of Knoxville History Project
A century ago there were also restaurants and hotels and theaters up and down Gay. Showing both live shows and movies, theaters didn't slow down for the holidays. The Bijou Theatre was there a century ago, and always open on Christmas Day, with a bill of either vaudeville or traveling Broadway shows. They often added extra shows on the 25th, knowing folks were happy to have an excuse to get out of the house. 
Back around 1900, reporters enjoyed stepping out of the Gay Street newsroom long enough to describe the madness of the crowds in downtown Knoxville in the days just before Christmas, a combination of frenzy and glee, anxiety and good will. People would smile at other people they didn't even know. Some things have changed, but that hasn't. 
For further reading, see Jack's Christmas blog post from 2017 here, and for here for modern-day holiday festivities.