Most Knoxville natives are aware of our Farmers Market on Market Square. Established in 1854 with land provided by Joseph A. Mabry and William G. Swam, Market Square has always been a public square for the people where farmers and locals have gathered to sell their wares. Indeed, it is difficult not to run in the Farmers Market on Saturdays during the summer months when vendor's tents sprawl well outside of the square's original boundaries. Seasonal hours are Wednesdays from 11 am to 2 pm and Saturdays from 9am to 2pm from roughly May through November. Set in the heart of downtown Knoxville, it's a great way to enjoy the city.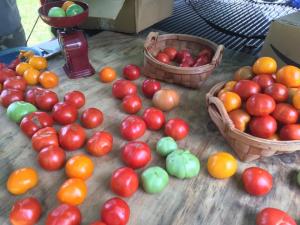 If you are looking for a more rural experience, you should check out the Marble Springs Farmers Market in South Knoxville. The Marble Springs Farmers Market is a weekly market that takes place on Thursdays from 3 am to 6 pm during the months of May through September. Every year approximately 1500 customers visit the Marble Springs Farmers Market and shop from an average of 10-20 vendors. Fresh local produce, fruits, hand-made items, jams and jellies are available for the local and surrounding communities. While certainly smaller than the Farmers Market downtown, the Marble Springs Farmers Market has been the only farmers market available for the South Knoxville community for six years and it offers a relaxing experience with a scenic backdrop.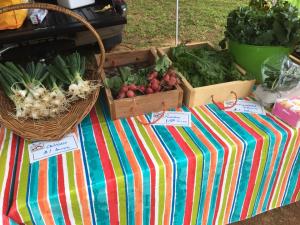 Marble Springs State Historic Site is the last remaining home of John Sevier.  Born in Virginia in 1745, John Sevier made a name for himself as a Revolutionary War hero during the Battle of Kings Mountain in 1780. He was a key organizer and Governor of the short-lived State of Franklin from 1784-1788, and was ultimately elected to serve as the first Governor of the State of Tennessee by 1796.
The original Marble Springs farmstead was surveyed in 1801 at 350 acres and was occupied by Sevier from 1801-1815, the last years of his life.  Sevier named his farm Marble Springs because of the Tennessee Rose Marble that was quarried on site and due to the natural springs that flow on the property.
While visiting Marble Springs, you will have the opportunity to tour several historic structures that are designed to represent various aspects of John Sevier's life & times.  These structures include the Tavern, the Loom House, the Smoke House, the Spring House and the John Sevier cabin and detached kitchen.
These historic structures are surrounded by beautiful woodland, open fields, streams and springs that flow throughout the year. You never know what kind of wildlife you may see while visiting. If you enjoy bird watching, bluebirds, hawks, hummingbirds, and wild turkey are just a few of the species that you can observe. The site is also a first level arboretum with easy-going hiking trails.
You can learn more by visiting http://www.marblesprings.net.