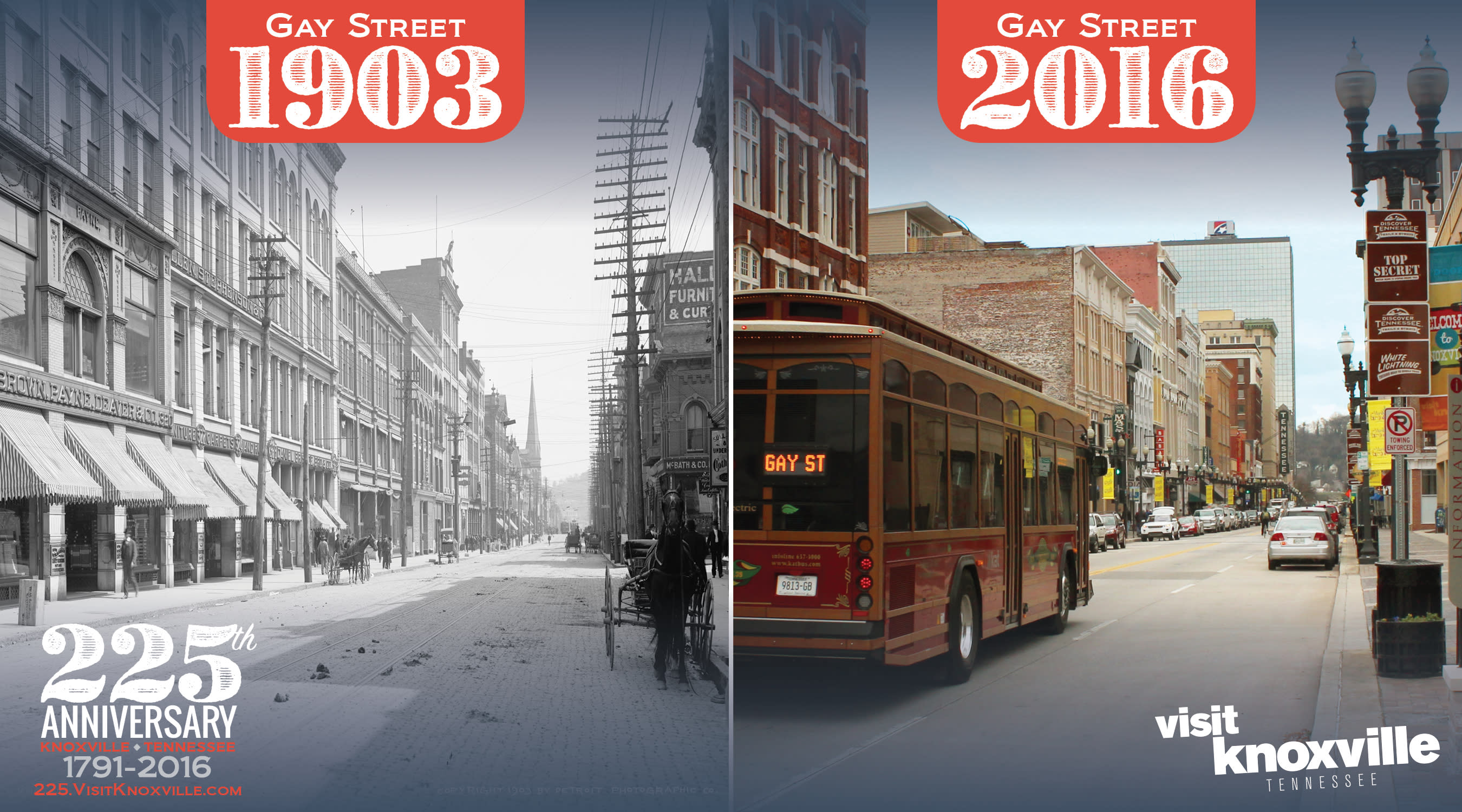 Unless they just dwindle away, all towns get to celebrate a 225th anniversary. Knoxville's long history is more interesting than most, and in ways most Knoxvillians probably aren't used to thinking about. Although we've been a modest wallflower among American cities, Knoxville has repeatedly played major roles in American history ever since the days of the U.S. Constitution. Which, by the way, one of Knoxville's founders signed.
Knoxville, once headquarters to an important railroad, was once an industrial city, important to the national manufacture of flour, socks, weaponry, mantels, Plexiglas, T-shirts, railroad cars, and Dumpsters, which were invented here. It was a distribution center for the Southeastern United States. Knoxville dealt in lumber, coal, iron, glass, bricks, pork, coffee, cotton, wool, and giant dams, planned and constructed for the Tennessee Valley Authority, which so amazed the world that major architects, philosophers, journalists, and heads of state traveled to Knoxville just to behold it.
It was a working city, practical in many ways, but the people who came here to work brought culture. James Agee, grandson of a Knoxville machinery manufacturer from Michigan, and Cormac McCarthy, son of a lawyer from Rhode Island who came here in the 1930s to work for the Tennessee Valley Authority, became two of America's great authors, and wrote extensively about their home towns. As it turned out, Knoxville is an especially interesting subject to write about, as many others, including Nikki Giovanni, David Madden, Richard Marius, Rick Yancey and others have discovered.  
A young violinist from Cincinnati started a group of musicians who eventually formed what's now the South's oldest symphony orchestra. A railroad worker who learned to play fiddle from a local mechanic popularized a new form called country music (and introduced a new instrument called the dobro). Another kid from rural Union County learned to play guitar as no one else had before, and moved to Knoxville to do it on our radio stations. Meanwhile a couple of brothers experimented with the blues form, advancing it toward something new called rock'n'roll. Then another couple of brothers from Iowa followed, lending their harmonies to that new form. Then a remarkable girl from the hills of Sevier County came to town to add her singular voice and songwriting talents to popular music.
It's a great year to talk about local music, by the way, with the Knoxville Stomp coming up in early May, celebrating rare and interesting jazz, blues, country, gospel, and novelty recordings made at the St. James Hotel on Wall Avenue in 1929-30, released for the first time together as part of an international project called the Knoxville Sessions. 
Knoxville has also played a key role in American politics, serving as the birthplace of one of America's first new states and, for a long time, as that state's capital. For half a century local suffragists exhorted men to allow women to vote, and as it turned out, Tennessee turned the national tide in that regard. It's a presidential election year, and several former Knoxvillians have been contenders for the nation's highest office.
The first was Senator Hugh Lawson White, and as it happened, his reluctant candidacy, the only one ever to be publicly supported by both Davy Crockett—who didn't ultimately get to vote, because he died at the Alamo—and a young attorney in Illinois named Abraham Lincoln. White's rebellion against President Jackson helped spur the formation of the Whig Party, and arguably America's modern two-party system. He's buried in downtown Knoxville, near that signer of the U.S. Constitution. 
And along the way, Knoxville and Knoxvillians has been intimately involved in the American conservation movement, with higher education on the frontier, with the evolution of the popular-music recording industry, with the development of objective journalism, with Victorian architecture and abstract expressionism. 
These are all Knoxville stories. We'll talk about those and many other stories this year, the stories that make Knoxville different from other cities, and that make it important to American history. I'm looking forward to it.