During the first Scruffy City Comedy Festival in November 2014, WBIR's Kendall Morris interviewed me for a feature story on the afternoon news. She began with a question about the state of comedy in Knoxville in light of the then-recent shuttering of the Cedar Bluff comedy club Sidesplitters. I answered without hesitation that the scene had grown categorically. Since moving here in 2013, I had seen the rewards of performing and producing comedy become less one-dimensional, and the city and region has seen a wellspring of comedic creativity. Knoxville, equally as an experience for the resident or the visitor, offers many welcoming and affordable opportunities to see this creativity in action.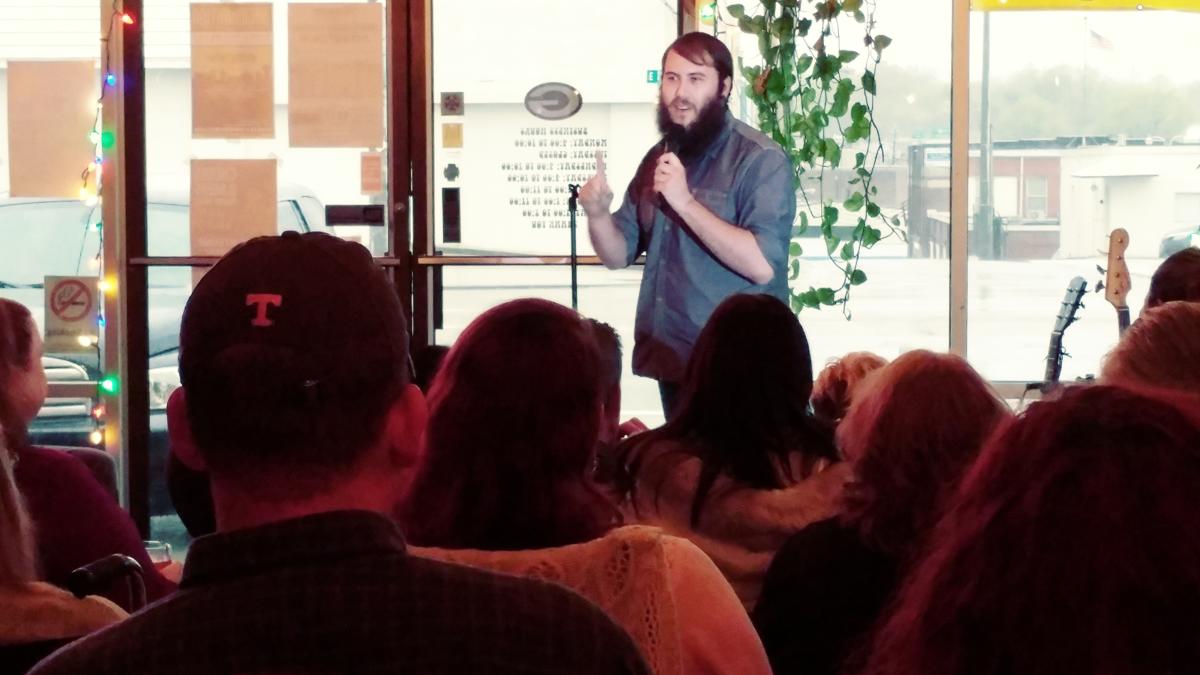 Sean Simoneau featuring at Last Days of Autumn Brewing, for Gail Grantham's First Friday "Cheers and Beers" Comedy Show. February 2, 2018. Photo by Tyler Sonnichsen.
Those who had considered Sidesplitters to be a summation of 'Knox Comedy' were missing a substantial part of the picture. To many local standups, improvisers, and fans, Knox Comedy encapsulated a vibrant confluence of DIY shows and open mics bringing people together in bars, restaurants, and other alternative venues. In other words, Knox comics kept on doing what they had been doing for years, but now the dynamic had changed and several alternative venues including The Pilot Light, Scruffy City Hall, Open Chord, and Sassy Ann's became central venues. Others like Modern Studio (Happy Holler) and Sugar Mama's on Gay Street's 100 block have opened around downtown and joined the charge. Word of mouth spread, new shows emerged, and within a couple of years, Knoxville had emerged as a destination for touring comics from every corner of the United States.
I've often compared Knoxville's scene to New Orleans, maximizing its potential in the absence of a mainstream club. Like our counterparts down there, we have worked in close collaboration with our city's arts community, accessible venues willing to take risks, and a collective ambition to produce great shows for residents and visitors alike. In fact, several NOLA comics have been making Knoxville a touring destination over the past few years.
Where did this wellspring of creativity come from, and where has it led us? This past Fall, the rising TV star Yedoye Travis (Atlanta via NYC) previewed his latest album for a packed house, Alyssa Miller did a set that consisted of her repeatedly saying "I love you" to an adorable puppy as it licked her face, Todd Lewis convinced our audience (dramatically) that we needed eight copies of the video game 'Shaq-Fu,' and multiple performers gorged on hot dogs while telling jokes to an audience roaring equally at their jokes and suffering. Everything I've described in this paragraph took place in one venue, and in just one month.
Aaron Chasteen struggles not to smile performing a set at the "Friendlytown Has Too Many Hot Dogs!" episode of Friendlytown at The Pilot Light. Every time he did, guest host Dustin Meadows (Columbus, OH) buzzed him and made him eat a hot dog. Alyssa Miller, Jeff Danger, and Bryce Houseal look on as they finish their post-set piles of hot dogs. October 30, 2017. Photo courtesy of Jamie Alexis J.
In Knoxville, comedy is unpredictable, raw, and there are few more authentic ways for visitors to experience "the local" in this town. Comedy can provide this unique window for visitors to most cities, though few cities of Knoxville's size can boast of an underground comedy scene as vibrant as this one. Since 2014, local comedians and supporters have produced four multi-day invitational festivals with nationally renowned headliners (The Scruffy City Comedy Festival, 2014-2016), including one two-day fundraiser festival in 2017 (What a Joke) that raised more money than any participating city outside of the brand's home base in New York. Knoxville has also seen the rise of innumerable popular monthly showcases, character roasts, experimental shows, and of course, a variety of open mics where those with the ambition to do so can get started. Comedy is happening everywhere in Knoxville – you just need to know where to look. Fortunately, no matter where in town you are – Market Square, Old City, Happy Holler, Rocky Hill – laughs are typically just around the corner.
---
About the Author

Tyler Sonnichsen is a Knoxville-based standup comedian and geographer who will be recording his second album at The Pilot Light on June 30th. Tickets are available on his website TylerSonic.com.