Like Knoxville's bustling music scene, our comedy scene offers a spectrum of styles and formats for little or no cover several nights per week. For fans of long-form, Harold-style improv, the collective Full Disclosure has performed at least twice per month over the past few years in venues like Open Chord (Cedar Bluff), Modern Studio (Happy Holler), and the Flying Anvil Theater (Rocky Hill). For fans of short-form improv (popularized by Whose Line Is It, Anyway?), Einstein Simplified has been performing weekly for well over a decade, currently in residence at Scruffy City Hall (Market Square). For those interested in what our eclectic variety of Knoxville stand-up comics have to offer, several local breweries and theaters have hosted monthly showcases with touring headliners and local features for several years. For those who would like to check out open mics and see the nuts and bolts (or would like to give it a shot themselves), there are opportunities to do so for no cover in the downtown area five nights a week as of this writing.
Discovering local bands, patronizing local artisans, and drinking from local brewers are all great ways to hear, support, and taste Knoxville, but comedy may be the way to go to those who want to experience the most honest and thought-provoking look at the Scruffy City. One of the fringe benefits of checking out local comedy is that our shows are often mixed in with these other local experiences. For example, the past three years have seen hit showcases starring touring and local performers hosted by local breweries like Saw Works, Pretentious Beer Co, and Hexagon. It should come as no surprise what a good pair beer and comedy make, considering how many independent breweries have adopted successful monthly shows throughout the South.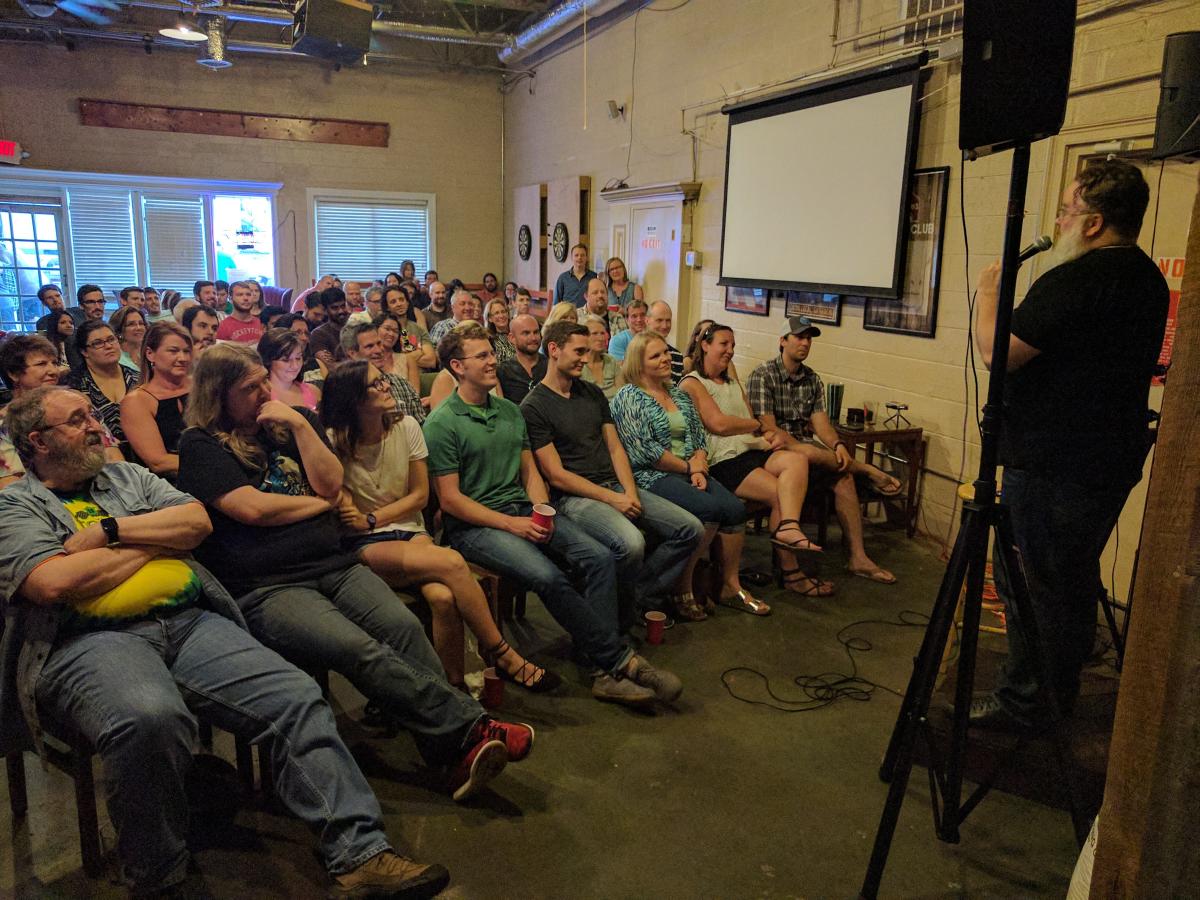 Ian Aber (Atlanta) performs to a capacity crowd at the final First Friday Comedy show at Saw Works Brewery, July 7, 2017. Tyler Sonnichsen photo.
This string of successful showcases at breweries and the Pilot Light have profoundly heightened Knoxville's visibility on the national comedy scene for touring comics. That being said, Eastern Tennessee has generated an impressive (and growing) roster of popular alumni, none of whom have been able to resist the call of the Smokies and pay a visit home. The late, great Spanky Brown (a longtime Sidesplitters favorite) regularly headlined independently produced shows at regional institutions like the Grove Theater in Oak Ridge. Henry Cho, another Knoxville native, shows up to headline the illustrious Bijou Theater at least once per year. And of course, the WellRED comedy trio - Trae Crowder, Drew Morgan, and Corey Forrester - all cut their teeth at open mics in Knoxville and Chattanooga. All three featured as local performers at the first Scruffy City Comedy Festival in 2014, returning in 2016 to headline. If you've had the chance to see them perform in your town over the past two years, don't miss the chance to get to know the scene that gave them their start. You may even get lucky and see one of them jump onstage while you're here.
Then again, you never know who or what you may wind up seeing onstage in Knoxville. Several mid-size cities in the region – Huntsville and Chattanooga in particular – have been hosting Knoxville comics and sending hilarious people our way for years now. Our critical location at the crossroads of the Midwest and Southeast (cardinally, the junction of 81, 40, and 75) has placed us in the path of too many touring comedians to count over the past few years. Knoxville's location has also opened up regional opportunities to local comics, particularly engagements in Chattanooga, Asheville, Nashville, and Atlanta  (consistently named the top comedy city in America), all within a few hours' drive.
Visitors to Knoxville can stay up-to-date on these showcases, mics, and other events via the Knoxville Comedy Tumblr and the "Knox Comedy" Facebook group. After a long day in the Smokies and a delicious dinner downtown, a comedy show is a great way to wind down the evening surrounded by locals. The city's eclectic variety of stand-up and improv comedy will introduce them to welcoming Knoxvillains, leave them with great stories to share with friends back home, and most importantly, make them laugh.
---
About the Author

Tyler Sonnichsen is a Knoxville-based standup comedian and geographer who will be recording his second album at The Pilot Light on June 30th. Tickets are available on his website TylerSonic.com.