Whether school is back in session, the kids are doing virtual classes, or you've made the leap to homeschool, this fall semester looks different for many of us. We thought we'd share some ways both visitors and locals can get some reading, writing and 'rithmetic – in many cases, from the comfort of your home classroom! This blog topic may seem a little out of the norm for us, but aren't we all operating a little out of the norm these days? As a mom, lover of travel and lifetime learner, I found a way to combine my passions in a way that might shed a new light on reasons to Visit Knoxville…even from your laptop!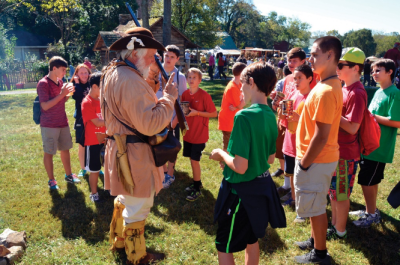 History
Knoxville has this topic covered in spades (learn more on why Knoxville is America concentrated in one spot). From the time of the Cherokee, to the 1982 World's Fair, you'll find everything that happened in this region at the East Tennessee History Center. The third floor also has an extensive research library and they offer genealogy workshops. A few topics you can cover in the museum include:
Early exploration and interactions with the Cherokee (Learn about Sequoyah and his alphabet)
Pioneer life and settling past the Appalachians (see Davy Crockett's rifle "Betsy")
Civil War (take a driving tour to get even more out of this topic, or visit the Farragut Museum)
Women's Suffrage (Tennessee played a MAJOR role in the ratification of the 19th Amendment, do the self-guided walking tour and learn more about this historical event)
Temporary exhibit "Black & White: Knoxville in the Jim Crow Era"
The Secret City of Oak Ridge (our neighboring city's laboratory was instrumental in WWII)
And a lot more!
But that just scratches the surface. Enjoy Knoxville's Historic Homes and piece together a timeline that mirrors the development of our nation:
James Whites Fort – Established in 1786, this fort was the home of the founder of Knoxville. This site gives a glimpse into the daily lives of early settlers of this region.
Blount Mansion – Built in 1792, this was the home of Governor William Blount, signer of the US Constitution.
Marble Springs State Historic Site – Built in 1796, this is the last home and farm of John Sevier, Tennessee's first governor. This early Tennessee architecture is on the National Register of Historic Places.
Ramsey House – Built in 1797 constructed of blue limestone and Tennessee pink marble (a type of stone that has been used in the construction of numerous notable buildings and monuments throughout the United States and Canada). The home of the Ramsey family. Francis Ramsey was one of the founding trustees of Blount college (now the University of Tennessee).
Crescent Bend – Built in 1834, this home was built on a stretch of land owned by the Armstrongs with a commanding view of the Tennessee River. At time of publication, this site is temporarily closed.
Mabry Hazen House – Built in 1858 and housing three generations until 1987, this home served as headquarters for both Union and Confederate forces during the Civil War.
Historic Westwood – Built in 1890 as a "wedding promise," this picturesque Queen Anne is full of original art painted by the homeowner Adelia Lutz (daughter of the Armstrongs). At time of publication, this site is temporarily closed.
The McClung Museum typically has K-12 programming, however they are currently closed to the public as of the time of this publication. Contact them to learn more about their free virtual programming.
For older kids and young adults, join Beck Cultural Exchange Center for their ongoing #YouthEdition Town Hall Meetings. Learn about racial justice, Black history in East Tennessee, and important holidays like Juneteenth and the Eighth of August (Emancipation Day in Tennessee).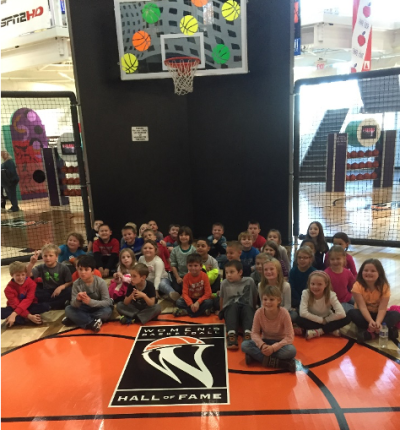 Physical Education
You could have any ol' gymnasium, but Knoxville has one that is truly one-of-a-kind inside the Women's Basketball Hall of Fame! This is the only facility of its kind, dedicated to the sport of women's basketball. If you're on a road trip, the men's version is in Springfield, Massachusetts. After strolling through the museum where you'll learn everything about the sport from its creation, to beloved icons like Pat Summitt, and the inductees to the Hall of Fame, head to the lower level and shoot some hoops! Consider taking your elementary homeschool co-op for a private education tour (minimum 10 students).
For some drop-in homeschool fun, OnSight Rock Climbing Gym welcomes homeschoolers every 1st and 3rd Thursday each month from 1-4PM for a day of indoor rock climbing.
For locals/regional visitors looking for ongoing classes, there's a lot to choose from. Consider the Ice Chalet for skating, and Euns Martial Arts Center in Farragut has homeschool classes on Tuesdays & Thursdays at 1pm. GymTek Academy has a homeschool program offering gymnastics, tumbling, and NinjaTek. Premier Athletics has both in-person and virtual classes offering tumbling, gymnastics, ninja, and dance. Prime Aquatics has weekday homeschool classes for a variety of abilities, and the YMCA offers kids ages 5-12 with PE and swim classes.
Art
The Knoxville Museum of Art, truly another jewel in Knoxville's crown of cultural beauty, is a free museum. They have free resources for online classes, including "Draw, Paint Sculpt" and "Process Play" for 3-4 year-olds, "Recycle Your World" and "Art Extravaganza" for 5-6 year-olds, "Museum Sleuth" for 10-12 year-olds, and many additional activities. If you visit in-person, enjoy the Creative Corner, and make plans to enjoy Family Fun Day or the 2nd Sunday Art Activity designed for ages 3-13.
There are other ways to enjoy art in Knoxville too. Consider hunting for Murals and Sculptures – we have a free downloadable map so you can practice orientation skills and then photography when you find the street art and take some selfies!
You may have also heard Knoxville is The Maker City. Experience this facet of our destination by doing the self-guided Maker City Tour and seeing creativity up close. Colleen Thornbrugh is one of the makers who does art classes for kids, including homeschool students age K-12 at Thursday Connection Homeschool Cooperative. McAlpin Creative specializes in DIY sign and tray kits in a variety of designs for kids.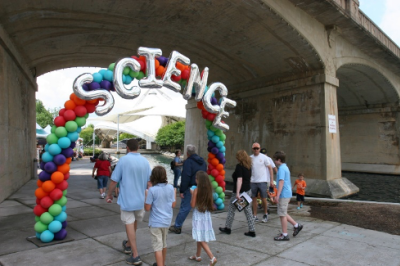 STEM (Science, Math, Engineering, Technology)
The Muse is Knoxville's prime STEAM museum. While they are currently closed, they have been doing "Daily Aha Moments" that cover Science, Creative Connections, Family Fun, STEAM Sprouts, Math & Engineering, Social/Emotional Skills, Books & More. When they resume, find information on their homeschool classes. They even compiled an additional list of resources for at-home fun here.
Bricks 4 Kidz is an educational service that uses LEGO to teach the basics of architecture and STEM. They do homeschool classes that are structured with lessons and model builds and creative play. Head to their site for more information on class design.
For older students who might have a passion for architecture, take the Historic Downtown Knoxville Walking Tour.
Theatre
We even have productions just for the kids! Catch a performance of the Knoxville Children's Theatre during your visit. Expect a kid-friendly spin on works like Shakespeare's The Tempest, or other classics like Peter Rabbit and Shrek, Jr. For homeschoolers, they host 6-week courses for ages 8-14 to learn the basics of stage work, memorization, and rehearsing.
The Clarence Brown Theatre also has several community outreach programs including Youth Student Matinees, which offer shows during the regular school day. They have artists teach workshops and also do behind-the-scenes tours. Contact them for more details.
Music
Enjoy virtual homeschooling "Very Young People's Concerts" by the Knoxville Symphony Orchestra! Register online to listen to their next performance of "Orchestranimals" in March 2021. This is an incredible partnership between KSO + Zoo Knoxville that will feature the KSO musicians playing Saint-Saens' Carnival of the Animals, Revueltas' Sensamaya and Never Play Music Right Next to the Zoo by Bill Elliott with words by John Lithgow. Take a look at the Teacher's Guide to learn how to be a good audience member, how an orchestra is laid out on stage, and other activities to pair the music with animals from Zoo Knoxville. You can even Meet the Musicians online!
Did you watch the Ken Burns Country Music Documentary on PBS? Pick up a passport and visit places mentioned in the series. We also have the Cradle of Country Music Walking Tour for TRUE lovers of all things country music!
Geography
Here's an easy one – come by our Visitor Center and stick a pin in our map and let us know where you're from!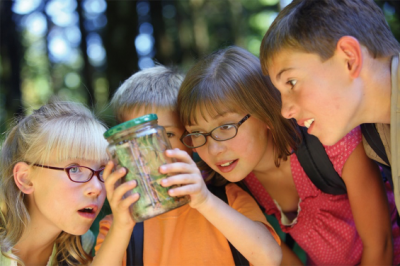 Natural Sciences
Ijams Nature Center is a great place to take your homeschooler. Drop by to explore their grounds (check off the geology box when you wonder at the incredible rock formations along the trails or paddle in an abandoned quarry) or if you're a local you can sign up for their "Nature Ed-Ventures" for ages 3-9 or Nature Preschool for ages 3-5.
We think zoology (the scientific study of the behavior, structure, physiology, classification, and distribution of animals) is a worthy endeavor, and where else but Zoo Knoxville could you go to learn about incredible creatures from around the globe? If you're like George the Gibbon and just swinging through, the Zoo welcomes you anytime. For those looking for a semester-long investment, Zoo Knoxville Homeschool's Academy has weekly and monthly classes to supplement K-8th grade science curriculum.
If birds specifically are a passion, the Knoxville Chapter of the Tennessee Ornithological Society can help with scouts working on merit badges or Bird Walks at Seven Islands Park – contact them for more information to help your child discover the joy of birding (and if you as an adult have a birding passion, you'll be thrilled to know how robust the Knoxville area is for birders!)
Learning about botany and agriculture? You'll be interested in a trip to one of Knoxville's botanical gardens. This is the post for you – a complete guide to gardens. For students specifically, the Knoxville Botanical Garden has the "Every Child Outdoors" Youth Garden to promote and support opportunities that encourage children to experience the outdoors. Children learn about the environment and about growing fruits and vegetables in the garden, berry patch, and orchard through field trips, service projects, summer camp, and our weekly, April through October, Story Thyme program. If you're local and don't have space at home, you can even rent a 4x12 plot in the Family Garden to grow your own goodies. The UT Gardens have excellent children's programming too including a semester-long homeschool program and several other two-hour workshops.
Literature
Wasn't sure how we were going to cover this one, were ya? Enjoy the self-guided Literary Walking Tour to open the worlds of Cormac McCarthy, Nikki Giovanni, James Agee, and Alex Haley. Click through the locations on our map, read about the stops along the way, and see what Knoxville's literary legacy looks like.
Extracurriculars
Got a scout? They're sure to find interest in the Girl Scout Museum at Daisy's Place. Their collection of vintage uniforms date back to 1920 and they have over 500!
Got a teen thinking about college, or just like to enjoy the vibe of being on campus? Check out the University of Tennessee Walking Tour.
Congrats mom, dad, and caretakers – you did it! Now go pour yourself some #knoxontherocks!
For more information on homeschooling in Knoxville, head to the Smoky Mountain Home Education Association.