So this is my first real Christmas season in Knoxville. Last year at this time I was in a shelter hoping to find a home. Sort of sounds like a sob story, but it's not. Here I am almost a year out of the shelter. Lucky for me I got to stay in Knoxville and I have met a whole bunch of nice people and dogs on my little journey.
You guys, last night I got to help judge Christmas in the City windows. I could not be more excited! Why you ask? Well I can't go into every store and restaurant so getting to see the joy of the holidays in windows was the next best thing.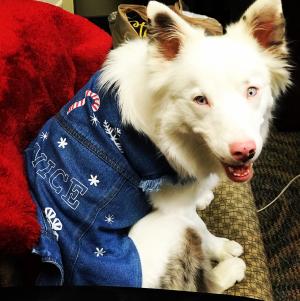 My mom put this ridiculous jean jacket on me, but people loved it, probably because it said "nice" and kept with the peppermint theme of Downtown Knoxville! I think they also like it because I like to kiss everyone and talk to the other dogs; I just want everyone to get along!
We started at the Peppermint mural on Market Square. For some reason my mom has no idea how to hold me for the photo,  I was scared of Peppermint Panda.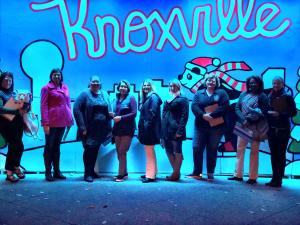 Off we went! Now the best part is that I get to sniff everywhere and say hi to every single passerby. We headed over to Pour Taproom with some cool lights and some dogs on their patio, but I'm here for judging! No beer please! Post Modern had a UNICORN it was white like me but a little heavy on the headwear. Then we meandered past Awaken Coffee and Dogwood Arts office.
The Old City is cool because they have taken the peppermint village seriously; all their street lights are lit like candy canes. A little stop at Boyd's Jig and Reel showed us a HUGE reindeer, although I'm not sure where that reindeer worked out…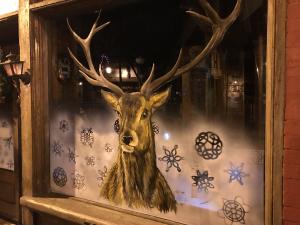 Then we walked by Rala where I decided to growl at fake dogs in the window. You people have fake news I have fake dogs. Moving along. Back up to Gay Street. You guys know I love Mast General Store because I can shop there, but they had some very creative windows. That Elf on the Shelf is everywhere in this city. Some more cool peppermint windows and then one tiny one that caught my nose for some reason was this one.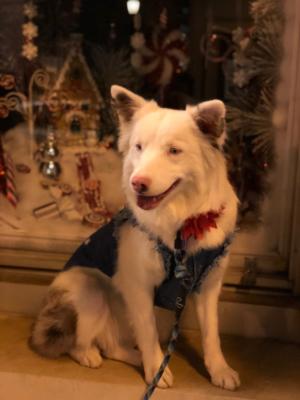 Oh look I can strike a pose.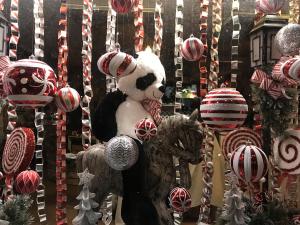 Then I saw my second panda of the night at The Flower Pot.
Over to Union Avenue where I'll be honest it did not matter what was in the window.. CitiFido had a treat for me and the humans had to stay outside. #winning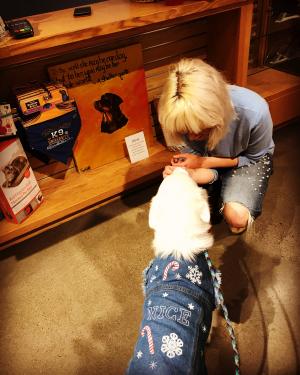 Nothing Too Fancy made me snorkel with their funny t-shirts, although I only saw human and miniature human ones nothing for me so we walked back to Market Square. It was there that I saw the ice skating rink and was curious and scared. Then two humans my size came over for some kisses and high fives. It did not end there I met three other dogs and we smooshed noses and then mom took me home because I'm needed some food and a catnap!
I have so many more adventures this holiday season! Stay tuned for more.  I love meeting you all and sharing our stories here and on social media! Tag me in your #knoxbarks pics at @daisyinknox