As we continue with our 2022 New Year's resolutions, let's have fun and make these pledges into happy memories. Exercising and eating healthy doesn't have to be a chore, and Valentine's Day doesn't have to be all chocolates and roses. Trek into your kitchen. Venture into the crisp outdoors. Whatever the reason, get into the romantic season!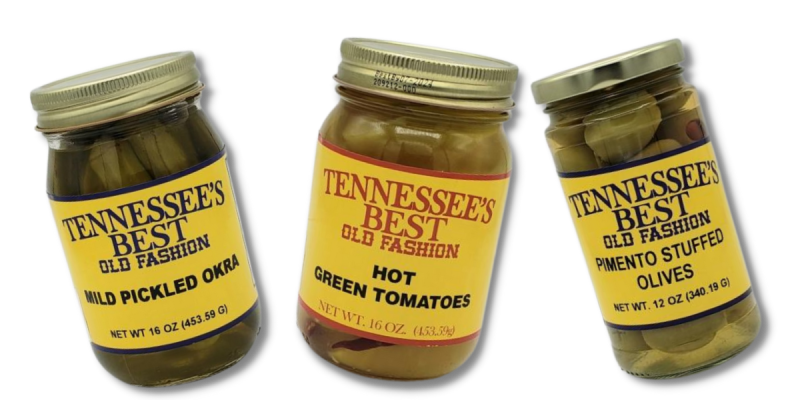 On rainy (or snowy) lazy days at home, heat things up in the kitchen by spicing up your meals with some locally made pantry must-haves! While pickling is a favorite Southern tradition, it isn't just for pickles. Take your palate on an unforgettable adventure into the world of pickled delicacies: we've got Mild Pickled Okra, Hot Green Tomatoes, and Pimento-Stuffed Olives just waiting to be enjoyed. These are great cocktail and charcuterie accompaniments for that special someone on date night too! 
While you're at it, why not try your hand at whipping up some warm homemade treats with our easy-to-use mixes, like Hush Puppy, Garlic Biscuit, and Fried Green Tomato varieties. Impress loved ones with your gourmet cooking—no one has to know your recipe secrets!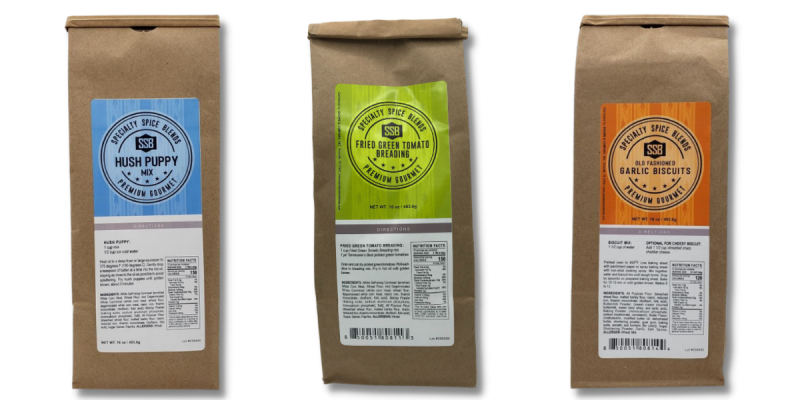 If you're feeling particularly chef-like, then don a cutting-edge Marc Nelson denim apron for the occasion - we carry both Solid Demin and Acid Wash. His aprons have been seen on celebrity chefs across the nation!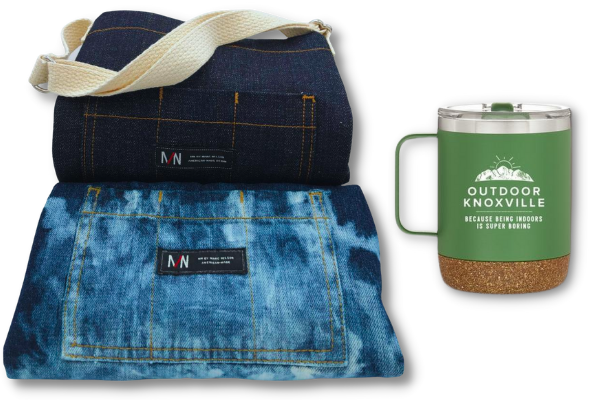 No need to dread the winter chill as you pour a pair of mugs of coffee or tea, bundle up, and head outside to take in our serene Appalachian nature. We've got Outdoor Knoxville Cork Coffee Mugs so that your beverages stay hot and you stay toasty. We also have Knoxville Beverage Tumblers that come with lids to make your tumbler into a thermos AND a koozie, so you can start your adventure with a warm brew and end it with a cold one. Brisk breezes can't stop your exploration now!  
Hike around Knoxville's mountains and valleys with your partner using our handy Urban Hikes and TVA Trails guides – you'll warm up in no time. If trail running or mountain biking is more your speed, then snag an Off Road Trail guide. Once you find your favorite trails, show your support with Outdoor Knoxville decals. Stick 'em on your cooler, pack a picnic, and enjoy a romantic afternoon dining al fresco. All Outdoor Knoxville merchandise sales directly benefit Legacy Parks Foundation, a great feeling to know that your purchases go back to the local nature you're enjoying! 
Spice up your New Year's resolutions and carry them through this chilly yet romance-filled season. Come see us at the Visit Knoxville's Visitors Center to shop in person or head to our online Gift Shop to awaken your love for our nature-loving-adventure-seeking-southern-cooking-kinda-town!