Welcome back to Fun Intern Friday, this is Tori, your host and guide!  Ok, I know that was a weird title – but it's not what you think, so keep reading!
If you don't already know, Knoxville has a pretty cool history. You've heard me mention a few times about the historic Old City and Market Square.  During the Civil War, Knoxville was split, housing both Confederate and Union soldiers. Now you're probably like, "Okay, what does this have to do with Tori's summer bucket list?" Enter:  Knoxville Haunted Ghost Tours. Skeptic or believer, you will love this tour. It's a 2 1/2 hour tour and it begins in Market Square. When you do the tour, you're not just investigating paranormal activity, but you also get a detailed history of each location that you are in, including bits about the Civil War. Throughout the tour, you have five stops. I'm not going to give up everything, but in one of the first stops, your tour guide will go over the different tools you and your group will be using to investigate. Yes, I said tools.
In total were 6 or 7 different tools that are spread out throughout the group. Each tool does something different such as letting you know if there was a temperature drop, or if there is any energy in the area, etc. He later explains that while investigating, if you get any hits on your tool, temperature drop, or a spike in energy, to call over two other people from the group with different tools to see if they also get a hit. If they do, then your guide will conclude that there is activity. Now, if you're a skeptic you're probably like, "Yeah right," but some of the things I saw you would have to see for yourself to believe! There was one point where we were at the "most paranormal" spot and we had several of our tools together and we were getting feedback. We would ask things such as, "If you're a male turn the flashlight off," nothing would happen, so we would ask, "if you're a female, turn the light off," and it did. I brought along someone who doesn't believe in ghosts, and his jaw dropped after seeing these things.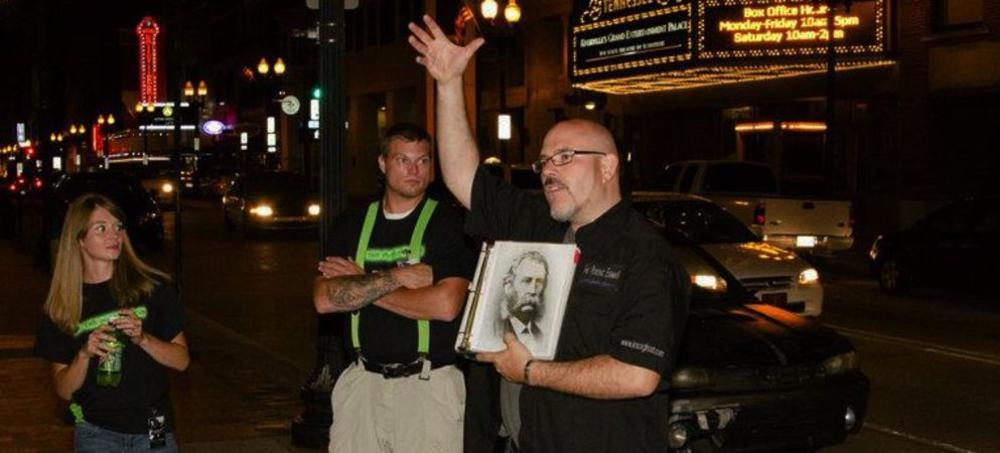 I think a ghost may have destroyed my photos, so I had to borrow this one from Visit Knoxville's page!  During the tour our guide was very enthusiastic and made sure everyone was able to participate and made jokes the whole time so that the whole tour was fun. Skeptic or believer, he knew his history of the city and the paranormal activity claimed in each stop so you were able to experience something along the way. He thoroughly went through how to work each tool and how to talk to get a response.  I really enjoyed the tour and think that this is a great and perfect activity to do during the evening.
Haunted Knoxville Ghost Tours have several tours to go on, including the Southern Railway Station tour and the new one down at Maple Hall - the Million-Dollar Fire Tour. If you remember my post about Maple Hall, I wrote a summary about the fire in two of the three buildings there and this tour goes more into depth about what they found during their investigation. Tours start at $40/per person and up depending on which tour you decide to do.
Now switching gears, and no we're not talking about body organs!
On the first Monday of every month, the Tennessee Theatre hosts a free event called Mighty Musical Monday. During this event, the theatre features the original Mighty Wurlitzer Organ. Hearing this restored organ played when the event first started was amazing and cool to look at.
If you bring $5, you get a lunch bag that has a Chick-Fil-A sandwich, a bag of chips, and then a sweet treat. Add on a soda for a couple dollars.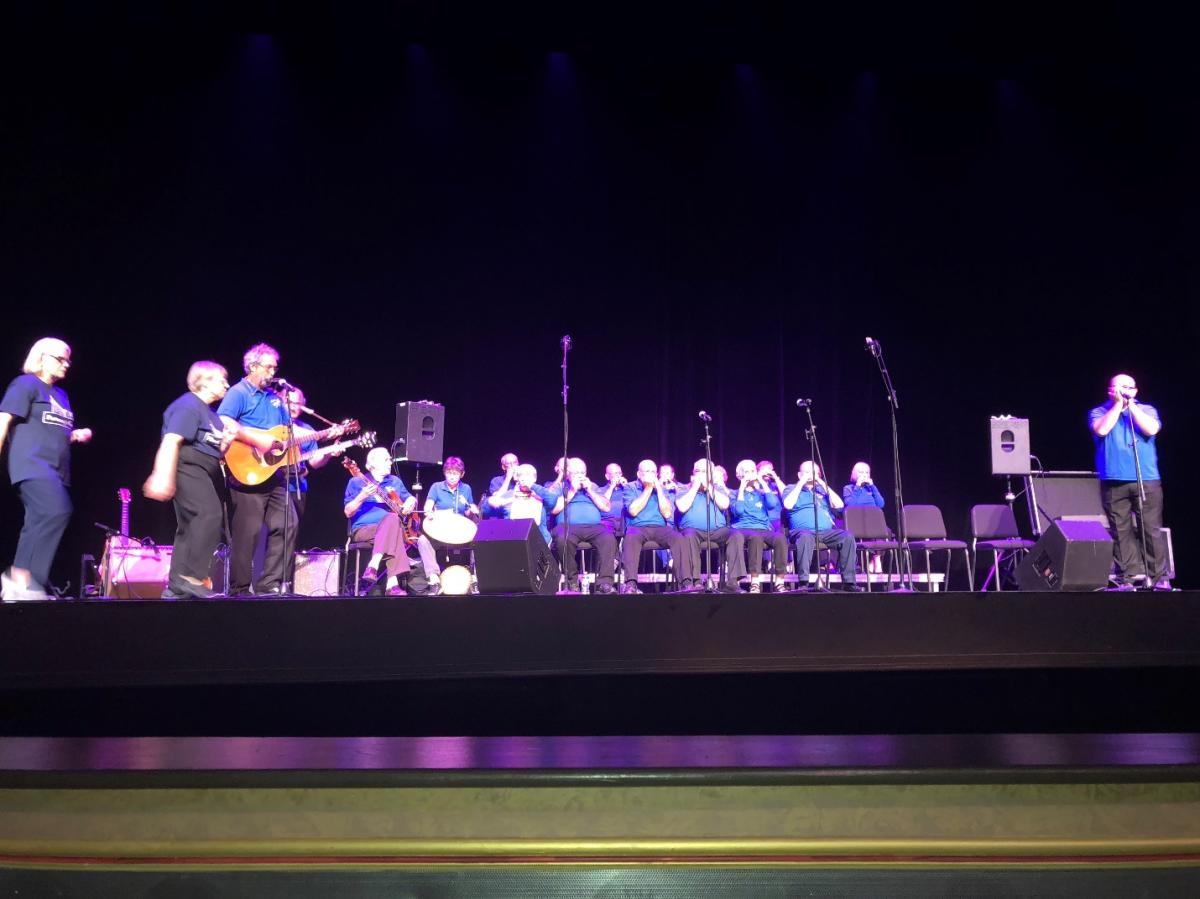 In addition to the organ being played, there are always guest performers.  The guest performer for the last Mighty Musical Monday was Rare Aire. The Rare Aire Harmonica Ensemble was formed in the fall of 2014 by Kathy Tallent, at Blount Memorial Hospital. Kathy envisioned to use the harmonicas for respiratory therapy. The playing of the harmonica was considered beneficial to patients with pulmonary stress and progressive pulmonary disease. The goal of the group was to help the patients with therapy while also having fun.
It wasn't what I was expecting when the curtains lifted, but I enjoyed the performance very much. As soon as they lifted, there was a group of seniors sitting in the middle of the stage, and they had about eight dancers on the side doing a line dance as they played through their songs.  They played together on their harmonicas along with two guitars and a bass – lots of 60s songs full of nostalgia like "Under the Boardwalk" and Go Johnny Go".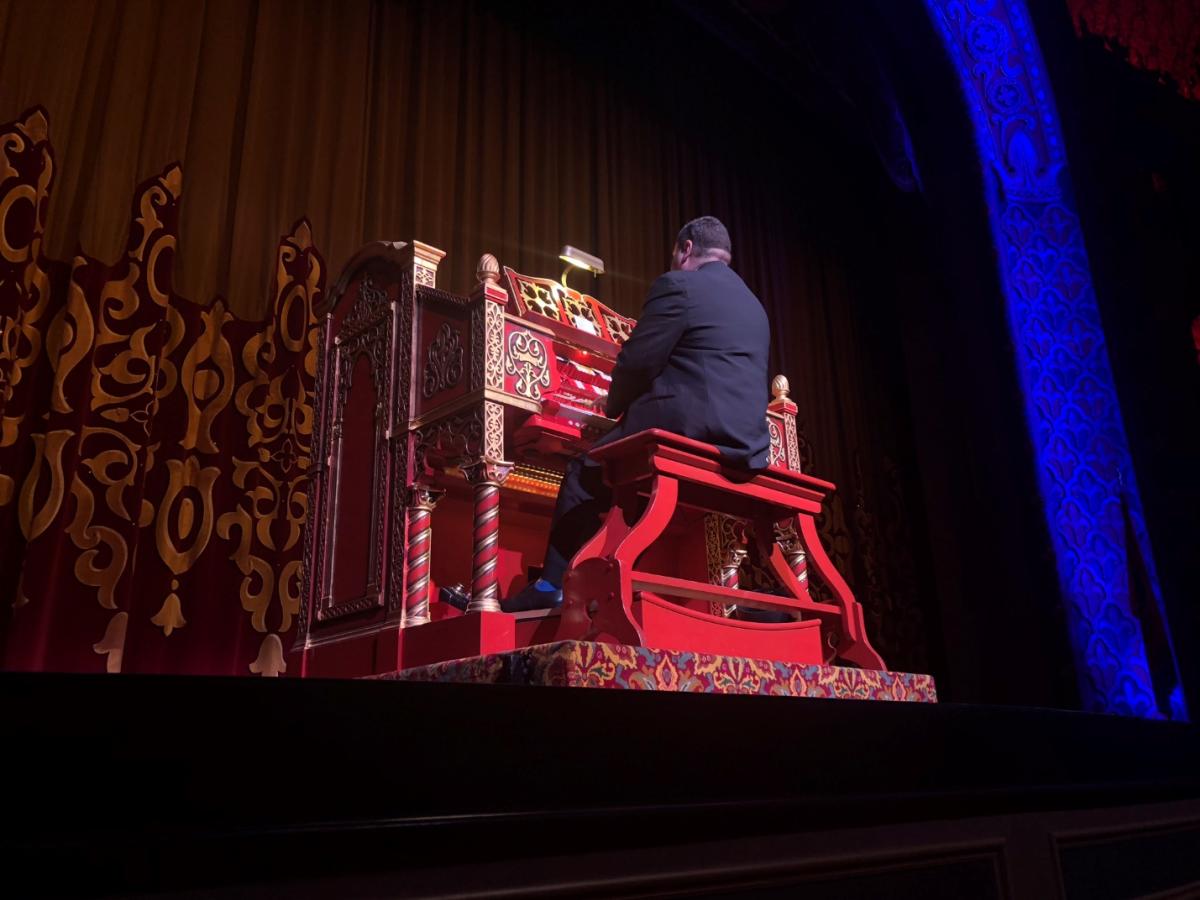 Freddie Brabson, the man who played the Mighty Wurlitzer, closed with a medley of songs that were from around the same time the songs that Rare Aire performed were from. He also played the classics "Take Me Out to the Ball Game" and "Mr. Sandman". It was amazing hearing everyone join in and singing the songs as he played. While doing so, he would make many sound effects that the organ had to offer, adding to the whole event. What better way to get out of the house with the kids or just for lunch with some friends? I highly suggest you mark your calendar and plan to attend the next Mighty Musical Monday; it's something you don't want to miss!
Download the free Visit Knoxville app, look at the events, and you can add Mighty Musical Monday to your calendar. It's easy, and while you're there, browse around and find some other great things around Knoxville you didn't know were here!