Knoxville has a wonderful assortment of museums. Our notion of a museum can be traced back to wunderkammer, or curiosity cabinets of the 14th century, but the tradition of collecting has also been found in ancient cultures. A collection of objects does not necessarily constitute a museum; it is the preservation and interpretation of these objects that creates the educational institutions that we enjoy today.  
One of our local museums, the Frank H. McClung Museum of Natural History and Culture, offers diverse educational programs for all ages including stroller tours, lectures, and teacher workshops. Of course, the casual visitor is also welcome to roam the exhibition halls at their own pace.  McClung Museum of Natural History and Culture opened on June 1, 1963 on the campus of the University of Tennessee, Knoxville. Construction of hydroelectric faculties by the Tennessee Valley Authority between 1934 and 1942 would lead to numerous excavations that amassed a large collection of prehistoric artifacts. This, combined with other collections donated to the university, prompted the need for a centralized museum. Over the years, the museum's collection has diversified, and traveling exhibits from other organizations augment the museum's permanent exhibitions.  
Currently on exhibit is Divine Felines: Cats of Ancient Egypt. On loan from the Brooklyn Museum from February 4 through May 7, 2017, the exhibition investigates the relationship between ancient Egyptians and their cats. Contrary to popular belief, Egyptians did not worship cats. Instead, the many qualities associated with cats were woven into the Egyptian religion creating a blending of gods and these feline attributes. The exhibition features eighty artifacts ranging from gaming pieces to funerary objects, and every artifact exhibits high-quality craftsmanship. Divine Felines is also a nice compliment to one of the museum's permanent exhibitions, Ancient Egypt: The Eternal Voice. Together they offer a comprehensive look into the daily life of ancient Egyptians.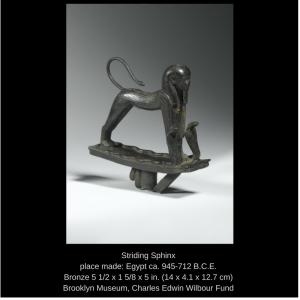 Other permanent exhibitions include Human Origins: Searching for our Fossil Ancestors, Geology & Fossil History of East Tennessee, The Decorative Experience, and Archaeology and the Native Peoples of Tennessee. Each exhibition offers a wealth of information as well as a captivating visual experience.  
Admission to the McClung Museum of Natural History and Culture is always free, although donations are appreciated. A two-hour museum parking pass is available throughout the week from the information booth at the entrance to Circle Park. Visit the museum's website for additional information about upcoming exhibitions, lectures, and special events.