Downtown Knoxville is booming, and so are the arts. A great way to experience Knoxville's arts scene is to visit downtown Knoxville on First Fridays. Museums, galleries, and other venues are open on the first Friday of every month, with most of the programming occurring between 5pm and 9pm. Most locations are open free to the public, although some music venues require that you purchase a ticket. Regardless, you can expect a good mix of art, music, food and Knoxville culture.
Knoxville has hosted First Fridays for close to 15 years, and it is not limited to your traditional art venues. Restaurants like the Tomato Head have been rotating monthly exhibitions since they opened, while newer businesses like Awaken Coffee and Nest Knoxville have joined the mix. First Friday has become so popular that a special workshop was recently created specifically for businesses who want to participate in First Friday by highlighting the work of a local artist or some other activity. You'll also want to check out First Friday Live with WDVX.
According to Liza Zenni, Director of the Knoxville Arts and Culture Alliance, "Knoxville's First Friday celebrations are a wonderful (and free) way for locals and visitors to enjoy Knoxville's culture and joie de vivre! The city's walkability make Knoxville the perfect place to wander from gallery to gallery, stop for dinner, and head back out again to soak it all in."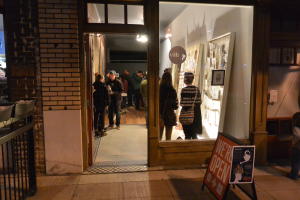 A few hotspots include the Emporium, the UTK Downtown Gallery, the Art Market, and the Visitors Center, but there so many venues you will find yourself wanting to return each month to explore more. Exhibitions tend to rotate monthly, so if you happened to miss out, you can always catch the show in between months.
With so much to see and do, you might like to plan your evening in advance. A good place to start is First Friday ArtWalk. Maintained by the Downtown Knoxville Central Business Improvement District, the site offers a listing of current events as well as other helpful resources. Knoxville has a lot of festivals, so don't be surprised if any particular First Friday also coincides with a special event like the Dogwoods Arts Festival. Check out Visit Knoxville's event listings or their First Friday website to maximize your First Friday experience.
First Friday is also a great opportunity to take a casual stroll around town, but if you don't feel like a lot of walking, you might consider using the ArtWalk Trolley. It's a free service and routes runs between Gay Street and the Old City.
So, get out, explore Knoxville, and support the arts! You'll be glad you did.