As kids head back to school and routines fall into place, autumn and cooler weather are on the horizon and now is a great time to visit Ijams Nature Center! With more than 12 miles of hiking/biking trails, a public access dock on the Tennessee River, Navitat's canopy adventure, climbing on the Crag and educational programs galore, there's always something to do in nature just a few moments from downtown Knoxville.
What began as a 20-acre homesite for H.P. and Alice Ijams in 1910 and then grew into a bird sanctuary featuring natural areas and a few cultivated gardens is now a bustling nonprofit nature center boasting more than 315 acres of protected land where people can learn about and enjoy diverse East Tennessee landscapes.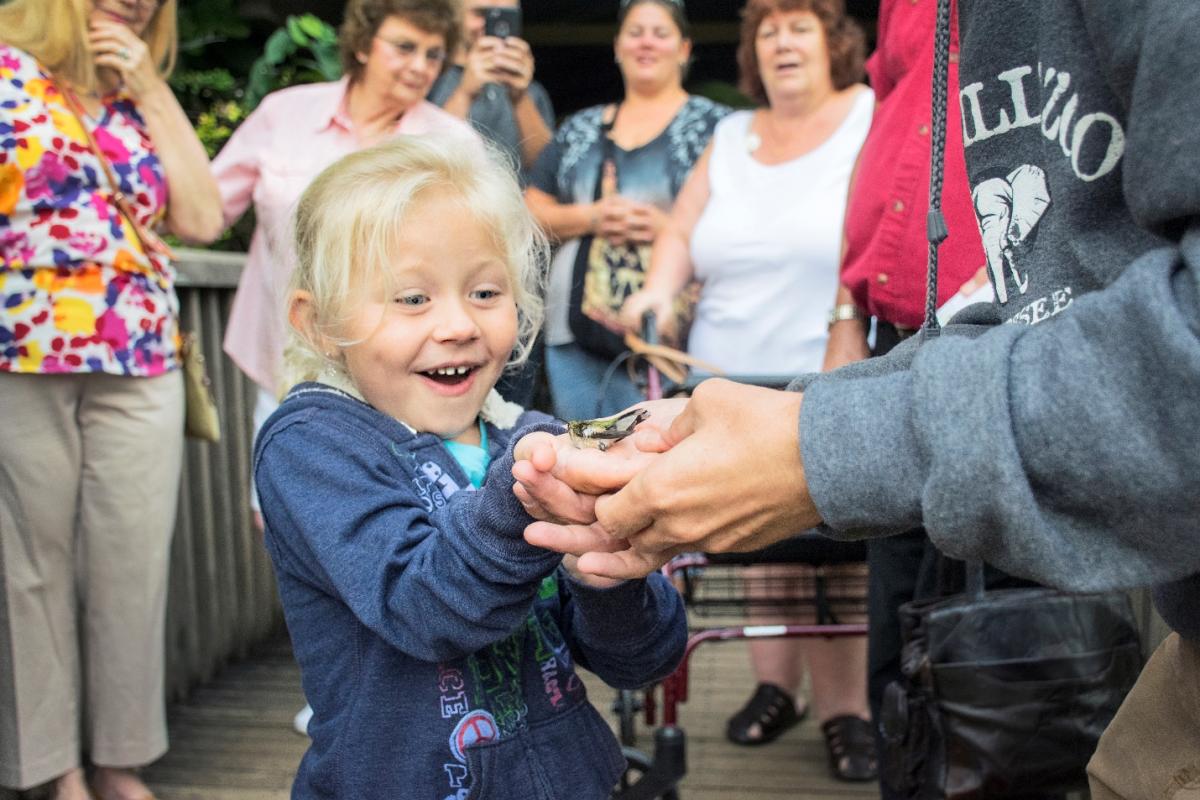 Hummingbird Festival courtesy of Oak Roots Creative
Weekends are full of activities, and on Aug. 25, the eighth annual Wonder of Hummingbirds Festival brought out almost 950 people to watch certified master bander Mark Armstrong demonstrate how to band ruby-throated hummingbirds and why it's important to track these tiny migrating birds. More than 20 birds were harmlessly captured, then released. Visitors also attended educational sessions focused on birds, bees and butterflies, and shopped in a marketplace filled with plants, gardening décor, arts and crafts.
Ijams Nature Center's 33rd annual Symphony in the Park presented by Stephen and April Harris on Sept. 9 welcomed more than 360 people to the Visitor Center to enjoy a cocktail reception, silent auction and a delicious dinner with a fabulous  concert from the Knoxville Symphony Orchestra led by Aram Demirjian featuring R.B. Morris as the special musical guest. It's always been a dream of R.B.'s to have his music orchestrated, and his collaboration with the KSO and musicians Greg Horne and Daniel Kimbro thoroughly enchanted the audience. While dinner is usually held on the lawn under the stars, it rained for the first time in the fundraiser's history, but guests stayed dry during dinner under huge tents, and the rain was gone long before the end of the evening.
Special events continue throughout the year, from the popular Holiday Marketplace featuring dozens of local artists and craftspeople on Dec. 9, to various concerts and theatre productions on the lawn. But even without these events, you'll find hundreds of education programs that highlight the beauty and wonder of nature, from the Ijams Hiking Club, crawdad and jellyfish hunts, and paddling adventures to night hikes, bug safaris and citizen science programs.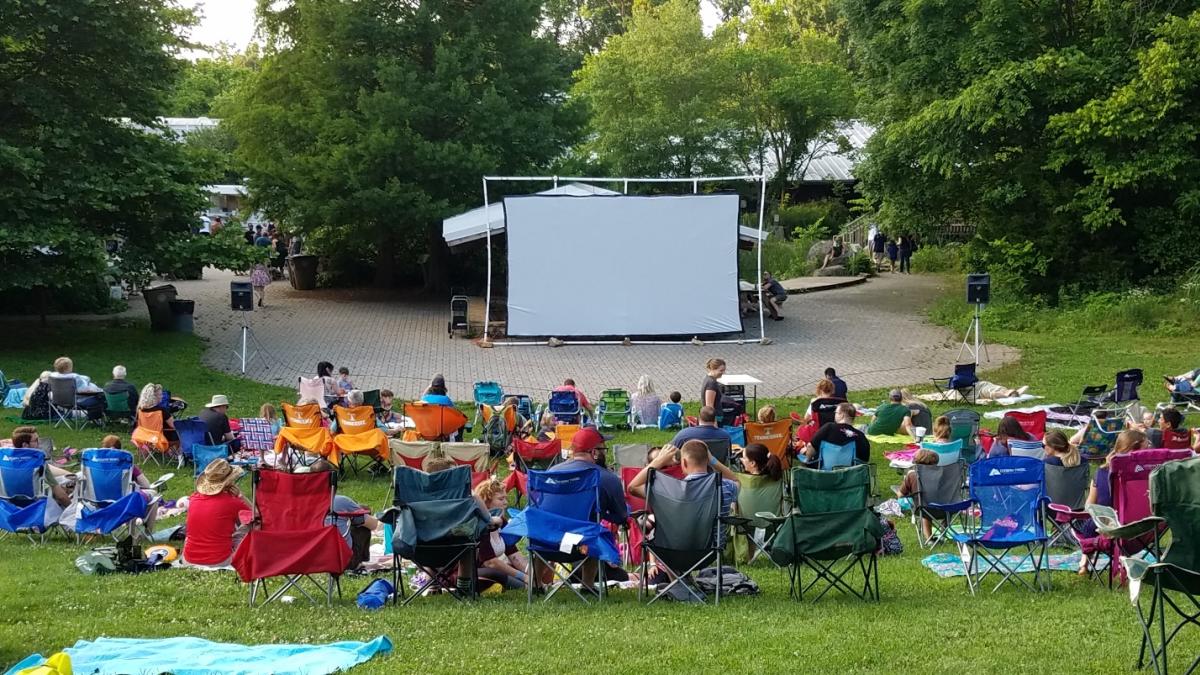 Ijams Movie Night
October's offerings range from the final screening of Movies Under the Stars, Pet Sematary, to kick of Halloween festivities Oct. 5 and a Fall Break Camp full of autumn adventures for ages 6-12 Oct. 8-12, to a nature walk at Founder's Park Oct. 13 and the ever-popular Ijams Owl Prowl Oct. 19. The month's activities conclude Oct. 27 with Ijams Prison Break!, an evening of interactive trail walks in search of environmental criminals. This family-friendly event will have everyone working together to stop these wicked weeds' dastardly plans and bring them to justice! You'll find all of Ijams' fall programs listed at http://ijams.org/events/.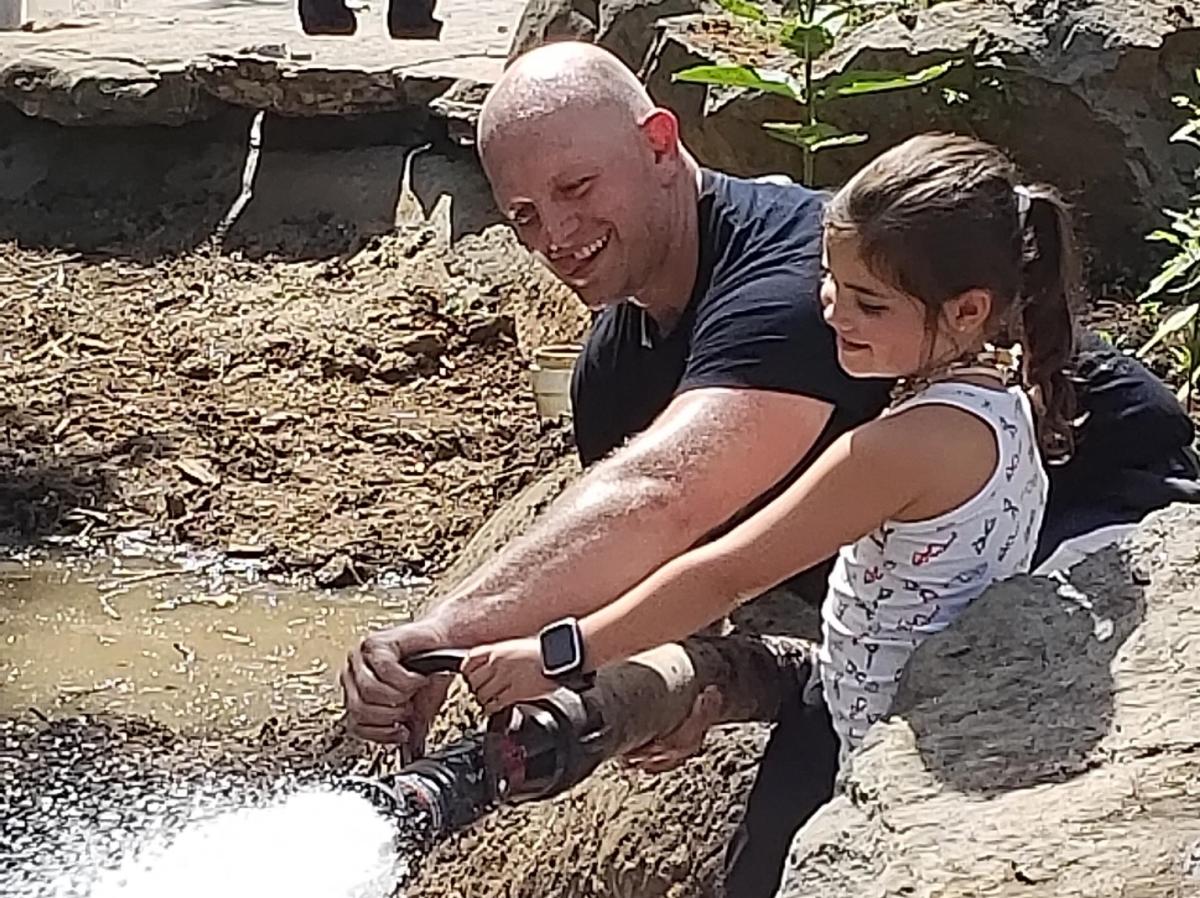 Cleaning at Ijams
That's not all that's happening at Ijams this fall. The nature center recently took on a full master planning project to vision the Ijams the community needs now…and 10 years from now. As much as possible, Ijams is focusing on the outdoors.
Part of that effort includes grounds maintenance and upkeep, and visitors have been watching the Ijams Grounds staff repairing and restoring the pond on the Visitor Center Plaza. With the help of the Knoxville Garden Club, the staff and volunteers of all ages were able to remove about 20 years of sediment, plants and clay from the pond to be able to find and repair cracks in the foundation.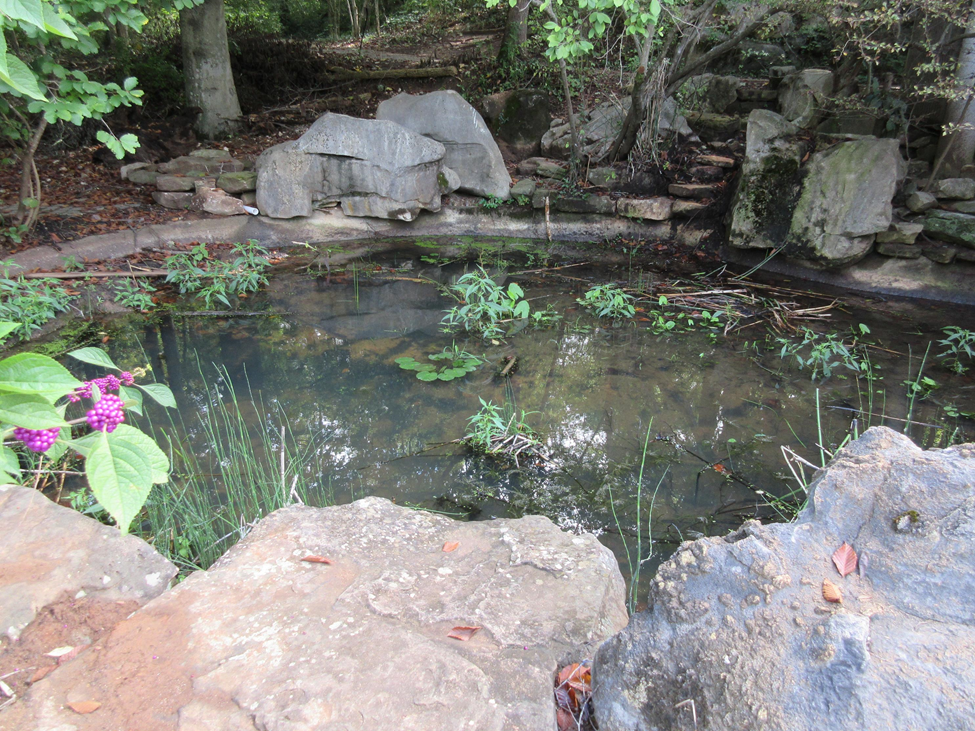 Pond at Ijams
The first step was to capture all of the pond's residents, count and classify them, and then rehome them in a nearby pond, and Ijams created a citizen science program to educate the "moving crew" about this special aquatic habitat. Once the pond's cracks were cleaned and sealed, the Knoxville Fire Department lent a hand, filling the pond with eight tanker trucks of water pumped from the Tennessee River. Using unchlorinated water from the river ensures that wildlife and the newly planted native plants will survive and thrive in the pond. A few lucky visitors got a chance to watch the process and help along the way! Even with eight truckloads of water, the pond was not filled to capacity, but this was an excellent opportunity to see if the repairs would keep water in the pond. The remainder of the pond will be filled naturally by rain and water from the Visitor Center's geothermal heating and cooling system.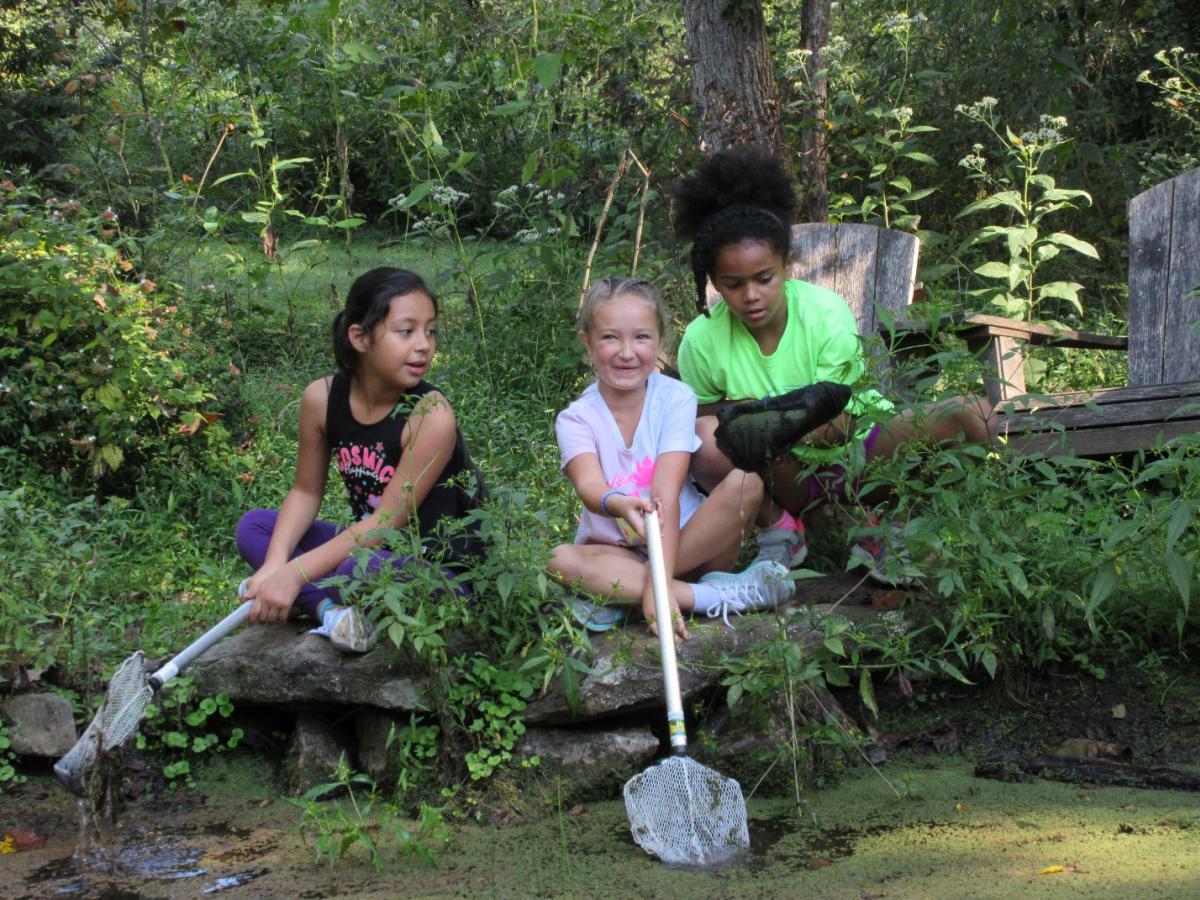 Kids at Ijams
When it comes to education, the nature center's latest outdoor effort is designed for the tiniest budding naturalists. The Nature Preschool at Ijams Nature Center caters to 3- to 5-year-olds, and children spend up to 80% of their time outside, exploring and learning about the world around them. The nature preschool has rolling enrollment, so those new to the Knoxville area or looking for an immersive nature-based education for their children can join at any time.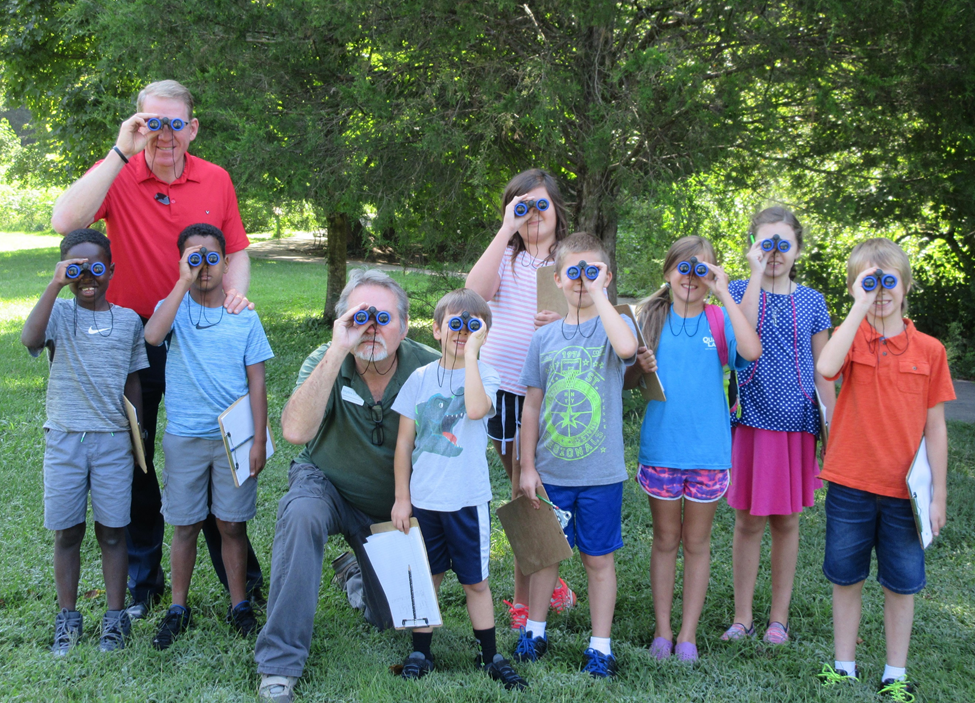 Field Trip at Ijams
Field trips are a common occurrence in the spring and fall, and with the help of The Chapman Family Foundation, Ijams is able to offer schools free and/or reduced-rate fees and cover transportation costs through the Ijams Scholarship Program so that less fortunate children can attend these programs.  
Thanks to a generous donation from the Aslan Foundation, Ijams is starting a Weed Wranglers program that will create a cadre of trained volunteers to combat invasive plants at Ijams. Plans are to send these ambassadors into the community to educate home and business owners so they can do the same. The goal is restore East Tennessee's landscapes to the diverse habitats they once were and showcase the beauty of this area's native species.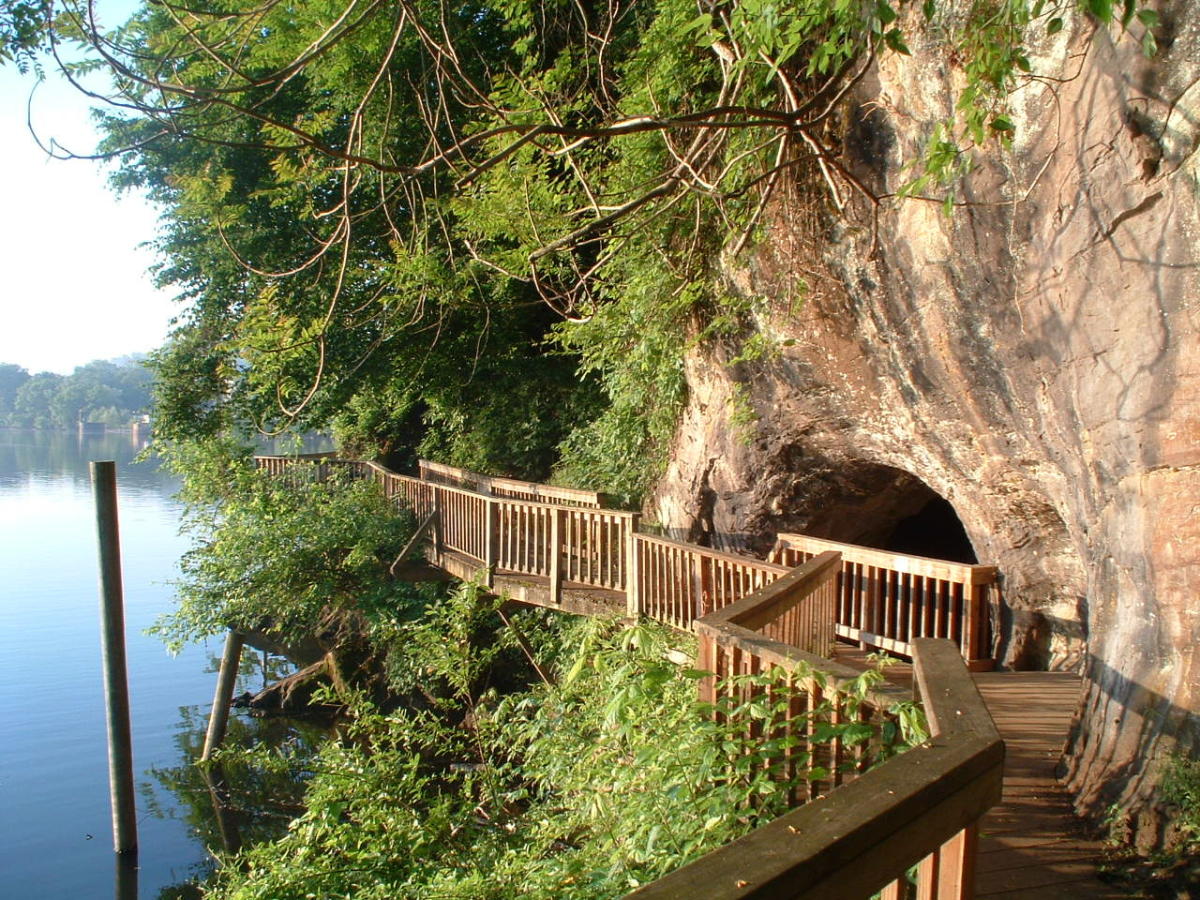 Boardwalk at Ijams
As part of this project, work also is under way to eradicate invasive species on the Grayson Subaru Preserve, a new 13.5-acre property adjacent to Mead's Quarry. This space will ultimately become a cutting-edge nature play area for children. Today's kids spend much of their time indoors looking at screens, but Ijams is working to give children the opportunity to explore and play outside in a safe space while parents can observe. This work is made possible through partnerships with Grayson Subaru, the Aslan Foundation, and the Tennessee Department of Agriculture – Forestry Division.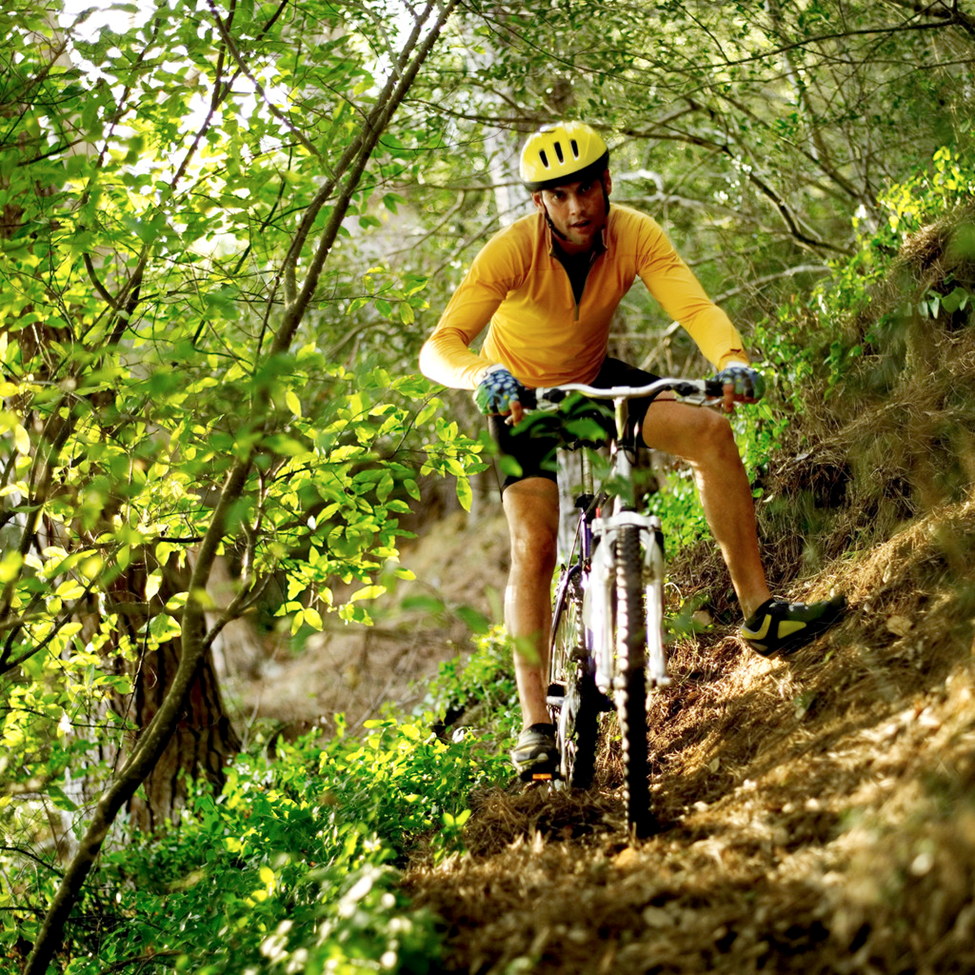 Mountain Biking at Ijams
Getting outside isn't just for kids. Within the year, Ijams will begin construction on the first-of-its-kind "green exercise" space that blends boulder fields, logs, trees, rocks and trails with natural movement to help people of all ages increase their workout intensity in a natural setting. Current research has shown that exercising in natural or "green" spaces increases the physical and mental benefits of being active while simultaneously growing a connection with nature.
Partnerships are integral to the success of Ijams Nature Center. Land comprising the Ijams footprint is owned by Ijams, the City of Knoxville and Knox County, and all three organizations work together to ensure Ijams Nature Center is the best it can be. The nature center is working closely with a variety of stakeholders on plans for Knoxville's Urban Wilderness and has begun a new partnership with the Town of Farragut to offer education programs there as part of the Ijams Out and About Series, and is looking to program other spaces to reach as many people are possible. Ijams also relies on support from individuals, businesses and foundations. Your support helps this nonprofit nature center educate and inspire more than 160,000 people annually, encouraging them to become stewards of the natural world.
There's truly something for everyone at Ijams. Hope to see you this fall!
---
Ijams Nature Center is a nonprofit, 315-acre educational nature center for all ages, abilities and walks of life. Ijams' mission is to encourage stewardship of the natural world by providing an urban greenspace for people to learn about and enjoy the outdoors through engaging experiences. Located just three miles from downtown Knoxville, Ijams features 12 miles of hiking and mixed-use trails, a public access river dock, swimming, boating, biking and more. The center offers hundreds of educational programs annually, from school field trips and off-site programs to on-site outdoor and classroom education programs that focus on topics from birding and wildflowers to yoga hikes, cooking classes and art programs. The Ijams grounds and trails are open every day from 8 a.m. until dusk. The Visitor Center is open Monday through Saturday 9 a.m. to 5 p.m. and Sunday 11 a.m. to 5 p.m. For more information, visit Ijams.org or call 865-577-4717. Follow Ijams Nature Center on Facebook and Instagram at @ijamsnaturecenter and on Twitter at @IjamsNatureCtr.