Most of my childhood was spent reading the Harry Potter series repeatedly and eagerly anticipating the release of each new book and movie. I distinctly remember standing in the line outside of the little theater in my hometown dressed as Professor Trelawney to watch the midnight showing of the Half-Blood Prince. Needless to say I was very excited to hear that the Mill & Mine would be showing Harry Potter and the Chamber of Secrets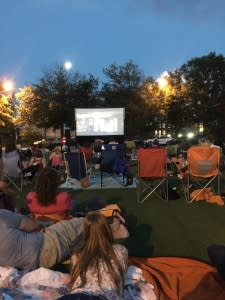 as part of their Summer Bike-In Movie Series. I bought my tickets almost immediately and convinced my friends to tag along. 
In our typical fashion, we arrived a little later than originally planned since I realized too late that I had left all of the lawn chairs at my apartment and we had to turn back to get them. By the time we arrived, Harry and Ron had already crashed the flying car into the Womping Willow. We easily found plenty of room for all of our chairs towards the back of the lawn. Thankfully, the quaint size and layout of the event ensured we had a perfect view of the entire movie. After setting up our chairs and blankets I headed over to the concession stand to get an ice cold Yee-Haw Dunkel (a personal favorite) and a veggie taco with as many toppings as I could fit. For those who wouldn't agree that tacos make for a good movie snack they also served fresh popcorn and candies. 
I have seen each movie in the Harry Potter series more times than I can count but I have never experienced them this way.  There is something about watching a tale of adventure and friendship with my closest friends on lawn under the stars with the historic buildings of downtown as a backdrop that is truly magical.