For those whose travel destinations lean heavily on the city's food and beverage scene consider this a promise. Knoxville will not disappoint.  Southern food and moonshine whiskey might be one's initial impression due to the city's geographic location, but to pigeonhole Knoxville's culinary offerings to that alone would be to sell this city short.
Sure, there are plenty of Southern and Appalachian-inspired restaurants from which to choose. Jackie's Dream, the Lunch House, Chandler's Deli, Pete's Coffee Shop, and Rankin's come to mind.  But Knoxville also has J.C. Holdway, owned by Knoxville native and James Beard Award winning chef Joseph Lenn.  Lenn spent 10 years honing his culinary skills at Blackberry Farm, a premiere resort located at the foothills of the Smoky Mountains, before coming home to open a spot that's focus is on local and regionally sourced Appalachian woodfired cuisine.  And he's not the only Blackberry Farm alum in the city.
Knoxville continues to embrace a culinary growth partly fueled by the Blackberry Farm influence, where expert culinary masters and wait staff bring their A-game to town offering the highest standards in food preparation and service bar none.  Chef Matt Gallaher, owner of two downtown eateries - Knox Mason and Emilia - fits into that category as does Chef Drew McDonald, owner of The Plaid Apron.  Both spent formative years at Blackberry Farm before bringing their talents and high standard service expectations to their own businesses.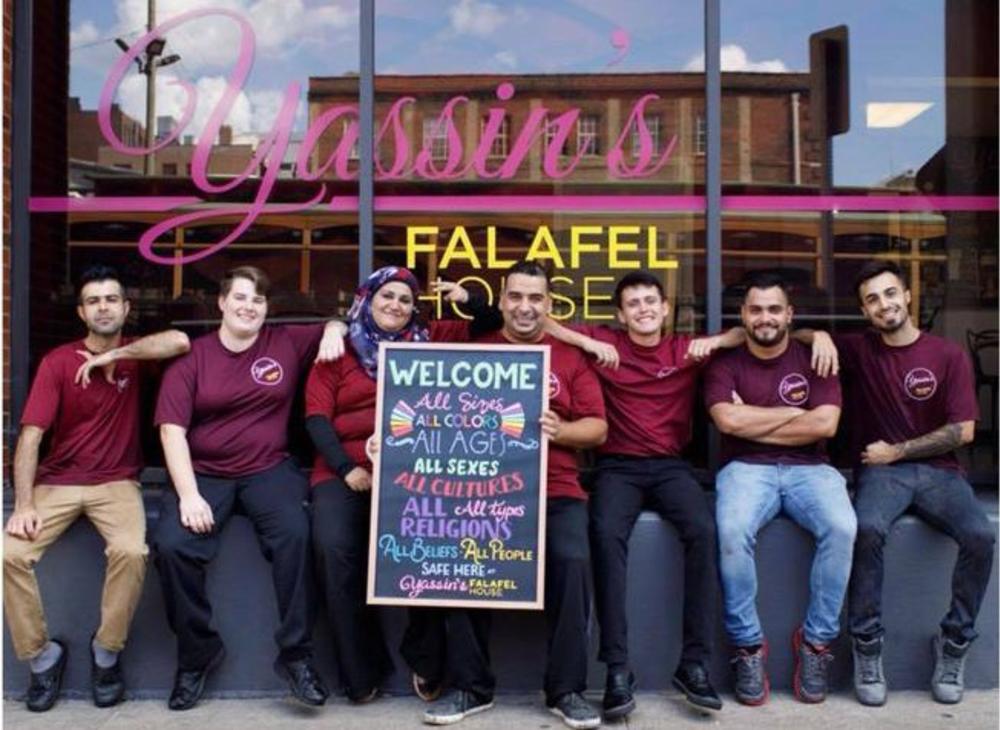 Yassin's Falafel House
It ain't all Southern, darlin'
Knoxville's international flavors are aplenty and the back stories from many of these business owners will warm the heart long before the food warms the belly.
Take for instance Khan Sikarng, whose life story includes being an infant strapped to the back of her mother as they crossed the Mekong River to escape the chaos in Laos caused by the Vietnam War. Now the owner of Knoxville's Sticky Rice Café, Sikarng's business not only features the cuisine of her motherland but the dishes are prepared by her mother, the same determined lady who fought to give her daughter a better life.
And there's Yassin Terou, a Syrian refugee who came to Knoxville with few resources. He earned a living selling his falafel sandwiches outside of a local mosque before finding a partner to help him realize his dream of become a restaurant owner. Within five years of coming to Knoxville, Terou opened two restaurants, both named Yassin's Falafel House. The restaurants are so loved in this community that they won the title of "Nicest Place in America," in 2018 via a national contest sponsored by Reader's Digest. The finalists were chosen by the voting public with a team of judges deciding the winner and was  announced on Good Morning America.
Jesse Newmister is another chef who has brought two interesting eateries to the city. Kaizen is a Japanese-style pub where Newmister and staff serve house-made Thai sausage, steamed buns and noodle dishes, while his Tako Taco eatery showcases a fusion of Asian and Hispanic flavors.
Other international offerings include Gosh Ethiopian Restaurant, Kefi - a Mediterranean eatery, Tandur Indian Kitchen, the Philippine Connection, as well as a number of Cuban, Thai, Vietnamese, Hispanic, and Chinese restaurants.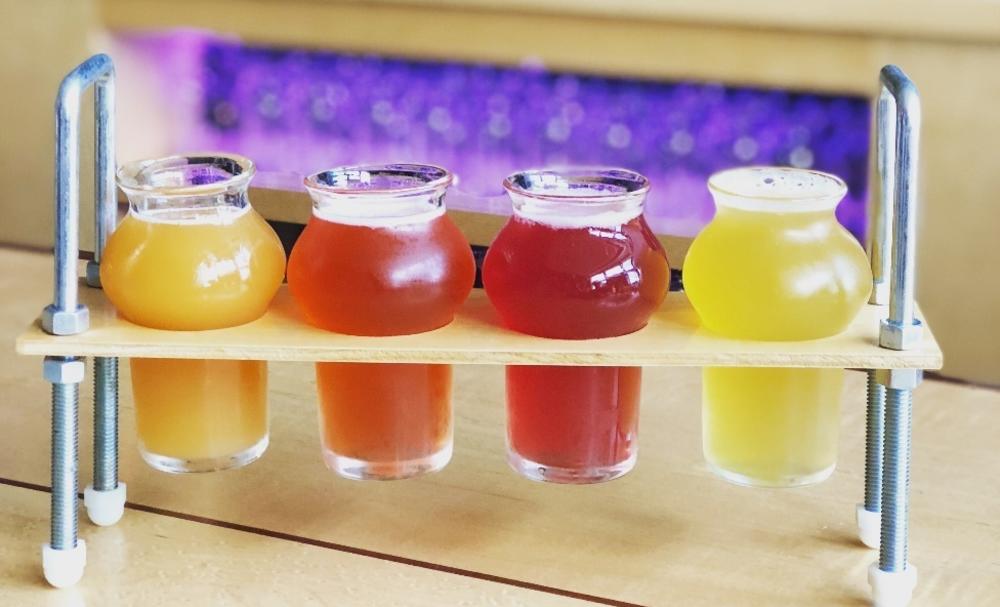 Pretentious Beer Company
What's Brewing
Knoxville's distillery and brewing facilities expand in this city with every blink of an eye.
From pale ale, stouts, porters and lagers, Knoxville's brewing community is flourishing. Happy Holler boasts a plethora of beer makers including Elst Brewing Company, Elkmont Exchange, Fanatic Brewing, Crafty Bastard, and Schulz Brau, just to name a few.  To make sure you taste the best the city has to offer give Knoxville Brew Tours a call. The business gives three-hour tours of local breweries with the guarantee of 12 samples of beer.
In addition to a great beer scene, Knoxville's Pretentious Beer is located in the Old City, and is also the home of Pretentious Glass Company, an artisan glass blowing operation focused on beer glasses designed to deliver various styles of beer onto the tongue for maximum flavor. Think Riedel except for beer.
Knoxville also has two distilleries, PostModern Spirits and Knox Whiskey Works.  Both work closely with local farmers to acquire the best ingredients for its mash. They also work with area breweries to create limited edition products using wort from a previous beer run or by recycling whiskey kegs to impart one-of-a-kind flavors.  The distilleries are included in the Tennessee Whiskey Trail map.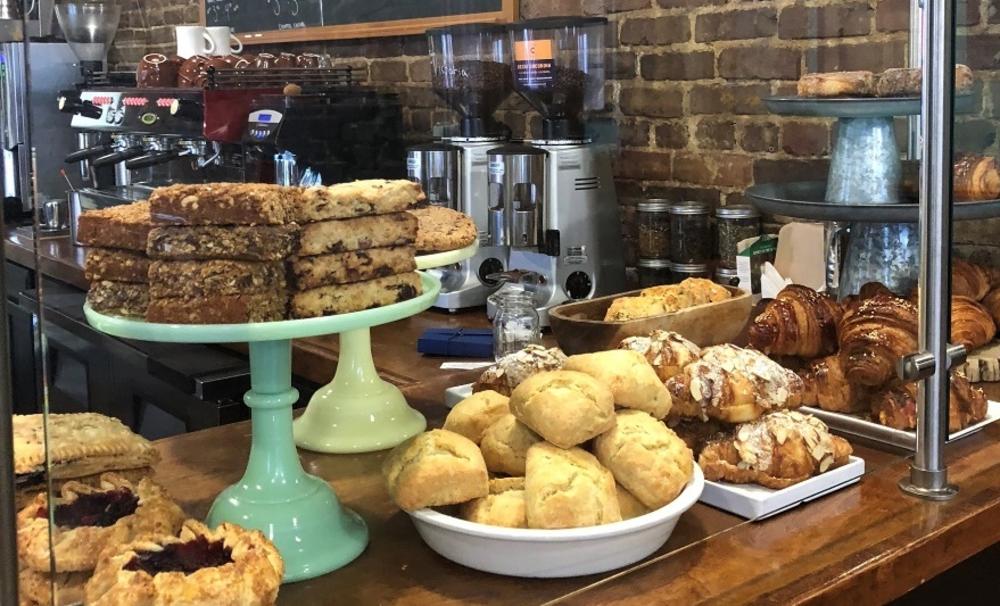 Old City Java
Wake up Honey, it's Morning
Breakfast is indeed the best meal of the day. Nothing can fuel a four-mile hike of House Mountain, a mountain bike trip at Baker Creek Preserve, or a 3-hour tour of Zoo Knoxville like a plate of sausage and gravy biscuits, two fried eggs and a slab of country ham.  This city has you covered, smothered and slathered in morning manna.
OliBea in the Old City offers an intriguing culinary lineup with its Southern and Hispanic mashup of flavors. It was recently named one of the best breakfasts in the state by Food & Wine Magazine.
There are also coffee shops like Pearl on Union, Old City Java, Wild Love Bakehouse, K Brew, and Remedy Coffee where one can grab a pastry and an eye-opening cup of Joe. And don't miss Paysan Bread and its amazing breakfast bagel sandwiches.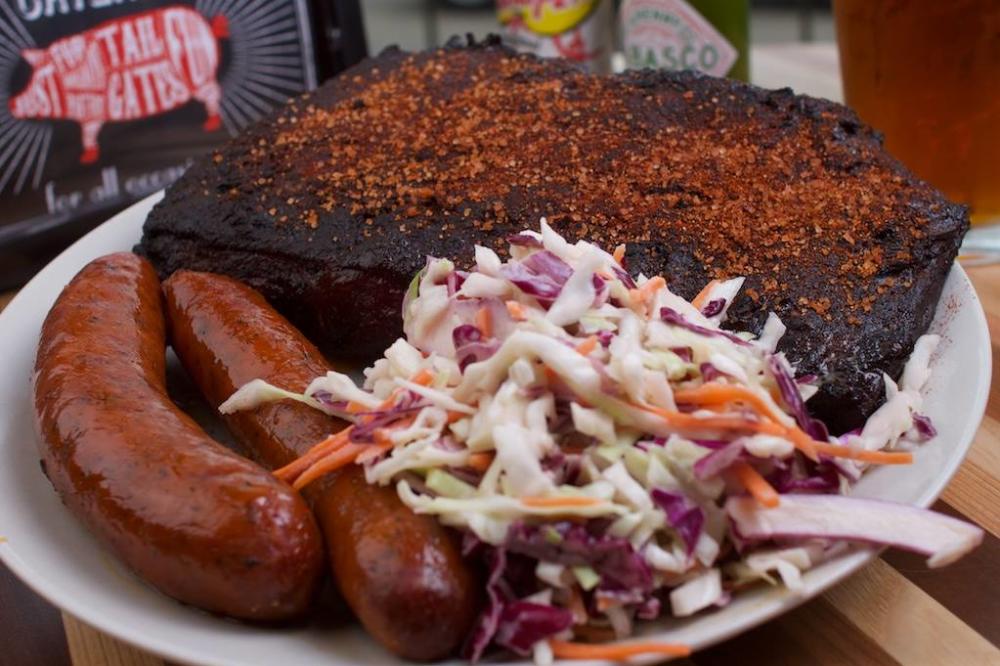 Sweet P's BBQ, photo credit KnoxFoodie
As Seen on TV
Many of Knoxville's eateries have been featured on HGTV's Travel Channel and/or Food Network shows.  Those that you might want to visit include Sweet P's BBQ, owned by Chris Ford. It was featured on "Man vs. Food" with Adam Richman accepting a food challenge to eat Ford's El Gigante Comida burrito.  And Ye Olde Steakhouse, a restaurant that recently celebrated 50 years of operation was featured in the same "Man vs. Food" segment with Richman attempting to eat a 60-ounce New York Strip.
Already much loved by the locals, Pizza Palace was brought to national fame by Guy Fieri when featured on his "Diners, Drive Ins and Dives," as was the Savory & Sweet Food Truck that can be seen tooling around town.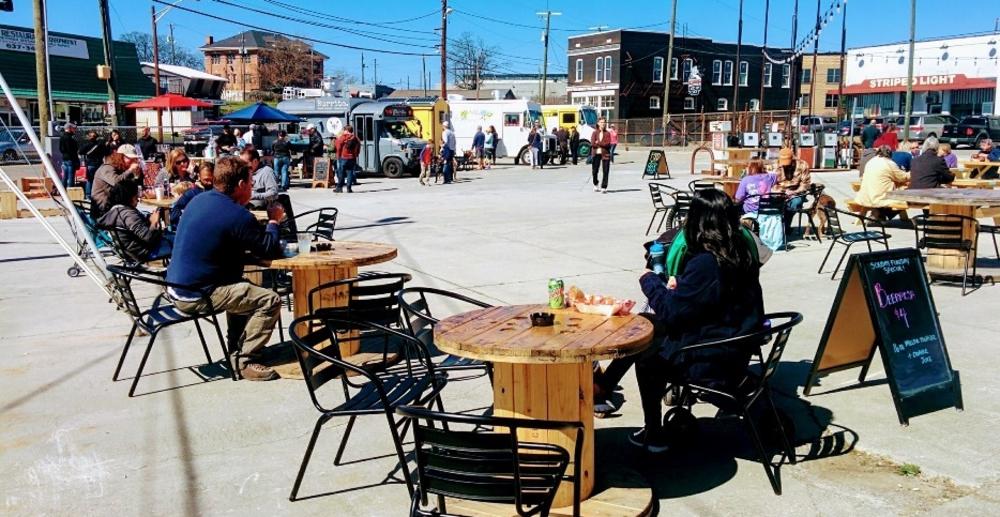 Central Filling Station
About Those Food Trucks
You'll find the trucks in designated areas in Knoxville's downtown area, outside local brewery and pubs, as well as at designated food truck parks including Central Filling Station and a monthly food truck gathering at the Historic Southern Railway Station.
Welcome to Knoxville. Let our city feed your mind, body, and soul.