The Knoxville Visitors Center Gift Shop has a large pantry area full of local products, ranging from hot sauces to local honey. However, local ingredients are not the only thing we have for the kitchen! With cookbooks, glassware, tea towels and more, visitors and locals alike have many options to fill their kitchens with locally crafted products.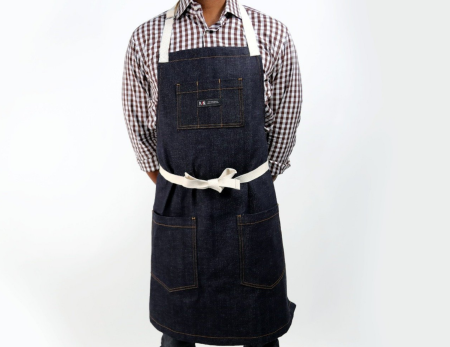 Marc Nelson Denim Apron
Go ahead and make red sauce in your white t-shirt because Marc Nelson has you covered; quite literally. This custom denim apron with natural cotton straps is a must have for your kitchen. With its efficient pocket placement, you'll be able to tackle multiple jobs at once, holding an array of utensils. Come grab yours today at the Visitors Center or shop here online!  
Tea Towels 
If you are looking for a touch of Knoxville in your kitchen, a tea towel is the perfect find. Not only are they practical, but they make wonderful gifts! You can use them in a breadbasket, to dry dishes, or even as a placemat. The Knoxville Visitors Center has options like custom art by Paris Woodhull, or pieces from Bacon & Company's Volunteer Collection. Get yours now at the Visitors Center or shop online today.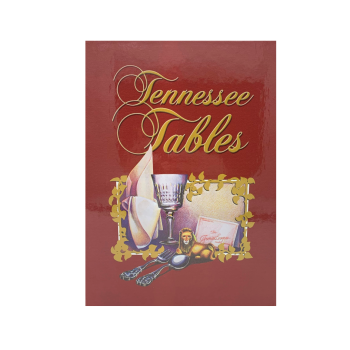 Tennessee Tables
Are you looking for some East Tennessee inspired recipes? Well look no further! The Tennessee Tables cookbook was written by the Junior League of Knoxville. With 279 pages, it is full of recipes from appetizers to desserts, plus special sections on "Table Trends and Menus" and "Pickles, Preserves, and Relishes". Purchase yours here!
| | | |
| --- | --- | --- |
| | | |
| James White's Fort (1786) | Marble Springs (1790) | Blount Mansion (1792) |
Once you've stocked up on goodies for the kitchen, don't forget to head to one of Knoxville's Farmers' Markets for some fresh produce!  And when you need a break from cooking, there are lots of options in Knoxville to choose from. Get to know our more-than-Southern cuisine, and peruse through a full list of area restaurants. You might just be inspired to recreate a delicious dish at home! 
Of course, an easy way to be grateful for today's modern kitchen is to visit ones of the past – like these at some of Knoxville's Historic Homes. After seeing what pioneers had to put up with 200+ years ago, you're sure to be thankful for those builder-grade cabinets and Formica countertops!