We don't always think of concrete steps as artistic or intriguing things, but the concrete steps at the Gay Street Viaduct near Jackson Avenue make a lively exception.
The bright, bold colors with interesting images make for a fun way to get up and down, from an area at the western end of the Jackson Terminal building to the viaduct and Gay Street. The paintings, by a young artist named Tim Coulter working with Robin Easter, liven up the stairway that's handy for some purposes now, but we'll all be using it more when the city closes Jackson Avenue to redo the old brick ramps.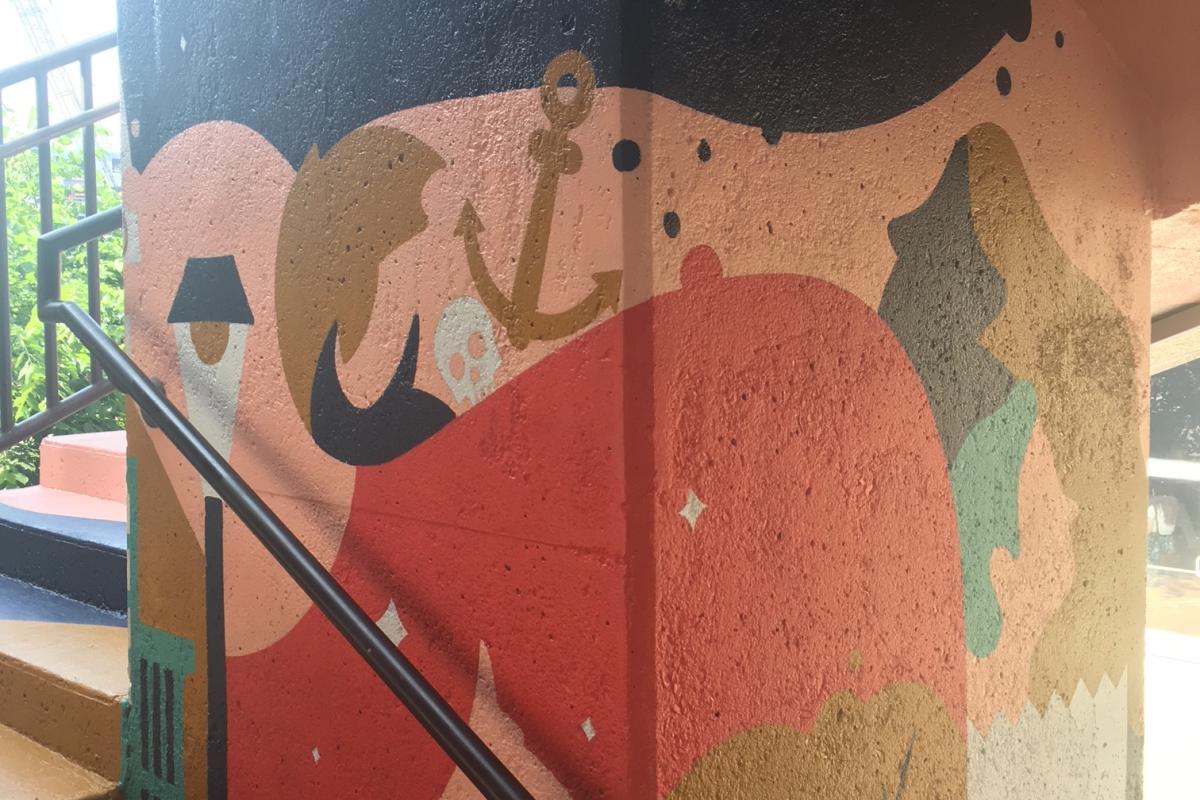 But they're meant to hint at some of the city's history, too.
Indicated in a sort of stylized images are several clues to the city's history and culture. You can take the quiz at downtownknox.org/stories.
If you don't get them at first, don't worry. Some of them are nearly impossible. Is the depiction of an old-fashioned two-reel movie camera meant to refer to Hollywood Golden Age director Clarence Brown, who grew up in North Knoxville near Happy Holler more than a century ago--or Quentin Tarantino, the postmodern master of movie mayhem? I'll just say we guessed it wrong.
We also guessed the old-fashioned anchor was a reference to Admiral Farragut, born here in 1801, but in fact it's something more modern.
Some of the silhouettes are very tough to guess, even for folks used to studying old portraits. And some of the other images are pretty abstract, to say the least.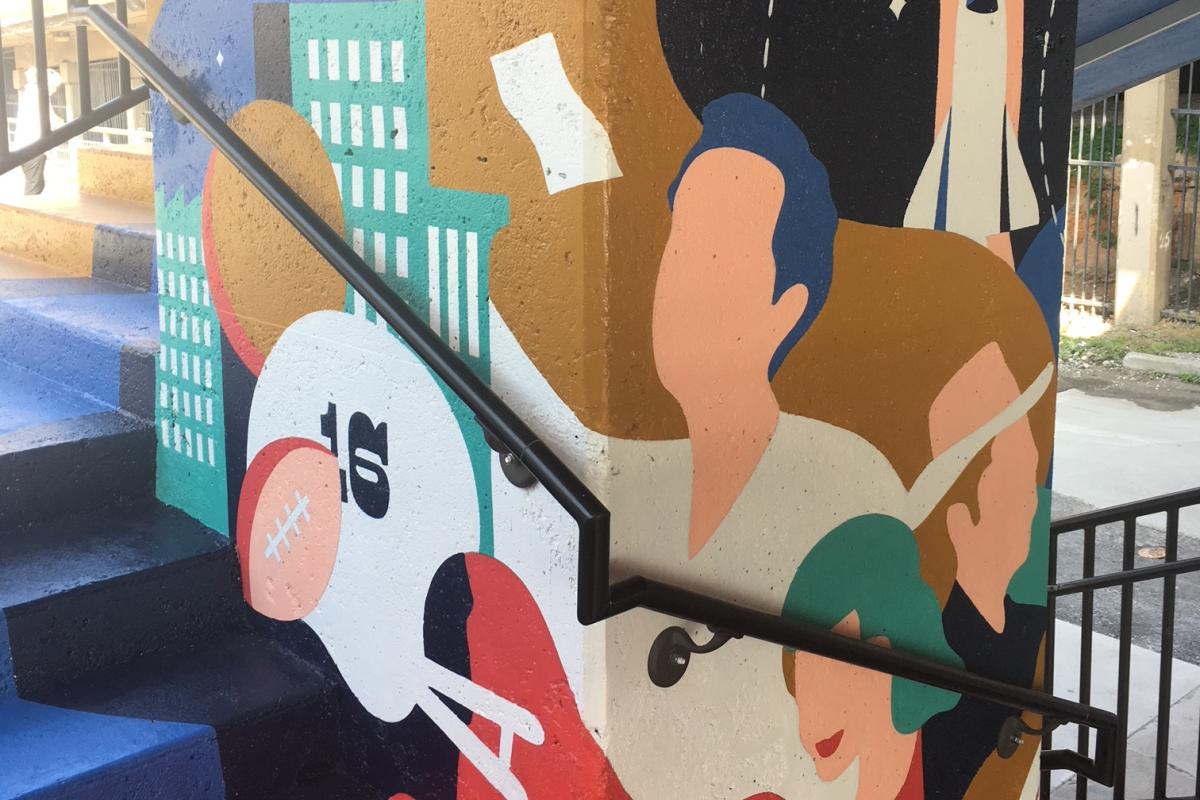 I would be astonished if any actual mortal guesses them all. But just enjoy the climb, with or without the guidance. Some would be fun even for preschoolers to identify, like the locomotive, which symbolizes the nearby train yards. Passenger trains stopped right here for about 115 years, and freight trains still have business in this neighborhood, as they did even before the Civil War. There's a dumptruck, but it doesn't actually depict a dumptruck, but a notable improvement on a dumptruck.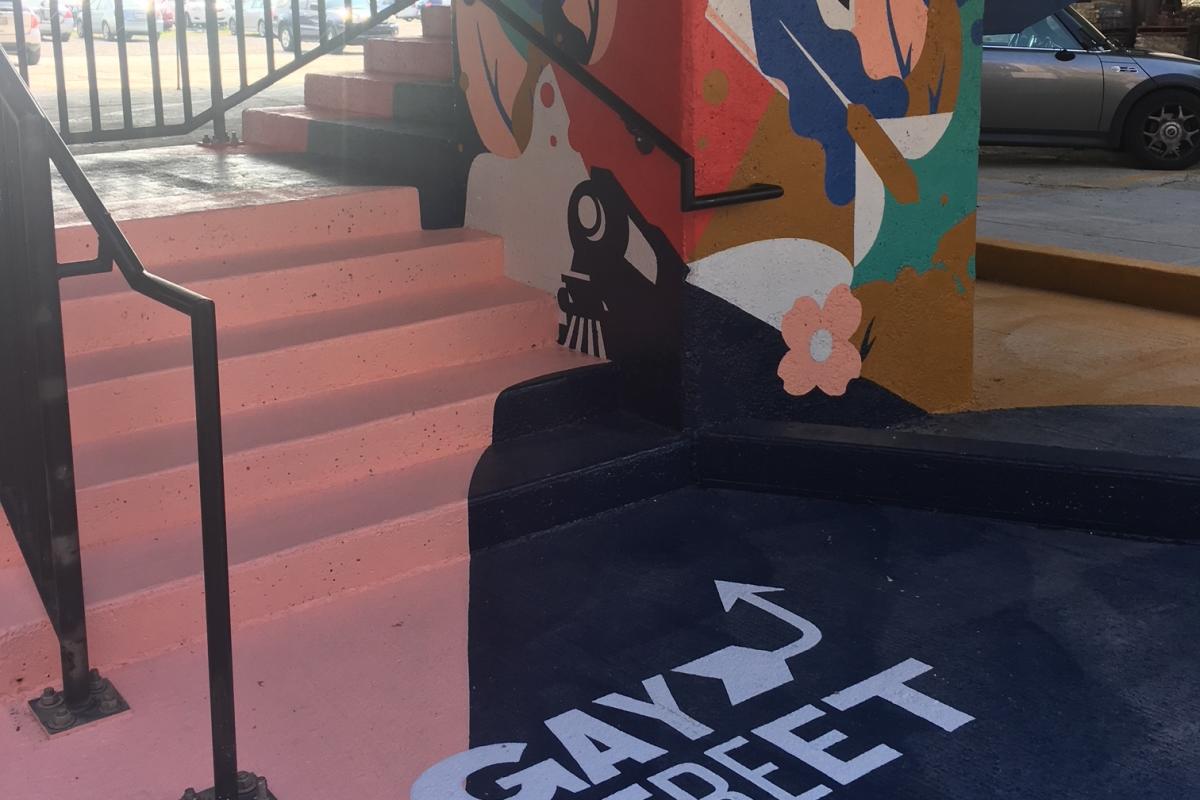 Elsewhere, there's an egret; a bridge; a chair; some boxing gloves; a space shuttle; the not-quite-forgotten World's Fair logo; a riverboat; a cup of coffee; a few skulls, both human and triceratops; a football; a dogwood blossom; a dog; a toucan; a violin and a cello. All worthwhile things that make an artful improvement to a concrete stairwell.