Did Chinese help Knoxville seem like a "City"?
The fact that Knoxville hosts Tennessee's biggest annual Asian Festival - it's coming up on Aug. 25 - may sound surprising, because we haven't emphasized Asian heritage here much in the past. But there's quite a lot of it, if you think about it.  Even the earliest pioneers used gunpowder, a Chinese invention, and the more prosperous settlers are known to have valued China dinnerware, some of it with scenes of pagodas. And, in their log cabins, some of them drank tea.
Actual Chinese people, though, were scarce in Knoxville until well after the Civil War. I recently ran across an interesting article in an old Knoxville Chronicle from 1880, when Knoxville was a battle-scarred town with fewer than 10,000 citizens.
It was titled "Two Veritable Chinese in Town." They were walking around downtown, looking around, and turning heads, partly because of their dress; they were wearing traditional clothing of nankeen, a distinctively Chinese cotton fabric, usually dyed. They looked distinctly Asian, even though the reporter remarked, perhaps with disappointment, that they wore "no queue," the traditional Asian pigtail even Tennesseans had seen depicted in newspaper illustrations.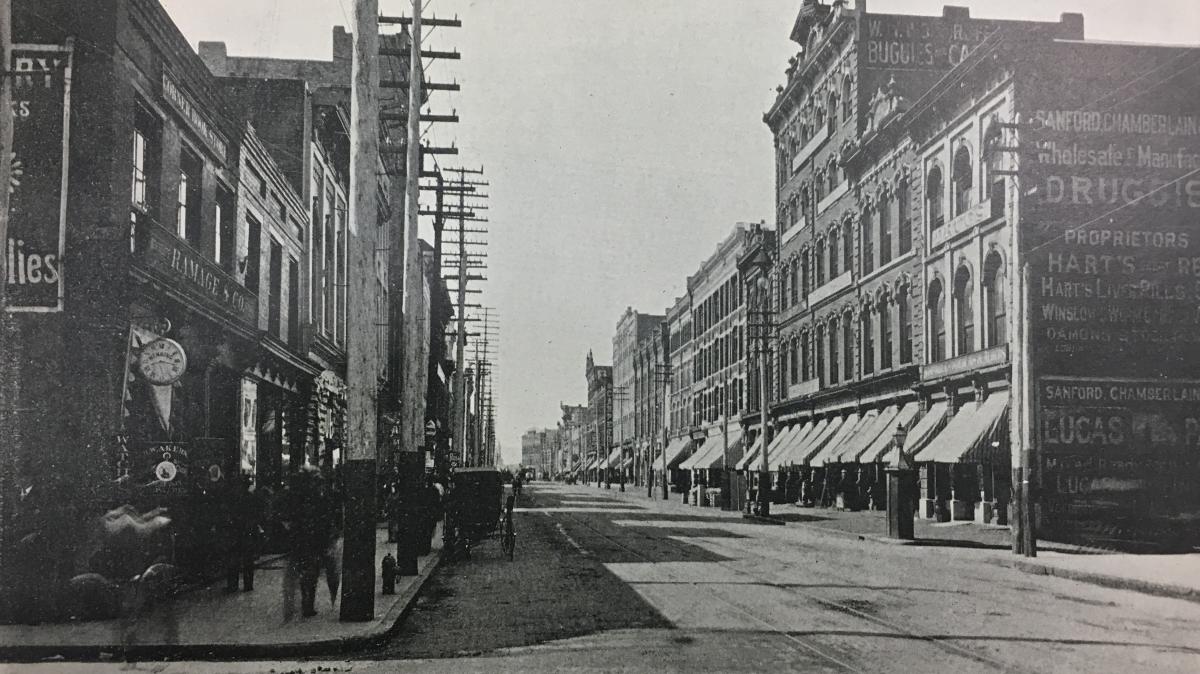 Looking north on Gay Street, circa 1890s. Courtesy University of Tennessee.  Editor's note – the drugstore building on the right is now Blackhorse Pub.
The two offered, the anonymous reporter remarked, "a celestial appearance." He added, "they attracted considerable attention as they walked the streets." 
As it turned out, the duo was here on business. Their names, anglicized, were C.P. Canton and C. Jack. Though from China, they were living in Columbus, Ohio, and they were here scouting locations for a new Chinese laundry. The careful hand-laundry style was a new trend in America, but Knoxville didn't have one yet. By the end of the decade, which turned out to be a cultural renaissance for Knoxville, when the city established its first public library, opera festivals, and other big-city amenities, the city had several Chinese laundries, competing with each other. There have probably been Asians living here ever since.
If we can judge the local reaction by this one reporter, Knoxville greeted the sight of rare Chinese visitors with wonder and maybe a sort of municipal cheer.  If we have Chinese people in town, the reporter concluded, "Knoxville can certainly claim the appellation of City, in fact and in deed."
Join us for the 6th Annual Asian Festival!  Similar to past events, the 2019 Asian Festival will feature authentic traditional food vendors representing Asian countries such as Taiwan, Thailand, Indonesia, Laos, Malaysia, India, Indonesia, Korea, China, Japan, Philippines, and Vietnam.