Knoxville, TN - Visit Knoxville is once again proud to host The Ozone Collegiate Gymnastics Classic presented by Texas Roadhouse back in Knoxville. The Classic will take place at the Knoxville Convention Center this Saturday, January 17th at 8:00pm.  Once more Premier Athletics of Knoxville has brought the following four teams to town for this NCAA women's gymnastics invitational: Bowling Green State University (currently ranked 14th nationally), Brigham Young University, University of Alaska- Anchorage, and University of Wisconsin- Whitewater.  

The Ozone Collegiate Gymnastics Classic will be held in conjunction with the 13th annual Ozone Gymnastics Invitational (formerly Flip Fest), USA Gymnastics sanctioned competition with approximately 3,600 Junior Olympic gymnasts from 16 states scheduled from January 16-19. These Junior Olympic gymnasts (ages 6-18) will participate in women's gymnastics, men's gymnastics, and trampoline & tumbling events.   This year is also the first year the invitational headlines the new Shawn Johnson Signature Series, four competitions with a team final next month in Charleston, SC.  Shawn Johnson, 2008 Olympic gold medalist and "Dancing With the Stars" champion will be at the competition during most of the weekend (Friday, Sunday, and Monday) to speak to the athletes, sign autographs and take photos.  Shawn is presently on the NBC series "Celebrity Apprentice."  

Admission: (for Saturday, January 17, 8:00pm)
Can be purchased at the admissions desk in the main concourse of the Knoxville Convention Center on Friday, January 16th from 8:00pm- 7:00pm and Saturday, January 17th from 8:00am- 9:00pm only
$14 Adults (ages 13+), $10 Children (age 6-12), & Children 5 & under are free

Doors open at 7:15pm, all seats are general admission
All competitions will be hosted by Premier Athletics, a Knoxville based company with two gymnastics gyms located on Callahan Drive and near Lovell Road.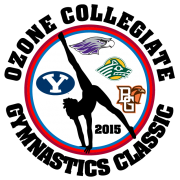 More information can be found at ozoneinvitational.com and shawnjohnsonseries.com