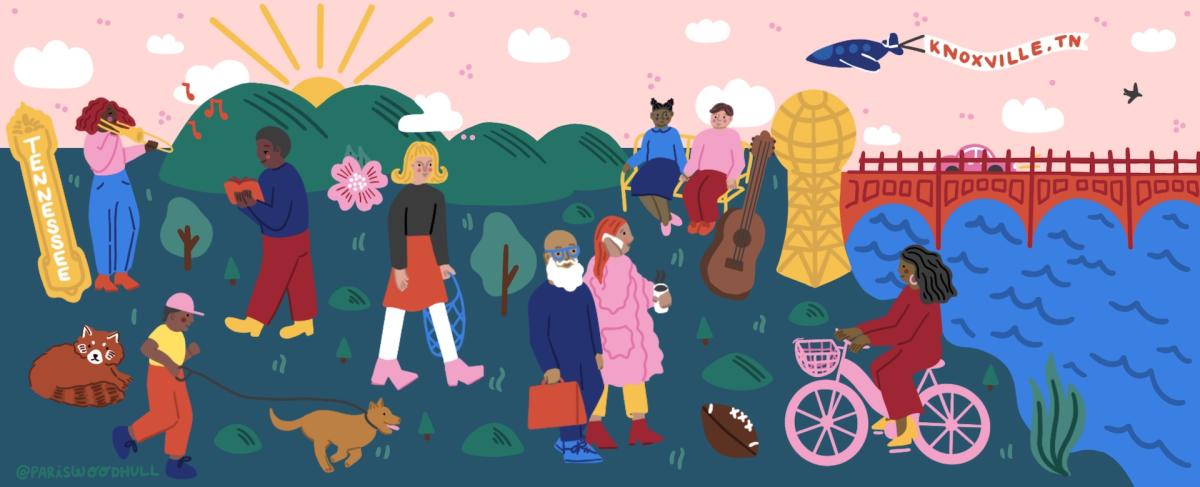 Local artist Paris Woodhull began work this week on a new mural on the Miller's Building in Downtown Knoxville. The mural stretches 32 feet down Strong Alley from Union Avenue and features several Knoxville landmarks including the Historic Tennessee Theatre marquee, the Henley Street Bridge, and the Sunsphere in Woodhull's signature style. The mural was commissioned by Dogwood Arts as a part of their Art in Public Places Mural Program.  
The Miller's Building is a new addition to the mural program in Strong Alley, made possible with approval from the Knoxville Utilities Board. Woodhull's mural is the third commission on the building thus far––preceded by pieces from local artists Sarah Moore and Sonia Summers.  
Woodhull was also tapped to create the 2022 Limited Edition Print for Dogwood Arts, which will be unveiled early in the new year. The Dogwood Arts Limited Edition Print is a decades-old tradition that showcases the talents of a different local artist each year. Past participants include Richard Jolley, Mike C. Berry, Sarah Moore, Kathie Odom, Andrew Saftel, and many more.  
About the Artist: A born and raised Knoxvillian, Paris Woodhull's heart will always be in her hometown. Along with a line of products that include apparel/paper goods she also offers a range of freelance illustration services. Paris received her BFA in 2D art with a concentration in Painting & Drawing from the University of Tennessee, Knoxville. She loves bold color, pattern, pop culture, portraiture, fashion, and is fueled by copious amounts of coffee. Paris recently completed the "It's Great to Be a Tennessee Vol" mural, commissioned by UT's Office of Undergraduate Admissions and Visit Knoxville, on the State Street Municipal Parking Garage. The community will see more of her work this winter, as Woodhull designed and painted the 'Letters to Santa' mailbox that will soon be on display in Market Square. See more of her work at https://pariswoodhull.com/.  
Since 2019, Dogwood Arts has funded the creation and restoration of 35 murals in Downtown Knoxville and the surrounding area through the Art in Public Places Mural Program. To find out more, visit https://www.dogwoodarts.com/murals/.  
Dogwood Arts, presented by ORNL Federal Credit Union, is a 501(c)3 organization with a mission to promote and celebrate our region's art, culture, and natural beauty. 
---
Shannon Herron  
865.637.4561  
shannon@dogwoodarts.com