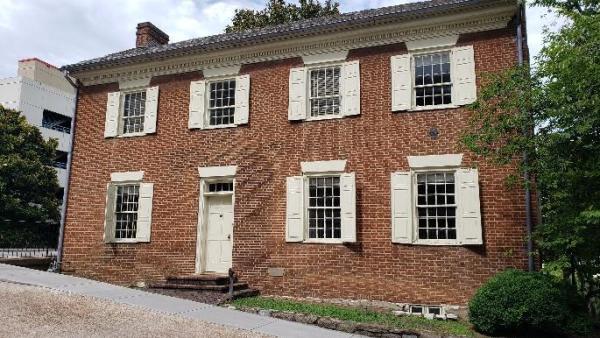 Blount Mansion Association, operator of Knox County's only National Historic Landmark, is proud to announce a new partnership with the Boyd Foundation to restore the circa-1818 Craighead-Jackson House adjacent to historic Blount Mansion, at the intersection of State Street and Hill Avenue in downtown Knoxville. The partnership, funded by a $75,000 grant from the Boyd Foundation, will allow the association to make other necessary repairs so that the 201-year-old Federalist-style home can once again receive visitors on a regular basis. 
Home to a succession of leading local families, the Craighead-Jackson House was blighted, altered, and barely recognizable when the city and state purchased it in 1957 to save it from demolition. The Blount Mansion Association, which operates the adjacent wood-frame home of Territorial Governor William Blount as a house museum, was tapped to care for the house. In 1962, the association officially assumed ownership of the Craighead-Jackson House and began an extensive three-year-long restoration project that was completed in early 1966. The house served as the Blount Mansion visitors center and offices from 1966 until the mid-1990s, when the current modern visitors center was opened. Since that time, the Craighead-Jackson House has been used for archival storage. A recent interior cleaning and light restoration work allowed the association to use the home for a few special events in 2019. 
The new grant from the Boyd Foundation—the philanthropic organization operated by Randy and Jenny Boyd, their sons Thomas and Harrison, and their daughter-in-law Lindsey—will enable us to utilize this magnificent historic structure to its fullest extent, expanding our educational offerings to include special activities inside the restored historic rooms. Community groups will be able to use the beautiful interior spaces for meetings and other events for a nominal fee. The work is expected to take 12-18 months, and should be completed by fall 2021. 
"Blount Mansion and the Craighead Jackson House are two of the most important parts of our state's history, and are and should be a tremendous point of pride for Knoxville," explained Randy Boyd. "It's also a part of my history and one of early field trips I took as a schoolboy. Jenny and I are honored to support The Blount Mansion Association and appreciate all they do to preserve our history." Blount Mansion Association President Debby Schriver added, "Restoration of the Craighead-Jackson House has been on our wish list for such a long time. Thanks to the generosity of the Boyd Family Foundation, our community will be able to step back into time to enjoy the rooms of our past generations. We foresee this space as fully experiential for all ages from children handling implements and materials central of the times, to crafting, musical events and activities for all ages." 
Opened to the public in 1925, Blount Mansion is Knoxville's oldest operating museum and the city's only National Historic Landmark. For more information, visit www.blountmansion.org, email us at info@blountmansion.org, or call (865) 525-2375. 
For more information on the Boyd Foundation, visit https://randyboyd.com/philanthropy/. 
* * * * * * * * * * * * * * * * * * * * * * * * * * * * * * 
MEDIA CONTACT:
Michael Jordan, Director of Marketing and Public Relations 
mjordan@blountmansion.org 
(912) 713-8411